Presented by Aon, Healing on the Fly – NYC is an evening in support of Project Healing Waters Fly Fishing and the thousands of disabled veterans they serve each year across the United States
Project Healing Waters Fly Fishing (PHWFF) is pleased to announce that The 7th Annual Healing on the Fly NYC is set to take place online at 6:00 pm on December 3, 2020.
Presented by Aon, this year's event is a Virtual Gala to ensure everyone's safety during the COVID-19 pandemic and will feature a short program with special guest speakers, musical entertainment, comedy and so much more. All proceeds will go towards providing the thousands of injured and disabled veterans served by PHWFF with the support they need on their journeys to recovery.
Now in its 7th year, Healing on the Fly NYC has raised over 1.5 million dollars since its inception in 2014 and enabled thousands of disabled veterans to benefit from a program recognized as an innovative leader and model in the field of therapeutic outdoor recreation for the disabled.
For over a decade PHWFF has focused on healing those who serve. It is through the tremendous contributions of supporters and volunteers that PHWFF provided life-saving programming to over 8,500 deserving members of our armed services in 2019 alone.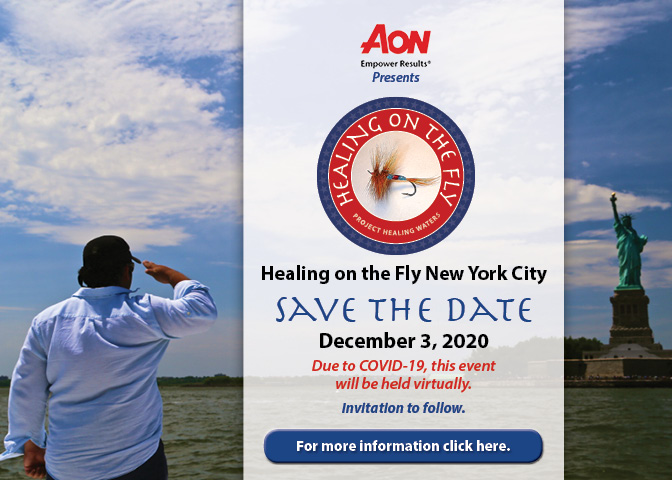 Project Healing Waters Fly Fishing has been great for me. It has helped me pull myself out of that black hole that is so easy to fall into. I know that there is help and assistance when needed…We are all in this together, we help each other through hard times and enjoy each other in good times

– Vietnam Veteran, PHWFF Winston Salem, NC program
---
The Latest News