Syria, VA – Project Healing Waters Fly Fishing raised more than $200,000 this year at its flagship fundraising event, the 2-Fly Tournament to support it's 165 programs nationwide. The pre-tournament dinner at on Saturday gathered this year's participants, alumni from the Project Healing Waters Fly Fishing program, along with their friends, family, and supporters for a special tented dinner at picturesque Rose River Farm.
Donations came from corporate, individual, and team sponsors as well as a lively silent auction of items that included artwork, fly fishing equipment, guided trips, vacation packages, and a selection of items donated by each of the program's 15 regions
Special guests included Keynote Speaker Admiral John C. Harvey, USN (ret), Virginia Secretary of Veterans Affairs and Homeland Security; Master of Ceremonies Major Nick Warren USMC, Presidential Helicopter (Marine One) Pilot; Washington Redskins Safety Reed Doughty; and fly fishing legend Lefty Kreh.  Dinner guests also heard the moving testimonies of 3 PHWFF participants on how the program has made an impact on their lives.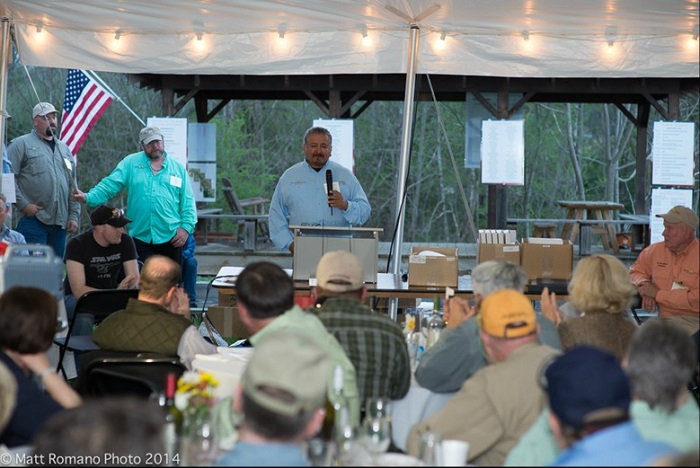 "PHWFF has saved me, my life.  I no longer have to go it alone. I no longer have those thoughts of committing suicide." Corporal Mike Escarcida USMC (ret)
Project Healing Waters Fly Fishing, Inc. is a 501(c)(3) organization dedicated to the physical and emotional rehabilitation of disabled active military service personnel and disabled veterans through fly fishing and associated activities including education and outings. The 2-Fly Tournament is the organization's headline event, raising awareness and funding for its 165 programs.
"I thank you for the opportunity to be with you this evening and celebrate what Project Healing Waters has accomplished and
what it represents, truly the very best of our nation." ADM John C. Harvey Jr.
The friendly competition got underway Sunday morning featuring PHWFF participants from across the nation.  Military/veteran participants were partnered with a professional fly fishing guide and teamed with another pro/vet pair.
Off-stream time was spent with Lefty Kreh and Ed Jaworowski improving their skills in fly casting and fly tying, as well as socializing and bonding over shared experiences, on the water and off.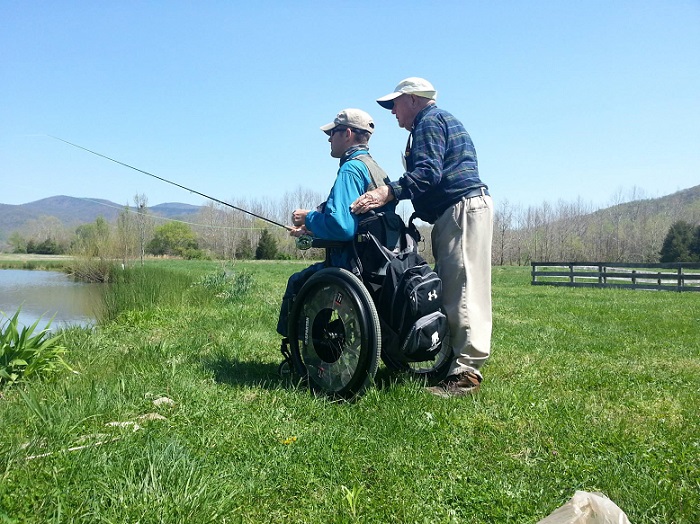 Lunch was generously provided by The American Legion posts 74, 116, 157, and 2003 alongside the Ladies Auxiliary of 157. Sitting in the sunshine, sharing stories of service and days on-the-water, the lunches held the atmosphere of a family reunion. Participants, volunteers, and supporters laughed and enjoyed the camaraderie of PHWFF and the beautiful surroundings.
This year NBC 29 in Charlottesville, Virginia covered the event, in addition to notable bloggers from throughout the fly fishing community.  You can read a complete narrative of the weekend's festivities on the Project Healing Waters Fly Fishing Twitter and Instagram accounts or by searching the event exclusive hashtag: #PHWFF2FLY.
Project Healing Waters Fly Fishing thanks all of our friends who so generously supported this annual fundraising drive and the many 2-Fly Tournament and event sponsors.