PROJECT HEALING WATERS FLY FISHING, INC (PHWFF) takes great pleasure in presenting the Phil Johnson Exceptional Leadership Award to Calvin Norton for his dedicated and inspiring service to our organization from 2008 to 2021. During this period, his selfless efforts and extreme generosity as a volunteer leader with the PHWFF Charlotte (North Carolina) Program significantly contributed to the organization's overall success.

Calvin initially joined the program as a participant in 2008. However, since 2009, Calvin's generous contribution of our most precious resource – time – personified the PHWFF mission, vision, and core values. His genuine concern for others also engendered the camaraderie and friendship that enables post-traumatic growth and healing in our programs. As a participant, Calvin developed many of his fly fishing skills. His consistent growth, tireless dedication, and the trust he earned with the other program participants and volunteers led to his selection as the Assistant Program Lead in 2013.

During his time as a volunteer, Calvin's commitment and tireless devotion to our Cause inspired all involved in the program to become a stronger team and to build better friendships. His enthusiasm and compassion served as an attractive force that inspired others on their path towards post-traumatic growth. He initially began volunteering as a fly fishing guide for new participants. Over the years, Calvin became a proficient fly tyer and excellent fly rod builder and he began leading the Program's fly tying and fly rod building activities.
As Vietnam Era Veteran and servant at heart, Calvin seeks the best for every member of the team and is always willing to go the extra mile to promote an atmosphere of healing and community. When he became the program's fly rod building instructor, he organized, led, and conducted the activities in a building on his property – creating unique fly rod kits to ensure that every fly rod built is customized for each participant. Additionally, he was always willing to meet with each participant at various times throughout the week to ensure they enjoyed a positive fly rod building experience with him. Ultimately, his talented instruction led to several award-winning fly rods for the program's participants in the organization's National Fly Rod Building Competition. Calvin also created fly fishing education activities on nymph fishing and lead numerous fly tying sessions for the Program's participants.
Calvin's exceptional skill as a fly angler and his commitment towards excellence all served to inspire others to develop a love for the sport while enabling their individual journeys towards post-traumatic growth. Always the first to arrive at outings, you will always find him lending a hand with waders and boots and positioned next to the newer participants – sharing his extensive knowledge about casting and catching. All who know Calvin will attest to the positive impact that he made on their lives and the role model of selfless leadership, mentoring, and devotion he provided to them. His tireless efforts helped create a community where our participants can heal.
Project Healing Waters Fly Fishing, Inc. is proud to bestow upon Calvin Norton the Phil Johnson Exceptional Leadership Award for his tireless and extraordinary service to our organization and to those wounded, ill, and injured Servicemen, Servicewomen, and disabled Veterans whom this organization serves.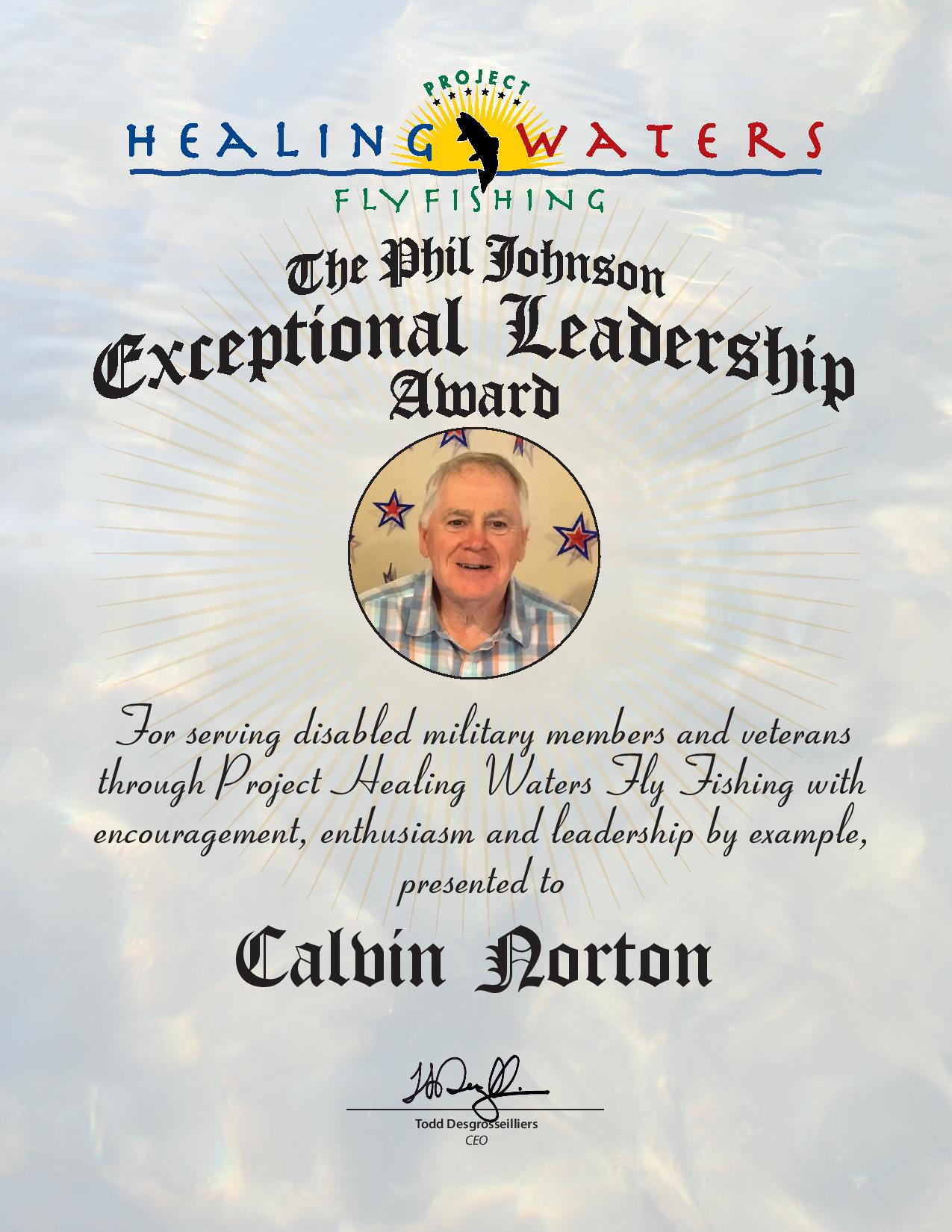 Latest News