The Murfreesboro Program of PHWFF held a unique class on Wednesday, September 21 that showed participants how to build their own fly rod case.
"Many times we get more fly rods than we have cases for to hold them safely," Program Lead Marilyn Rogan said. "Walter Petrie, who is always helping us learn new things, demonstrated how he has built fly rod holders for himself."
The class gathered at a local church and Petrie took the participants through each step of how to make your own fly rod case.
"Walter explained and demonstrated how easy it was to build a fly rod holder out of PVC pipe," Rogan said. "He had watched a tutorial and wanted to share it with our program and participants."
The first thing Petrie does is buy his PVC pipe from a local hardware store which sells thinner PVC than normal, which will make the case lighter. As the photo shows, Petrie's case looks like wood. The procedure is to lightly sand the PVC taking off any writing if you like. Then you clean it and use any color liquid shoe polish that you would like. You let the case dry and then you spray it with polyurethane.
The end caps are purchased at the same time as the PVC pipe. You then cut out a round circle of foam and put in the end caps to protect the tips of the rod. If you prefer, you can drill a hold at the top and insert a piece of leather, rope, wire, etc. to make a handle. This is a great way to care for you rods at a very inexpensive price.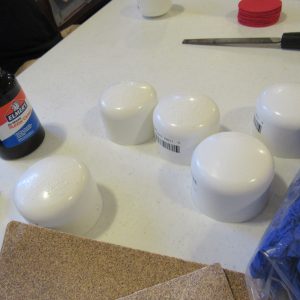 "All of the participants were excited about trying this project and asking plenty of questions," Rogan said. "Many are going home and continuing to try it out for themselves!"
Rogan would like to thank Walter Petrie for conducting the class.
"He is a great volunteer and he is always looking for interesting things to improve our program and help our participants enjoy the program."
Rogan said the program is fortunate to have so many talented volunteers with exceptional ideas and information that benefits all of the participants.
Latest News