By David Borostyan
After weeks of anticipation, the Freedom Ranch #5 group of Army and Navy veterans finally arrived in Montana. All had been looking forward to this trip and were excited to finally start their adventure. The first sign of change was the 46 degree weather in Bozeman which came as a welcome relief from the heat of their Southeast home states of North Carolina, Alabama and Georgia. Over lunch, the group shared their personal stories and backgrounds with each other and discovered common areas of interest and military service. We rolled into the van and our native Montanan, Montana Reynolds, shared numerous stories and information on the local scene and kept everyone excited for what was to come. Once everyone settled in at the lodge, we were treated to a casting and fishing instruction session from Craig Fellen, Navy veteran and founder of the Big Hole Lodge. Despite the howling wind and cold weather, he shared tips on hooking and playing fish that would come in handy over the next few days.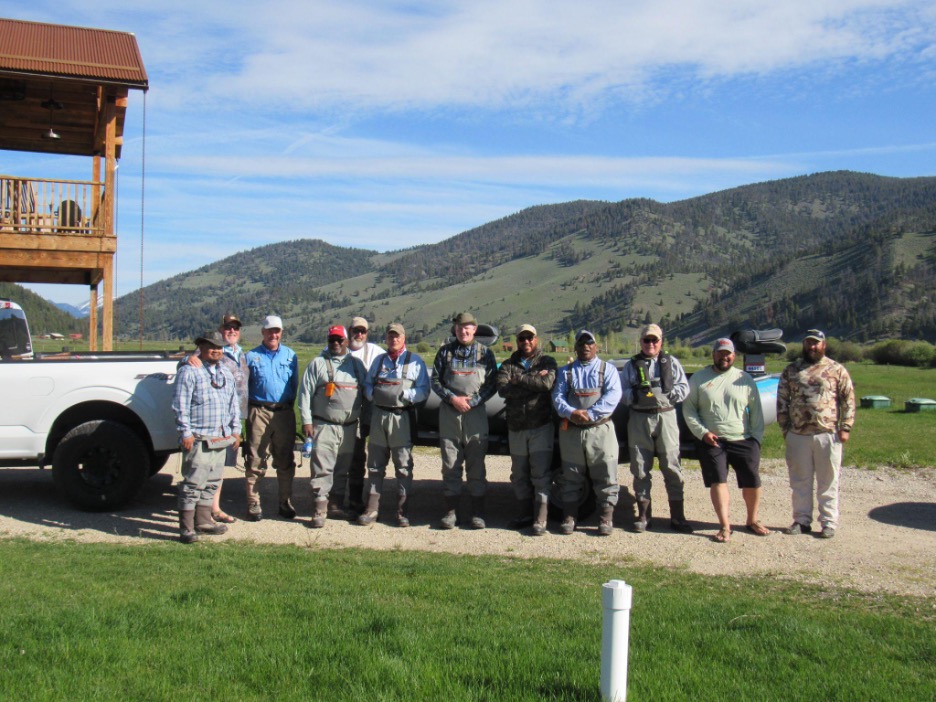 "Freedom Ranch for Heros was more than I expected or ever imagined. The fishing was amazing, the scenery was beautiful, and the friends and memories will last a lifetime." -J.F.
On Wednesday the Big Hole river was raging at historical high flows so the local guides took the group to a local creek, Poindexter Slough, which was in great shape and full of hungry fish. Montana stayed busy traversing the area to take pictures and survived crossing a surprisingly deep run that went well above his chest waders. We all laughed when he retold the story during the lunch break. The guides provided good instruction and it was fun to see our more experienced veterans helping others and building camaraderie. Most everyone hooked into fish by nymphing as the primary approach and we shared pictures and stories of our day on the water on the drive back to the lodge. There were a number of firsts for some of our participants including first trout on a fly rod, first brown trout and first 20+ inch trout ever caught.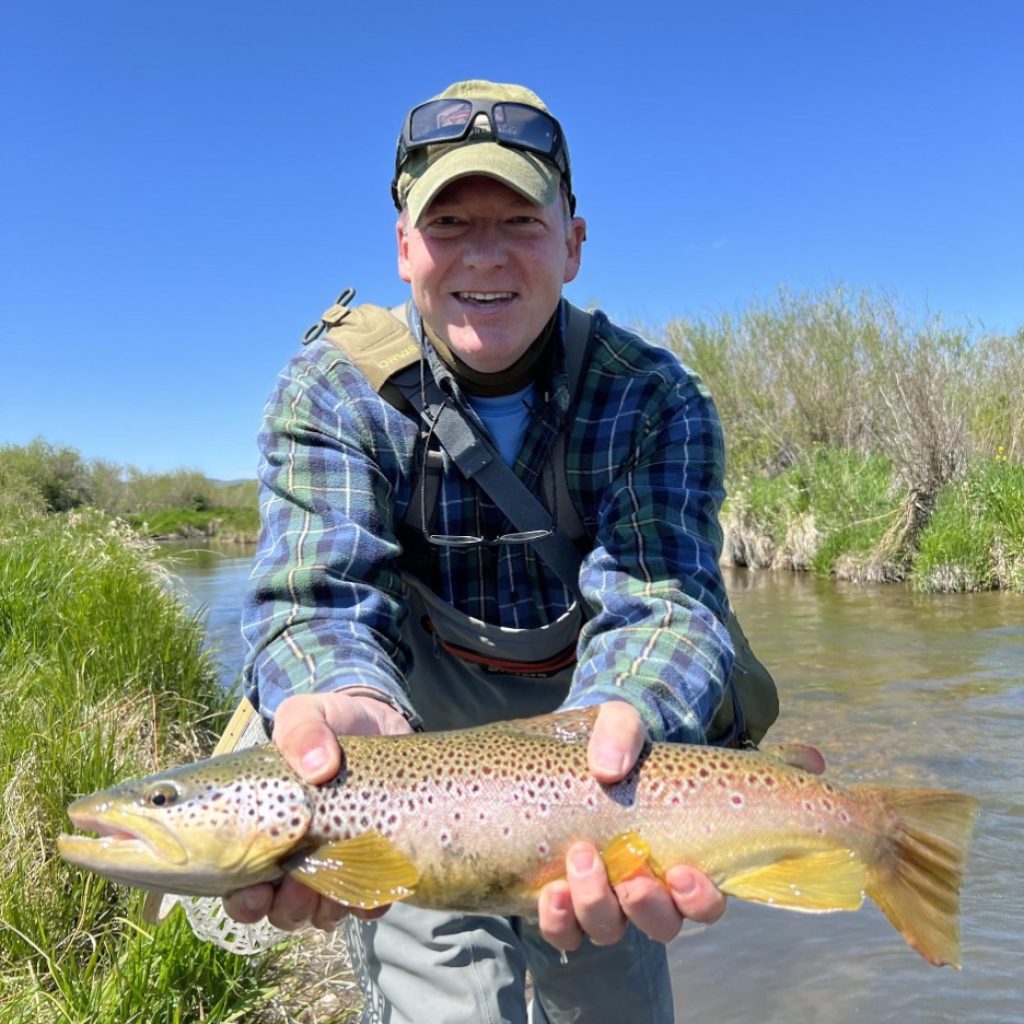 "Being a flat-lander and warm water fly fisherman, this was my first opportunity to fly fish for trout and it was in a fantastic setting. I learned a lot, made some mistakes in my fishing technique and had a fine time. I consider the Big Hole to be my Montana home water!" -R.S.
In the evening the group gathered in the living room and shared stories from the day, including fish that were caught and lost, and a shared anticipation of tomorrow's float trip. It was clear that this experience was exceeding their expectations and that powerful healing was taking place.
Thursday was the first float day and all were excited to venture out onto the Big Hole river for the first time. Each of the guides was equally excited about meeting their assigned veterans and after a group photo all took off for a day of exploring and fishing.
Upon returning, it was fun to listen to each other's stories including that all had caught multiple fish, learned new fishing skills and made new friends. Pictures were piling up and were freely shared by all as they retold their stories of the day.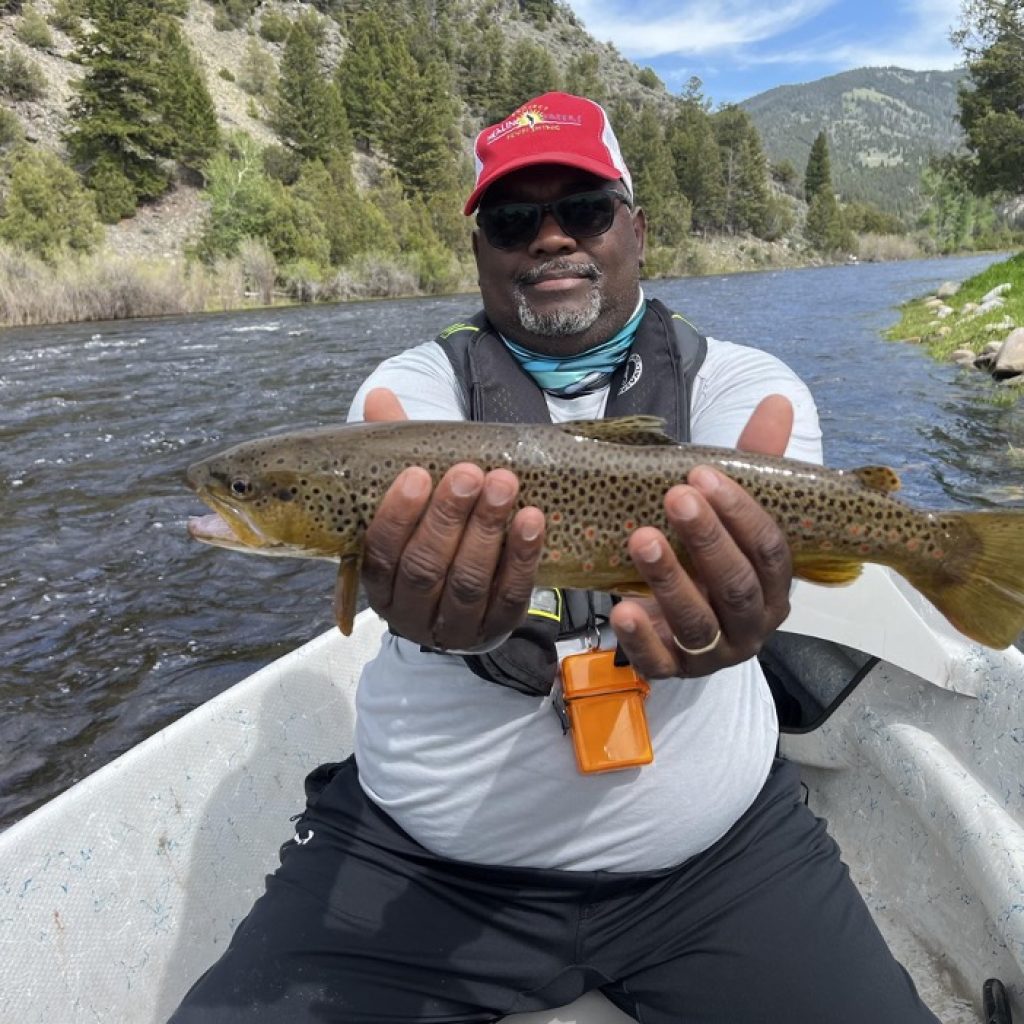 Friday brought the best fishing conditions of the week and the famed Salmonfly hatch was in full swing. Most of the guides switched over to dry dropper rigs and the participants were into surface feeding fish the entire day. For many this was among their first experience with catching trout on the surface and they were having a blast. Many described their tendency to pull the hook out of a rising fish's mouth and we laughed at how hard it is to follow the advice of saying 'God Save the Queen' before setting the hook. Despite a few lost fish, some described as the biggest of the trip, many fish were caught and photographed.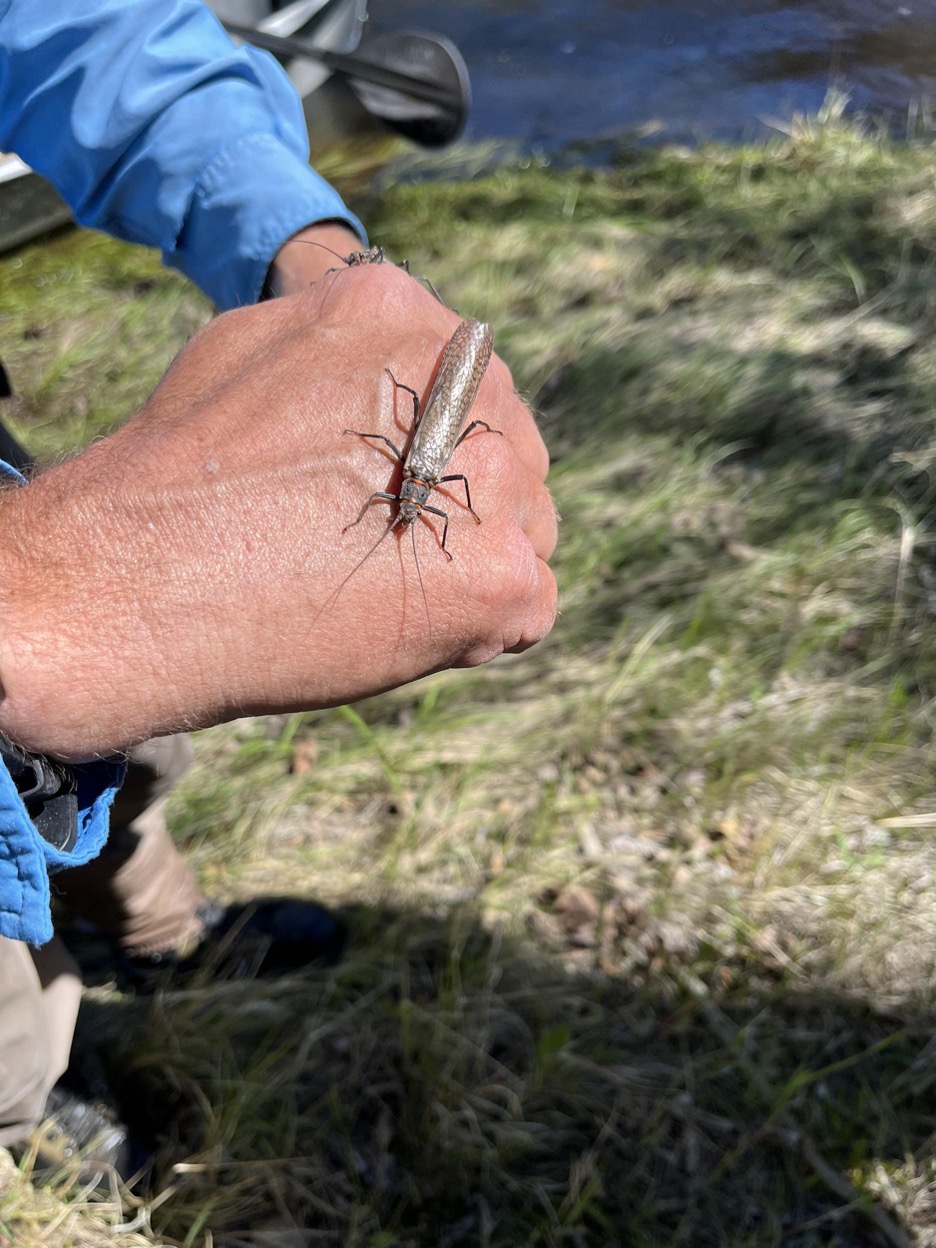 "Dan, our other guide for the two days of floating, was an enthusiastic and positive role model. I made a lot of mistakes and got a lot wind knots and had a lot of his flies eaten by willow trees, river sticks, and rocks. Amazingly, he just pulled the boat over each time and happily fixed my rod and rig quickly and told me not to think about it. Then, inside of two days, he coached and molded me into a trout fisherman that was at least 150% better than I was two days before I had met him. I asked him to correct every fault in my technique and push me to mend my line and cast better. He never missed an opportunity to help – and he served a world class lunch in his boat each day with napkins, real plates and silverware – amazing! – S.G.
The last guide boat came in quite late so we hurried over to the Wise River Club to meet up with Montana who had already arrived to tell Linda Davis that we were on our way. The Club made all of us feel at home with an introduction of our honored veteran guests followed by all in the restaurant joining in the singing of the Star Spangled Banner. After dinner, Montana led the awards ceremony and it was clear that the group had developed strong bonds with each other and a real sense of brotherhood.
"I also appreciate the opportunity to share fellowship with fellow veterans and PHWFF participants. Made some life-long connections." – R.S.
On Saturday we gathered around the table during breakfast and talked about our experiences, what we liked and what could be improved. We also filled out postcards to those that deserved special thank you's. After a group picture at the entrance gate, we loaded into the van for the drive to the airport. We shared pictures along the way and were grateful that we had made new friends in such a beautiful place.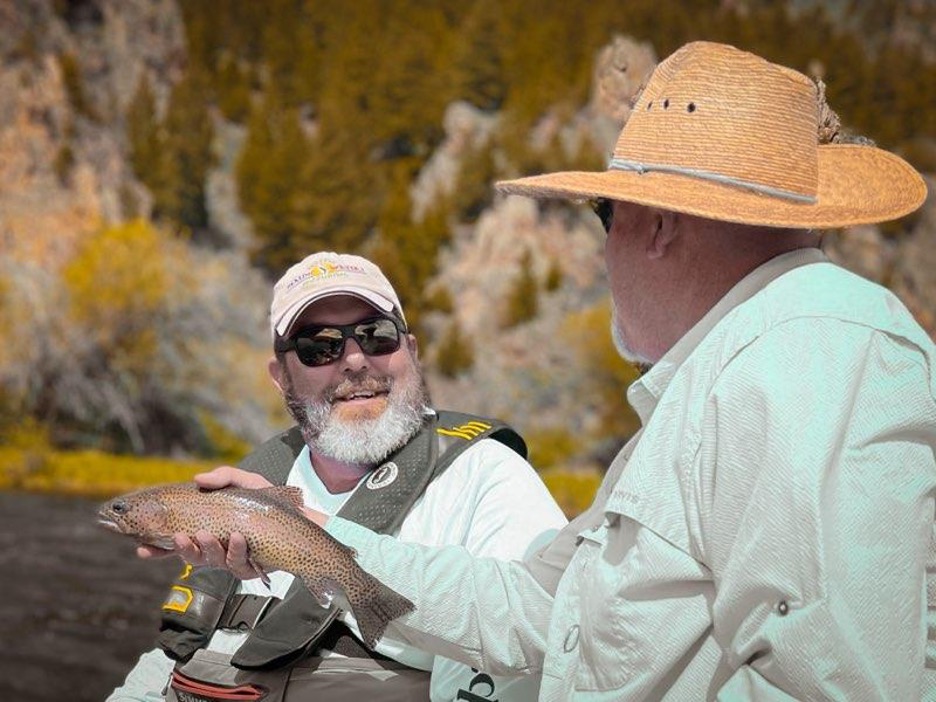 The Week #5 group would like to thank Montana Reynolds, the Harbaugh Foundation, the entire Wise River Community and the PHWFF staff, especially Amy Milne and David Folkerts, for making this recuperative trip possible.
"I would highly recommend this outing to everyone. It is a very special place with very special people. The peacefulness of Montana is unlike any other experience I've ever had. Plus there's the fishing. This was a major bucket list for me. I'm ready to move there! I hope this event never goes away. There's just nothing else like it for me. Thanks to PHWFF for this opportunity." – R.B.
"This was a lifelong dream that came through thanks to the amazing people of Project Healing Waters and the donors that helped to make this entire trip possible. With the year I had thus far, I was in desperate need of a positive adventure to help reframe my thoughts and be around others who share some of the same day to day challenges. I could see the passion that all of the Coordinators, Leads, staff, volunteers, and guides had for this type of work early on while in the pre-trip meetings. These were crucial to preparing all of the participating vets in what was to be quite an adventure. Upon arriving, we felt the warm welcome and compassion from staff which made us feel right at home. The serene beauty of the location and lodge in conjunction to the heartfelt kindness allowed us all to come together as a family and interact as if we had known each other for a lifetime.
Earlier this year, I sadly lost my fifteen year old son, Micah, to COVID. Since that time, I have not felt connected or grounded to anything that I once loved. I haven't been abled to find the peace and solace that the outdoors once provided, and my mental health has deteriorated. This trip helped me regain focus, provide some clarity, and even helped me smile and reconnect back to nature. It was right on time!
I want to say Thank You to Project Healing Waters and all of those involved in making this trip a success.
God Bless." – T.A"This was a different experience, I got peace of mind from the natural surroundings and going down the river on a raft fly fishing. Memories I will never forget." – C.L
Latest News