Presented by Aon, the 6th Annual Healing on the Fly NYC will take place at 6:00 pm on October 1, 2019 at The Metropolitan Club in New York City.  The evening is being held in support of Project Healing Waters Fly Fishing (PHWFF) and the thousands of disabled veterans they serve each year across the United States.  
Project Healing Waters Fly Fishing is honored to announce that Erik Schatzker of Bloomberg will serve as Emcee during the Healing on the Fly-NYC Dinner Gala this October 1, 2019 at The Metropolitan Club in New York City. Now in its 6th year, Healing on the Fly NYC has raised over 1.2 million dollars since its inception in 2014 enabling thousands of disabled veterans to benefit from a program recognized as an innovative leader and model in the field of therapeutic outdoor recreation for the disabled.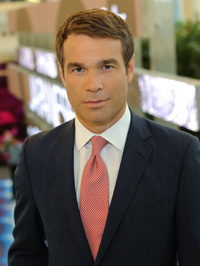 Erik Schatzker is a New York based correspondent focused on high-profile events and interviews.  Over two decades Schatzker has covered everything from technology to commodities in postings and on assignments around the world. Today his main focus is on Wall Street, and he speaks regularly with the most powerful executives in banking and top money managers includung BlackRock's Larry Fink, Morgan Stanley's James Gorman, Carlyle Group's David Rubenstein and Citigroup's Michael Corbat. Schatzker also reports live from the World Economic Forum in Davos, Switzerland, and the Milken Global Conference in Los Angeles.
Prior to joining Bloomberg Television in 2007, Schatzker led Bloomberg's print coverage of financial services in the Americas. He began his career with the South Pacific Mail in Santiago, Chile and served as a correspondent in Santiago and Toronto for Knight-Ridder Financial/Bridge News before starting with Bloomberg as a technology reporter in 1998. Schatzker's past positions with Bloomberg include Toronto Bureau Chief and Senior Writer for Bloomberg Markets magazine.
Presented by Aon, the evening also will feature a cocktail hour with silent auction, seated dinner, a short program featuring PHWFF veteran guest speaker Sergeant Lisa Ornelas US Army (ret) – a veteran of Iraq and Afghanistan whose healing journey with PHWFF strengthened family bonds and fostered her physical and emotional recovery.
This lovely annual event is being co-chaired by two great PHWFF supporters and champions: Commissioner of Major League Soccer, Don Garber and Michael Bateman, Senior Vice President for Willis Towers Watson.  Thanks to their leadership and presenting sponsor Aon, a very special evening has been planned to raise funds and awareness for this top-tier veteran service program.
For over a decade PHWFF has focused on healing those who serve.  It is through the tremendous contributions of supporters and volunteers nationwide that PHWFF served over 8,300 deserving members of our armed services in 2018.  To learn more about the event please visit www.projecthealingwaters.org/fundraisers/healing-on-the-fly/