We are pleased to announce that Crystal Woolen has been named Regional Coordinator for the Rocky Mountain South Region of Project Healing Waters Fly Fishing!  Join us in welcoming her and congratulating her on his new role!
The Rocky Mountain South Region covers the states of Colorado and Utah.  You can find a complete list of programs, contact information, and news stories for this great region by clicking here.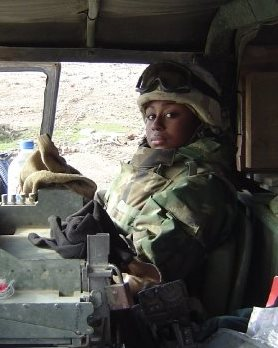 SPC Crystal Yolanda Woolen is a 4th generation US Army combat veteran.  Born in Neu-Ulm, Germany where her father served as a US Army Flight Medic with the Old Ironsides.   She moved all over during her father's career living in Alabama, North & South Carolina, Kentucky, Illinois, Washington and Nevada where she graduated high school in 1999.  She went off to college to pursue an English degree in Colorado and joined the US Army Reserves in 2000.
War called in 2003 and she deployed with the 244th Engineer Combat Battalion (Heavy) under the 4th Infantry Division and the "Triple Nickel" 555th Engineer Brigade for Operation Iraqi Freedom.  In the early days of OIF her unit spent time building Forward Operating Bases, roads, and doing security missions.  The platoon suffered from the loss of her squad leader SSG Mark A. Lawton and others who were sent home due to severe injuries.  Despite these losses Alpha Company, 244th Engineer Battalion (Combat) (Heavy) was awarded the 2003 Itschner, a Regimental Engineer award, for the work done. SPC Woolen was awarded an Army Commendation Medal and Combat Action Badge for her time served from 2003-2004.
Crystal works in recovery as a Peer Support Specialist with the Grand Junction VA as well as volunteering with Project Healing Waters, Team River Runner, and other community partners that serve Veterans. Crystal holds a Bachelor of Science in Health Care Administration from the University of Phoenix and is interested in developing new programs for Veterans and their families for healing
She started with Project Healing Waters as a participant about 3 years ago after seeing an article in the newspaper.  She has been growing as a fly fisherwoman since.  She can usually be found on the Roaring Fork during the summer fishing the clear waters or trying to convince someone to come with her.