PROJECT HEALING WATERS FLY FISHING (PHWFF) takes great pleasure in presenting the Phil Johnson Exceptional Leadership Award to Kenneth House for his dedicated and inspiring service to our organization from 2010 to 2021. During this period, his selfless efforts and extreme generosity were directly responsible for the growth and continuous improvement to the PHWFF St Louis Program serving as its Assistant Program Lead.
In 2009, Ken started with the PHWFF St. Louis Program as a participant. As a lifelong outdoorsman, the program's fly fishing activities seemed to form a perfect combination to enhance his skills and enable him to bond with other veterans. After a short time as a participant, Ken's passion for helping others moved him to a volunteer role and then shortly after, the Assistant Program Lead. For more than 10 years, his leadership, energy, and in novation achieved success for the PHWFF St. Louis Pro gram, other regional programs, and increased program awareness.
As a Vietnam Era United States Air Force Veteran, his experiences and compassion for the program's participant remain evident throughout in his selfless service to our organization. He always provided calm guidance and clarity of mission by humbly acknowledging successes and recognizing others. As a volunteer leader, Ken spent countless hours on recruiting, training, wading safety, organizing fly fishing outings, fundraising, and communicating the Program's effectiveness to others. His focus and genuine concern always remain on healing and nurturing the pro gram's participants along their path towards post-traumatic growth. Ken is an avid collector of all things fishing and always produced newly acquired historical, antique angling gear that leads to the education of the sport for all. His stories can draw out the most reserved to ask questions and want to learn more.
In 2020, with the new world of the COVID-19 pandemic, Ken and his wife Miriam assembled numerous fly tying 'kits' for the St. Louis Program's Participants. Each kit contained enough to make eight flies with multiple different patterns. He then created a first drive through pick up for supplies to reduce risk of COVID19 transmission. The gratitude from participants etched in the minds of all because of his time to make the event happen. His presence makes the program stronger, more committed, and successful. Ken's community involvement with other veteran service organizations puts him as a front runner in securing donations, being able to articulate the mission and tell his personal journey of how this has touched lives. Since 2014, Ken's ability to promote the program secured more than $24,000 in funds.
Ken's influential leadership extends beyond the PHWFF St. Louis Program. In addition to serving as an Assistant Program Lead, he also volunteers with the Salvation Army, Disabled American Veterans, Vietnam Veterans of America, Boy Scouts of America, and is a faithful servant of his church. His community involvement and expanded reach opens doors for our Cause and is a key reason for outpouring of community support. All who know Ken will attest to the positive impact the program made on their lives and the role model of selfless devotion, mentoring, and leadership he provided to its volunteers and participants.
Project Healing Waters Fly Fishing, Inc. is proud to be stow upon Kenneth House the Phil Johnson Exceptional Leadership Award for his tireless and extraordinary service to our organization and to those wounded, ill, and injured Servicemen and Servicewomen and disabled Veterans whom this organization serves.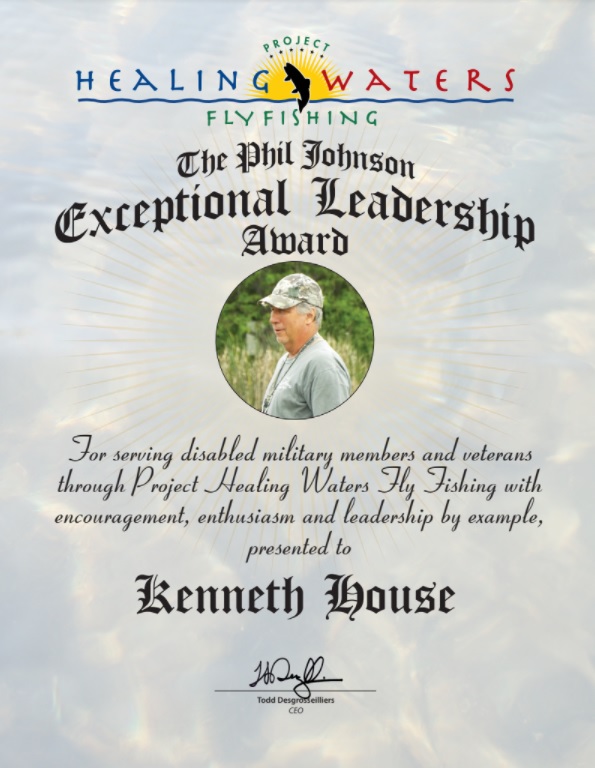 Latest News