Presented by Ropes & Gray, the 3rd Annual Healing on the Fly Boston is an evening in support of Project Healing Waters Fly Fishing and the thousands of disabled veterans they serve each year across the United States.  The event will take place at 5:30 pm on October 22, 2019 at The Seaport Hotel.  All proceeds from the event will go towards providing the thousands of injured and disabled veterans served by PHWFF with the support they need on their journeys to recovery. Click here for tickets
The evening will feature a cocktail hour with silent auction, seated dinner, a short program featuring PHWFF veteran guest speakers John O'Conner, U.S. Army (ret) and Mark Michaud, U.S. Army (ret) as well as a live auction with many unique specialty items. O'Connor and Michaud will share their experiences as participants in the PHWFF New England Region and how this transformative program inspired them to give back to fellow veterans in their communities.  We're pleased to introduce them to you below:
John O'Connor
John O'Connor was born and raised in Waltham, Massachusetts and graduated from Waltham High School. John graduated with is A.A. in Criminal Justice from Valley Forge Military College in Wayne, PA and received his B.A. in Criminal Justice from the University of Massachusetts – Boston.
John enlisted as an Infantryman and served in the Massachusetts Army National Guard. A few days after September 11, 2001, he was deployed to Bosnia in support of Operation Joint Forge.
In December of 2002, John was hired by the Waltham Police Department and attended the MBTA Police Academy in Quincy, Massachusetts. John graduated the police academy in May of 2002.
In 2002 prior to the completion of his field training, John received orders that he was being called back to Active Duty. He was then deployed to Guantanamo Bay, Cuba in support of the Global War on Terrorism.
Upon returning from service, John returned to the Waltham Police department and has served the City of Waltham in a variety of assignments including: patrol, anti-crime unit, as a background investigator, as a member of North Eastern Massachusetts Law Enforcement Council's Regional Response Team, Mountain Bike Patrol, Employee Support Unit, and a member of the Greater Boston Critical Incident Stress Management team.
John is a Life Member of the Veteran's of Foreign Wars Post 10334 and Life Member of Disabled American Veterans Post 45.
When not working, John enjoys fishing, hunting, skiing and spending time with his family.
John is married to his wife Christina for the past 11 years, and they have two children John IV age 8 and Stephen age 6.
---
Mark Michaud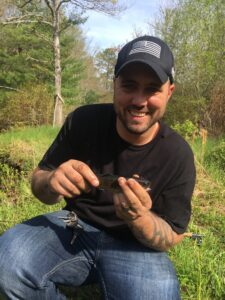 Mark Michaud enlisted in the U.S. Army in 2004 as an 88m (wheeled vehicle operator) with the 368th engineer Co. out of Londonderry New Hampshire. He continued until 2006 and then joined active duty as a 31b (military police officer) with the 552nd MP Co. out of Schofield Barracks in Hawaii. Mark was deployed to Mosul Iraq in September of 2007 until December 2008. He served as a K9 officer with the 13th MP co for a short time before returning to the 552nd MPs. In December of 2010 Mark was medically retired and began working in different automotive fields. In that time, he also acquired an associate degree in Science of Criminal Justice and a bachelor's degree in Homeland Security and Crisis Management. Mark enjoys anything outdoors including hunting fishing and hiking. "Project Healing Waters has been an amazing experience to me and has helped me in many ways. The friends I have made and people I have met continue to amaze me as volunteers and caring individuals"
---
For a little more than a decade PHWFF has focused on healing those who serve.  It is through the tremendous contributions of supporters and volunteers nationwide that PHWFF served over 8,300 deserving members of our armed services in 2018. For tickets, sponsorship opportunities, or additional event information please click here