By Andy Kaufmann.
Freedom Ranch Montana Trip (27 SEP – 01 OCT)
8 veterans, mostly from the New England region and one from Oregon came together for several days of unforgettable fly fishing in Montana. There was no lack of "Big Sky" scenery during the trip to take in. From wide open plains to majestic mountains, we took it all in. The west, especially Montana, has a beauty all its own, which we were able to take in in small sips or large gulps.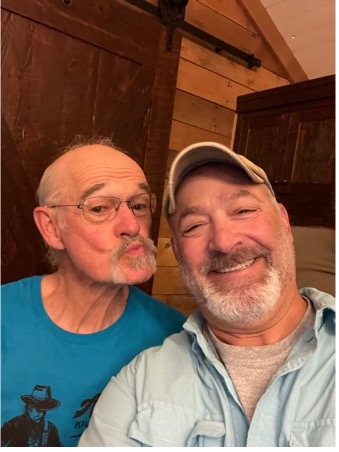 Joining us on this trip was Atz Kilcher, himself a Vietnam veteran. He regaled us with story and song, as well as just hanging out and jibber-jabbering about our homes, his home, families, animals, hunting, sage gathering, whatever seemed to pop up. He was a joy to meet and spend time with…I would make coffee about 0500 and he would saunter up and join me in the morning and we'd just talk about stuff – it was wonderful
One of the things I love best about Project Healing Waters, is the ability to be with my tribe. Be it man, woman, Army, Navy, Air Force, Marines, Coast Guard…active, guard, reserve, retired, medically retired, Iraq, Afghanistan, Panama, Somalia, Haiti, Vietnam, Korea, and even those never deployed – we all served our country. We all served for various reasons, but we served. We all share the bond – an unspoken word.
The fishing, in my honest opinion, was the primary reason I was so excited to go on this trip, but it quickly became apparent (from the moment we were picked up in the van at the Bozeman airport) that my reason changed from that to allowing my soul to be cleansed again.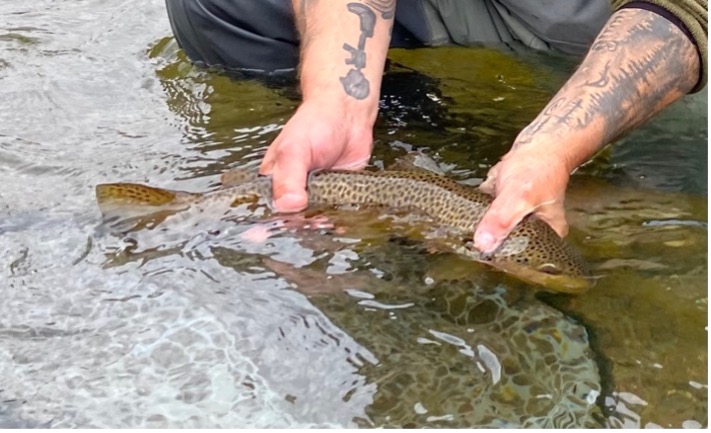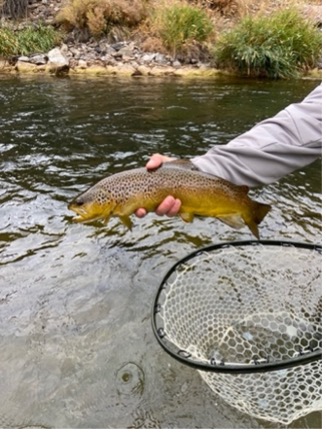 Being with the tribe is something that I miss daily – yes, I have interactions with other veterans up here in Maine. I am a fishing guide and work with horses in a non-riding equine therapeutic setting with military and first responders, but it's just not the same as being in a setting offering complete open and honest communication, while being able to share and enjoy fly fishing on some of the most prestigious waters in the west (in the country for that matter).
We laughed at stupid jokes, we chided each other about missing fish, or tangling lines…we boasted about our 45" fish that got away, and the 5" brookie that was beautiful with the colors that reflected the blue sky and color shades of the terrain.We broke bread together – we shared mor about our lives, as if we had known each other for years. New friendships were forged and old friendships were strengthened…the guides became part of the story, part of our stories – again something many of us miss…and they were outstanding and professional.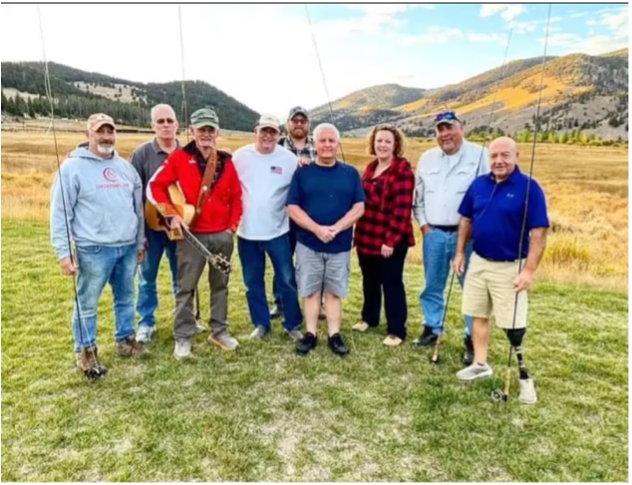 Tell your tribe about Project Healing Waters – get them involved – you get involved…going to a chapter meeting just to meet new people and come out of the bubble once or twice a month can do wonders for your soul.
Latest News