The Patriot Award, our highest honor, is presented each year in appreciation of an individual or and organization's dedication and commitment to the rehabilitation of our injured active duty service men and women and disabled veterans. We are very proud to recognize David and Becky Leinweber of Anglers Covey fly shop in Colorado Springs for their tremendous accomplishments as true Patriots. The presentation took place during the Colorado Springs Program's "End of Year Party" on November 20, 2015.
The Board of Trustees of project healing waters fly fishing takes great pleasure in presenting the project's most prestigious award, the Patriot Award to David and Becky Leinweber, owners of Anglers Covey Fly Shop in Colorado Springs for their exceptional and continuous contributions to PHWFF since 2008.  From the beginnings of the Colorado Springs Program, David and Becky have provided immeasurable support for the programs.  Their dedication and continued enthusiastic involvement has been instrumental in its continued growth, evident in the success of the program today.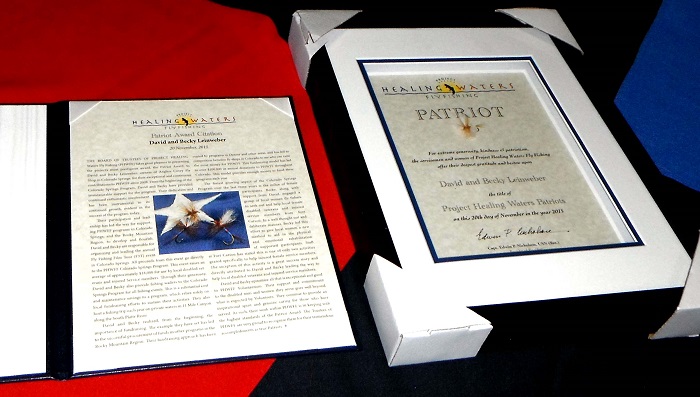 Their participation and leadership has led the way for supporting PHWFF programs in Colorado Springs and the Rocky Mountain Region to develop and flourish.  David and Becky are responsible for organizing and leading the annual Fly Fishing Film Tour (F3T) event in Colorado Springs.  All proceeds from this event go directly to the CO Springs program.  This event raises an average of approximately $18,000 for use by local disabled veterans and injured service members.  Through their generosity David and Becky also provide fishing waders to the CO Springs Program for all fishing events.  This is a substantial cost and maintenance savings to a program which relies solely on local fundraising efforts to sustain their activities.  They also host a fishing trip each year on private waters in 11 Mile Canyon along the South Platte River.
David and Becky realized from the beginning, the importance of fundraising.  The example they have set has led to the successful procurement of funds in other programs in the Rocky Mountain Region.  Their fundraising approach has been copied by programs in Denver and other areas and has led to competition between fly shops in Colorado to see who can raise the most money for PHWFF.  This fundraising model has led to over $100,000 in annual donations to PHWFF through Colorado.  This model provides enough money to fund these programs each year.
The fastest growing aspect of the Colorado Springs Program over the last three years is the influx of female participants.  Becky, along with support from David, engaged a group of local women fly fishers to seek out and help local female disabled veterans and injured service members from Fort Carson.  In a well thought out and deliberate manner, Becky led this effort to give local women a new method to aid in the physical and emotional rehabilitation of supported participants.  Staff at Fort Carson has stated this is one of only two activities geared specifically to help injured female service members.  The inception of this activity is a great success story and directly attributed to David and Becky leading the way to help disabled veterans and injured service members.
David and Becky epitomize all that is exceptional and good in PHWFF Volunteerism.  Their support and commitment to the disabled men and women they serve goes well beyond what is expected by Volunteers.  They continue to provide an inspirational spirit and genuine caring for those who have served.  As such, their work within PHWFF is in keeping with the highest standards of the Patriot Award.  The trustees of PHWFF are very proud to recognize them for their tremendous accomplishments as true Patriots.