Project Healing Waters Fly Fishing has lost a dear friend. Steve Ladd died suddenly this past week while on a fishing outing near one of his favorite fishing locations in Michigan. I met Steve by happenstance at the airport in Buenos Aires as our PHWFF fishing party was departing for home after a memorable fishing trip on the waters of Patagonia. It was one of those wonderful two for one opportunities offered by the outfitter. We had four disabled vets on the trip with us, and Steve, who was also heading home, came over to find out what we were all about. That conversation resulted, shortly after he returned home, in an invitation to bring our participants to the Flint Rainbow Club located in Baldwin, MI – right on the Pere Marquette. Trout, Salmon, Steelhead, a veritable smorgasbord of prime fishing. Thus, in 2010, PHWFF, hosted by the Flint Rainbow Club, planned and organized by Steve, has PHWFF returning each year with another group of disabled veterans. Steve took care of all of the details – marshaling the guides from Chuck Hawkins' Outfitting, who, ever willing to contribute, would show each year as a new group arrived; arranging the lodging at the club, the meals, and all other incidentals to insure that the trip went off without a hitch. He gave of himself tirelessly. Along the way he would spend endless hours, one on one, with the participants, getting to know each of them – extending himself in a helping matter both on the trip and later as he kept in touch and corresponded with them. Steve also went far beyond in supporting PHWFF. He arranged for a marketing firm to help us with a big project and later was instrumental in initiating a dinner fundraiser (Healing on the Fly) which successfully raised funds for PHWFF in the Detroit area.
Steve could always be counted upon to help in whatever manner he could with PHWFF. We all mourn his loss, recognized as a Patriot Award winner, an avid and dedicated supporter, and on a personal level a true and honored friend. – Ed Nicholson, Founder and President Emeritus, Project Healing Waters Fly Fishing —  7 June 2017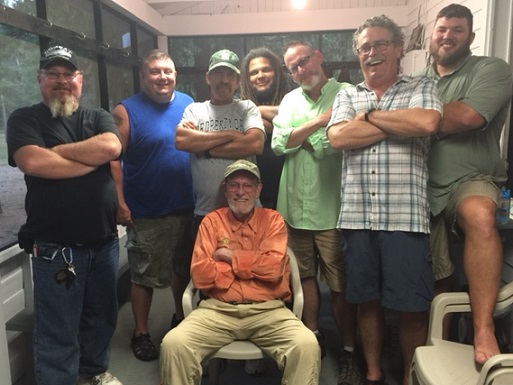 Stephen McVey Ladd, age 77, of Carson City, Michigan, where he was respected and loved, passed away unexpectedly on Sunday, June 4, 2017 at the Manistee River while pursuing his passion of fly fishing. He was born February 14, 1940 in Chicago, Illinois the son of Bruce and Dorothy (Dyer) Ladd. Steve owned and operated Ladd Enterprises, Inc for over 30 years, working as a hospital consultant all across the Nation.
Steve was an avid golfer, pheasant hunter and fly fisherman and through his various pursuits, he traveled the world. He was a member of the Flint Rainbow Club on the Pere Marquette River in Baldwin. In his retirement, he was dedicated to the works of Project Healing Waters, an organization that helps wounded Veterans heal through fly fishing.  Memorial contributions may be made to Project Healing Waters by clicking here or Carson City Crystal High School Clay Target Team 213 E. Sherman St. Carson City, MI 48811.
Steve was gifted with many talents. He was an artist, photographer, and he enjoyed sailing the waters of Lake Michigan. He participated in and celebrated the successful completion of the Chicago Yacht Club's race to Mackinac. Steve also loved his Chicago Cubs and was elated to have been able to see them win the World Series in 2016, fulfilling a life-long dream for him.
Steve is survived by the love of his life for the past 30 years, Roberta McKenna Jensen of Carson City; her sons, Mark (Samantha) Jensen, Tad (Chelsea Jones) Jensen and Jared Jensen; three children, Scott (Dawn) Ladd, Stephenie (Shawn) Scholl, Jennifer Lynn Ladd; six grandchildren, Clinton, Franklin, Tabor, Tyler, Liam, Nieve; great-grandchildren, Reagan, Calvin, LahKari; two brothers, Bruce (Dolly) Ladd, Bart (Janice) Ladd; and several nieces and nephews.
He was preceded in death by his parents and a son, Stuart.
A Mass of Christian Burial will be held on Friday, June 9, 2017 at 12 noon at St. Mary's Catholic Church, 404 N. Division St. Carson City, MI 48811. Visitation will be held on Thursday, June 8 from 2-4 and 6-8pm at Lux and Schnepp Funeral Home, Carson City with a Rosary beginning at 7:30 pm and on Friday, June 9, from 11 am until the time of services at the church.