PROJECT HEALING WATERS FLY FISHING, INC (PHWFF) takes great pleasure in presenting the Phil Johnson Exceptional Leadership Award to Richard Martin for his dedicated and inspiring service to our organization from 2014 to 2020. During this period, his selfless efforts and extreme generosity directly resulted in the growth and continuous improvement of the PHWFF Redding Program.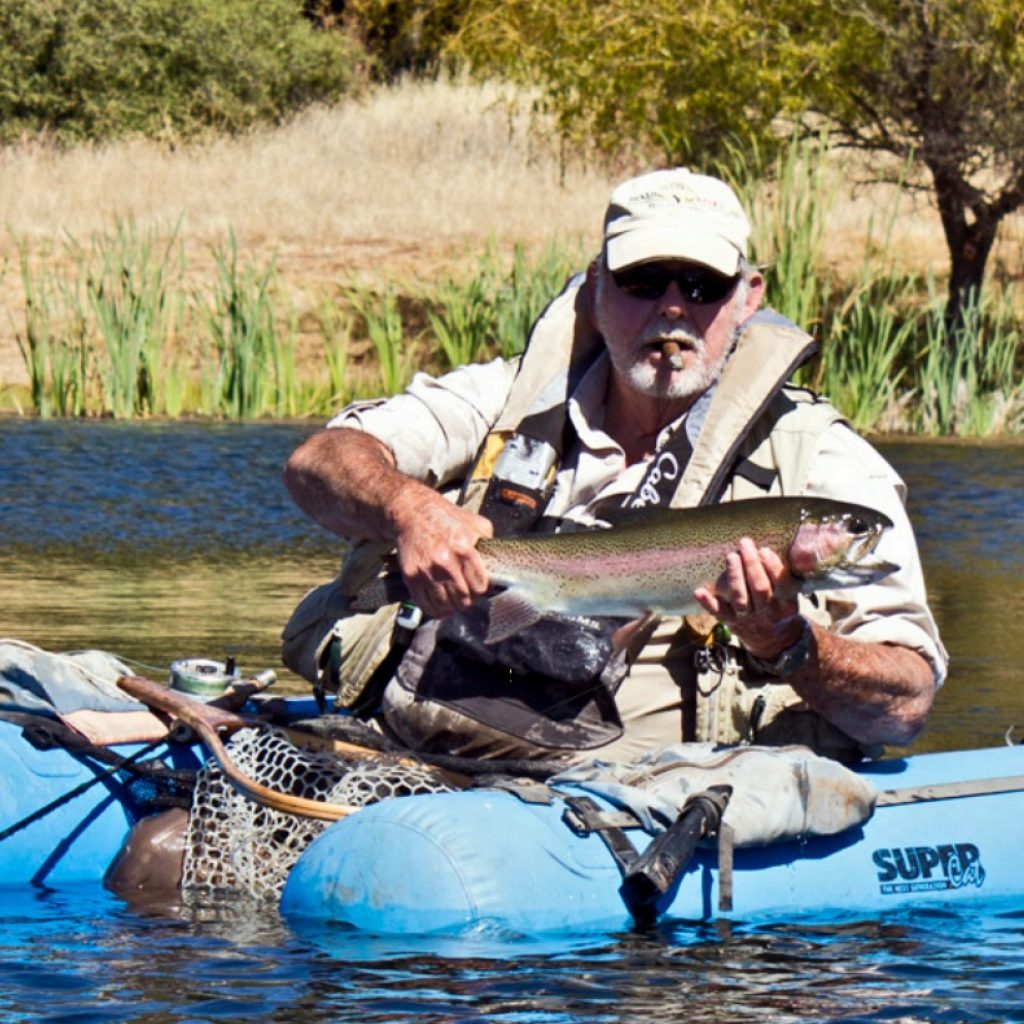 Under his leadership, the PHWFF Redding Program conducts core program activities that include informational meetings with written outlines, fly tying, casting, fly rod building and other fly fishing educational topics. He also leads an annual fishing net building class.
He develops meeting lessons on a variety of different subjects related to fly fishing. One such topic is float tube training and personal safety in an actual water situation. He creatively uses a local pool to conduct this training for the program's volunteers and participants. This training is also a requirement for those wanting to fly fish from float tubes. Richard also diligently works with the local Department of Veterans Affairs Medical Clinic to recruit new participants. He maintains the program's Facebook page and tirelessly promotes the program at local and national fly fishing shows and other venues. Richard organizes an average of two fly fishing outings per month to venues throughout Northern California. As part of these fly fishing outings, he developed unique outing mentorship opportunities for one participant and one volunteer. He trains and employs 15-18 volunteers as outing mentors. Remarkably, since 2016 these volunteer mentors led 206 one-on-one fly fishing outings. Demonstrating true leadership, Richard also developed an awards program to recognize the amazing accomplishments of the volunteers in the program.
Richard also created the "Sundial Challenge", a major two-day fundraiser that typically raises between $20,000 to $25,000 in revenue to support the PHWFF Redding Program's core program activities throughout the year as well as equipment and materials to support them. Local sponsors, donors, supporters, and volunteers engage with participants to help make the event a resounding success each year. During the Sundial Challenge there is also a raffle of a rod, reel, and net combination that highlights the program's talented volunteers and participants.

Dick Recchia was President of Shasta Trinity Fly Fishers at the time the PHWFF Program began in Redding, California. He wrote of Richard: "I really have no knowledge of how other PHWFF groups operate around the country but it is hard for me to imagine that any group can better serve its local members than our PHWFF group does under the leadership of Richard Martin. Richard and his team have created a cohesive, friendly and dedicated group of vets who support each other and who actively participate in the functions, classes and activities that are regularly provided and scheduled."
We remain forever grateful for Richard Martin's leadership, dedication, and commitment to our Cause! Project Healing Waters Fly Fishing, Inc. is proud to bestow upon Richard Martin the Phil Johnson Exceptional Leadership Award for his tireless and extraordinary service to our organization and to those wounded, ill, and injured servicemen and servicewomen and disabled veterans whom this organization serves.