I'm just trying to put a smile on fellow Veterans faces.

Sgt. Joseph D Noe (ret) | OIF
Sgt. Joseph D. Noe (ret) is an OIF Veteran who started fly tying in January 2020 with our Knoxville, Tennessee program. Since that time, Joe has honed his skills through program classes and independent study, leading him to enter our 8th Annual Fly Tying Competition.
For the competition, Joe designed a specific fly to honor the Veterans of Operation Iraqi Freedom – the 'OIF Stimulator' pattern. It took second place in the Beginners Category and led him to start designing, and tying, campaign ribbon flies for his fellow veterans and PHWFF participants. In addition to enjoying the challenge and spending time behind his vise, Joe says the goal of this endeavor is to just "put a smile on fellow Veterans faces." We know it has.
Just some military ribbons I've tied up for fellow vets. Got a vet friend that would love these shoot me a message and let's talk. Dont see a ribbon your looking for lets work on it and get it done. #phwff

Posted by Joe Noe on Sunday, January 17, 2021
Thanks to Joe, we're thrilled to share a few of his campaign ribbon fly creations with you and some instructions to help you to tie his award winning 'OIF Stimulator' pattern! If you're interested in contacting Joe about the campaign ribbon flies you can find him on Instagram at @joenoe8

Project Healing Waters has not only taught me about this art form that we call fly tying but it has also given me the ability to feel connected to the local veteran community. It has taught me a lot about fly fishing. It has introduced me to numerous fellow vets that like myself get relief from our daily fight with PTSD/pain when we sit down at the vise and begin to tie or when on the water fishing.

Sgt. Joseph D Noe (ret) | OIF
---
The OIF Stimulator
Sgt. Joseph D Noe (ret) | PHWFF Knoxville, TN | @JoeNoe8
This specific fly is designed to honor the Veterans of Operation Iraqi Freedom with making the body the campaign ribbon issued to vets of OIF. The body is traditionally made of dubbing and hackle wrapped around.

Sgt. Joseph D Noe (ret) | OIF
Materials
Hook: Firehole competition hook # 718 Size 10
Body: Uni-thread 6/0w; Red White Green Black Waxed thread 310 denier; Cream UV Glue
Hackle: Standard Thick Hackle – Cream
Wing: Bleached deer hair
Tail: Bleached deer hair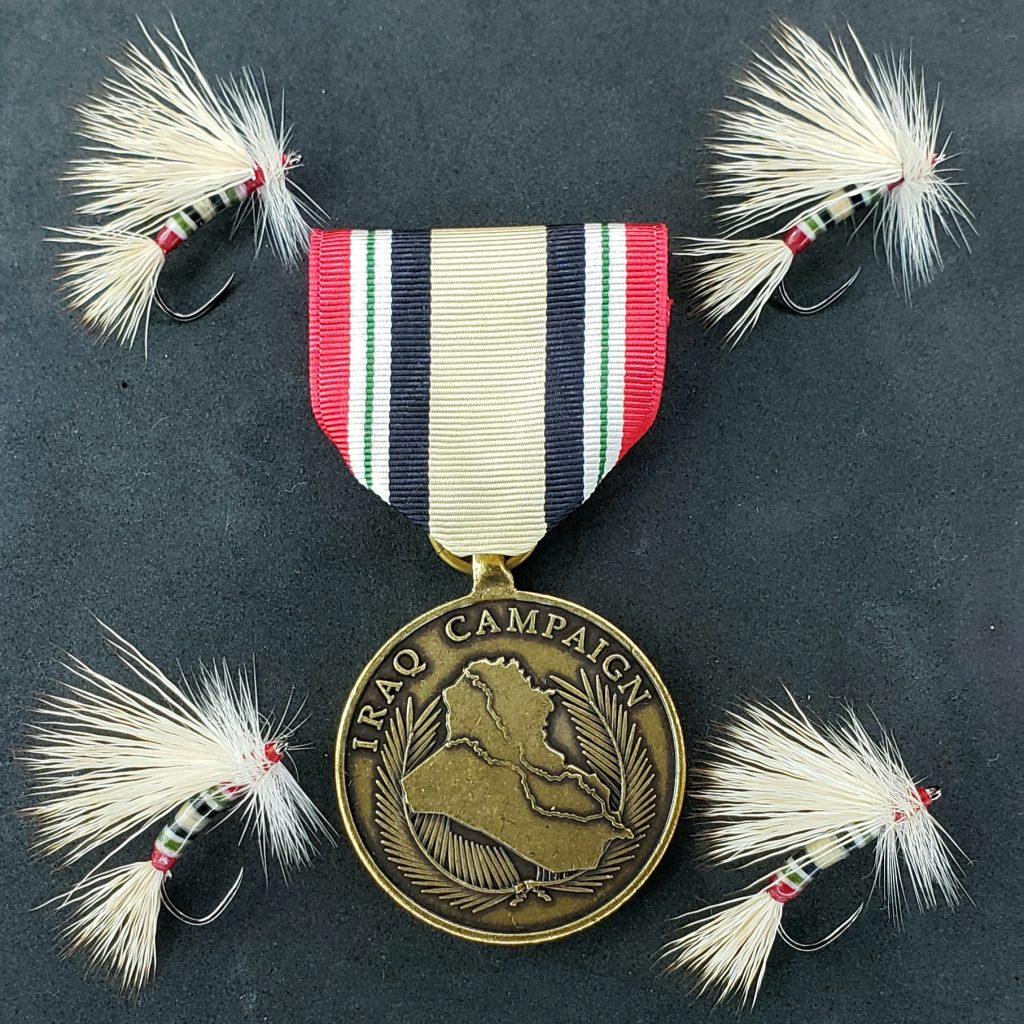 Latest News