By Bill Campbell, Regional Coordinator, Virginia Region
They came from all over the country. Literally. Volunteers, Assistant Program Leads, Program Leads, Deputy Regional Coordinators, and Regional Coordinators from Maine to California attended the 2019 PHWFF Volunteer's Sweetwater Guide School August 31st to September 7th. Many of us got reacquainted in the airport and all of us made new friends from the moment we landed.
The talk I heard the first night seemed to be about all the tricks we were going to learn this week. What inside information were we going to be given to make us better guides? The excitement was obvious and addictive. Almost everyone wanted to know how were we going to be taught to use our current levels of expertise and experience to become better anglers and do a better job guiding our Participants. By the end of the week the skill set we were hoping to learn changed for a lot of us. I know it changed drastically for me.
The first issue that seemed to spark interesting conversation was the use of the word "Guide". In many parts of the country, an angler can't call themselves a "Guide" unless they've had specific training, taken specific tests, acquired specific licenses, or some combination of all these requirements. Folks were completely surprised to discover that in the state of Virginia the only requirement to be a professional fishing guide is to call yourself one. There are no licensing or certifications for professional fishing guides in Virginia. We quickly agreed that when we were talking about "Guides" we were talking about Volunteer guiding of PHWFF Participants.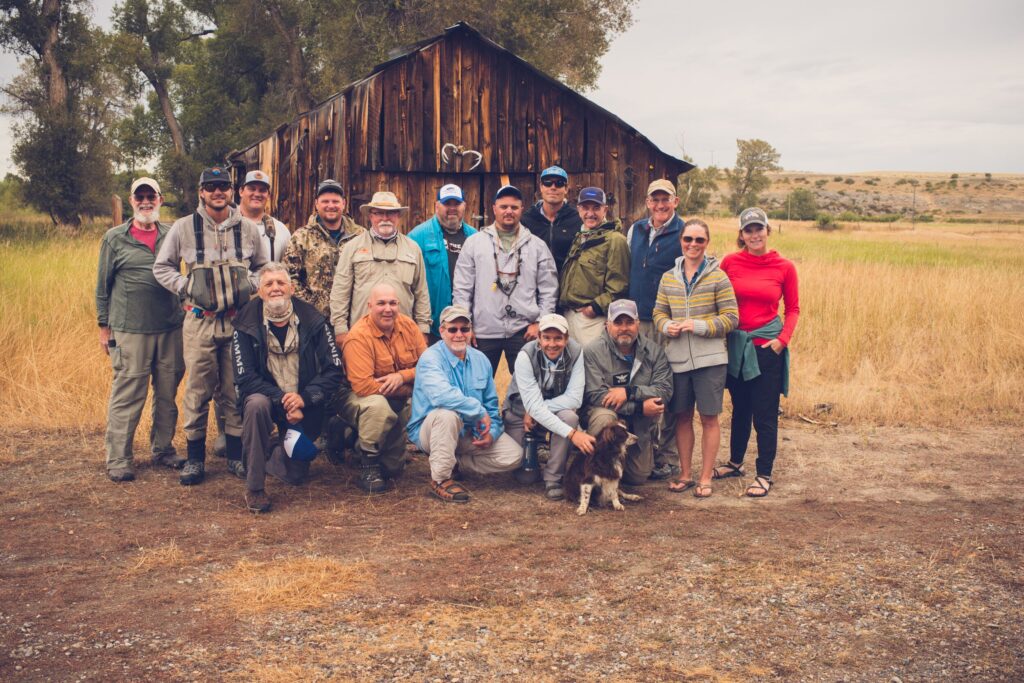 Did we fish? Does a bear live in the woods? We fished Armstrong Creek, one of the featured places in the book "Fifty Places to Fly Fish Before You Die" by Chris Santella. It was a beautiful crystal-clear spring creek that held monster trout who saw us coming. We fished the Yellowstone. We fished a private pond.  And after long days of fishing, learning knots, tying flies, and listening to our Instructors tell us all about the most important skills a good guide should have, we slipped off to the ponds behind our cabins or to Sweetwater Creek to fish just a little bit more.
We all tried our hand at learning to row a drift boat and some of us took to it easier than others. We practiced our casting, practiced teaching casting to others, and evaluated each other's cast so we could get the feel of that process from both sides of the rod. 
This slideshow requires JavaScript.
During all these lessons and fishing expeditions our Instructors gently guided us (pun intended) towards a different idea of what it takes to be a good guide. It started to get obvious when our Lead Instructor, Steve Wilson, pointed out page 11 of our training manual. In the middle of the page it says:
"REMEMBER, NONE OF OUR GRADUATES HAVE BEEN FIRED FOR NOT CATCHING FISH". That was bold faced in in all capital letters just like it's written here. That was a revelation to me. Something I'd never really thought of as important since, like many of my classmates I'd talked to during the week, I believed a guide was deemed good or bad based on their technical skills.
Also on page 11 of our training manual was a list of "what to do as a first year guide to make yourself stand out". The suggestions included:
Be on time. Be the first Guide up in the morning

Do your best to get along with the members of the staff and management

Be organized. Use a check list in the morning.

Share information with the other guides. Don't lie.

Get to know the birds, plants, animals, and history of the local area
It was about this time I began to realize that the most important part of being a guide is to be present for your Participants, to establish a rapport with the person you're guiding. And the more I shared my revelation with my classmates the more I realized it was the message they were getting from our Instructors as well. As the training manual said later "some of the best fishermen have been the worst guides".
I learned a lot from both the Instructors and my classmates. And based on what they had to say, they learned a lot too. Here are some of their comments:
"The Sweet Water experience increased my fly-fishing knowledge exponentially. The learning equation was taking the guides knowledge and coupling that with the participants knowledge made me a better volunteer and mentor to our vets. Sweet Water Guide School was the highlight of my PHWFF experience. The school/experience will pay dividends for years to come."

"Steve provided great leadership and instruction; Callan demonstrated a "zen-like" approach to fly-fishing; Cody is a perfect addition, especially regarding how he can relate to PHWFF volunteers; Marya demonstrated expert drift boat operations, as well as a perfect method for beginner casting instruction; Alex listened intently to each volunteer, related and communicated with each of us, and demonstrated his desire…and our need to continue learning; Matt showed several methods to improve efficiency and effectiveness during fly tying events; Doug made first aid/CPR/AED extremely entertaining and memorable; and finally, "Ruger the boat-dog" provided great companionship!"

"The sincerity that the instructors present on the "whole" area/art/instruction of fly fishing just really seemed to keep our goals with helping each other and our veterans/clients at the core of our thoughts! The best experience of all was that the instructors really seemed to "care" about us, as individuals, and how we performed our objectives, not only there on site, but in our future en devours with PHW. That caring made it feel more like friends teaching friends rather than a guide school!"

"What an amazing week! Sweetwater proved that you really never stop learning in the fly fishing world. I am a better fly fisher and mentor now that I have been fortunate enough to take this course. I was so impressed by the experienced guide staff and how each of their unique perspectives contributed in helping make me a more well-rounded angler. Not only did I learn and better my skills in fly fishing, I also witnessed so much effort towards conservation and environmental stability through the guides. Their love for nature and protecting our wildlife and fisheries was contagious. Along with all of the fly fishing/guiding instruction…learning how to properly handle a fish and keeping our waters clean is so important….and something that should be passed on to volunteers and participants back at home so we can continue these efforts in our own waters. It was such a privilege to spend the week with fellow volunteers from around the country. Some of my favorite moments were all sitting together at the end of the day, learning from one another. I love that I am walking away from my week at Sweetwater with new friendships that I know will last a lifetime and I feel so empowered with the new knowledge I have gained to continue to assist in PHWFF's mission in healing those who have served."
I think they said it best. It was a once-in-a-lifetime experience that will help all of us who attended this year's school continue to do what we really enjoy doing: Healing Those Who Serve. Thanks for the opportunity.
This slideshow requires JavaScript.