The tournament confirmed once again the PHWFF maxim that fly fishing can help rehabilitate both the mind and soul, even if on a bass boat flying across the California Delta as speeds up to 50 mph. And whether it was beginners luck or expert instruction from PHWFF-Martinez, CA volunteers, a vet who was fly fishing for the first time caught the largest fish: a 4½-pound striped bass.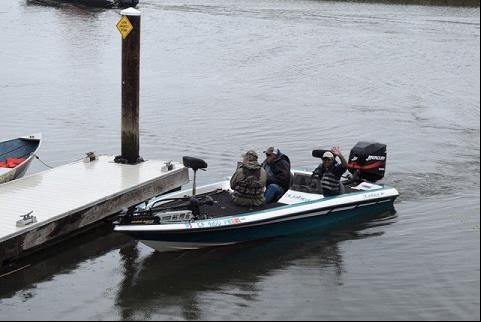 Off to a very early start: Tom Mulliken, Ron Vecchio, and PHWFF-Martinez, CA veteran participant Phil Holmes get ready for a little low level flying in Tom's bass boat.
The tournament started with the launch of a flotilla of nine boats, each carrying at least one PHWFF veteran participant, a boat captain and a sponsor, bright and early from the Sugar Barge Marina on Bethel Island. Each boat was donated by local bass fisherman, many veterans themselves. Prizes were awarded for the largest striper or largemouth, largest largemouth group, and largest striper group.
Veteran Keith Cawver's first fish on a fly rod was one of the winners. PHWFF-Martinez, CA volunteer Dean Rhodes was a great mentor!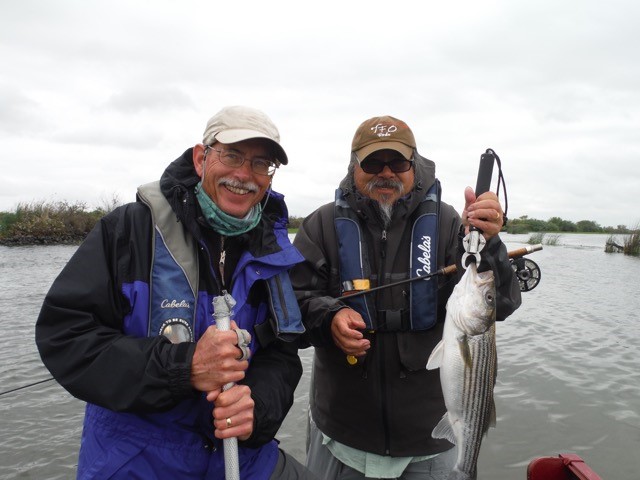 Veteran Al Tom landed a very nice striper with the help of PHWFF-Martinez, CA volunteer Larry Griffis placing his boat to just the right spot.
Among the approximately 50 people in attendance were 12 veterans with the PHWFF-Martinez, CA program; two additional vets from the Veteran Employee Resource Network (VERN) in Roseville, CA, a veteran mentoring program at Hewlett-Packard Enterprise; eight veteran volunteers and one active duty Air Force sergeant.
The success of the fundraising element of this event was boosted by the participation of two presenting sponsors: Fred and Anne Patton, and VERN. Fred is a former Marine pilot who served during Viet Nam and an outstanding PWHFF volunteer and donor. VERN sponsored three boats for this event through its fundraising.
"As a volunteer community focused on cultivating an active network to support veterans, veteran causes, and aid in the recruitment, transition and retention of new veteran hires, we were delighted to make such a significant contribution to PWHFF," said Cameron McClure, co-chair of VERN.
Once the fishing was done, the fish weighed and released, the 50 attendees adjourned to the beautiful Sugar Barge Marina facilities for a silent auction and banquet. Sugar Barge owners David and Tracey Riggs graciously provided Sugar Barge, both for launching boats in the morning and activities in the afternoon. David's comments after the event hit home, "We were so proud to be part of such an incredible event, hats off to you and all of the volunteers. It takes special people to take care of special people. Can't wait for next year, God bless."
After dinner we were fortunate to have PHWFF-Martinez, CA veteran participants Felix Oseguera, Bill Hopkins and Jose Arana publically offer their perspective on PHWFF and the positive changes it has brought to their lives. The keynote address was offered by Kris Kitchens, an HPE employee who served eight years in the USMC and was involved in front line combat during Operation Iraqi Freedom and suffered severe injuries involving TBI, PTSD and back injuries as a result of his service.
Kris epitomized the strength of character and determination of so many of our returning veterans, given the opportunity to get whole again and finished his stirring address with a quote from Evan Currie, "A soldier's first duty, his reason for being, is not to fight. Fighting is the final recourse for any civilized people. …a soldier doesn't seek conflict, even if he often seems to find it."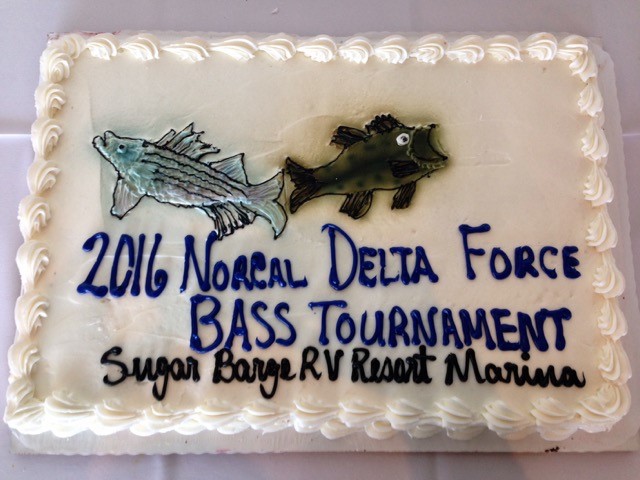 The official Project Healing Waters Fly Fishing NORCAL Delta Force Bass Tournament cake.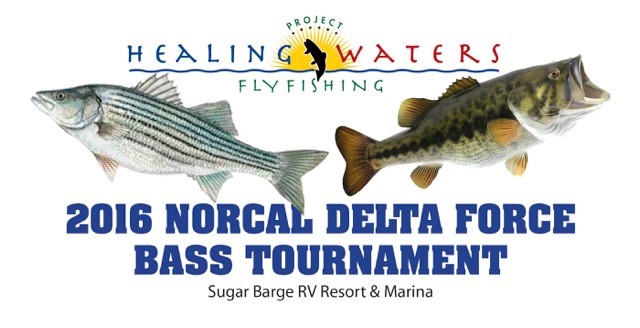 More information about the Project Healing Waters-Martinez, CA can be found on their Facebook Page Project Healing Waters Fly Fishing – Martinez, CA and at http://www.diablovalleyflyfish.org/phw