The 10th Annual 2-Fly Tournament was a special celebration of our past decade of service and an opportunity to further forge our mark on the decades to come.  Acting as both a fun, competitive fly fishing competition and a fundraiser, the weekend brought supporters, volunteers, and veteran participants together as a family bound together by the bonds of PHWFF.
Saturday morning offered a great opportunity for the veteran competitors to 'warm-up" for Sunday's Tournament with a fun Bluegill Tournament at the Rose River Farm ponds.   Hosted by acclaimed kayak angler Cory Routh it was an opportunity for all to gather in a causal, fun, and beautiful setting and to reacquaint themselves with their guides and volunteers while enjoying some great fishing.
2016 Project Healing Waters Bream Tournament >>  
A lunch was generously provided by The American Legion District 13 of Virginia with Posts 157 and 74 providing support.. Sitting in the sunshine, sharing stories of service and days on-the-water, the lunches held the atmosphere of a family reunion. Veteran participants, volunteers, and supporters laughed and enjoyed the camaraderie of PHWFF and the beautiful surroundings.
A beautiful tent was erected on the banks of the picturesque Rose River as the setting for the Saturday night dinner and auction.  Dedicated and diligent volunteers from CACI (the presenting sponsor) worked tirelessly in-conjunction with PHWFF staff and volunteers to provide a comfortable setting for the evening.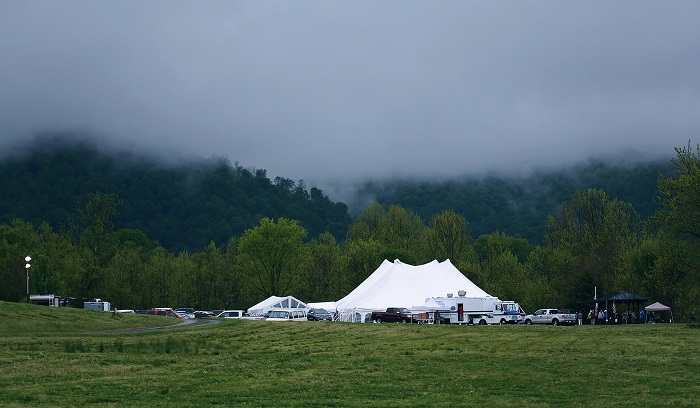 As in years past, veteran competitors were escorted to the dinner by the Patriot Guard Riders and their arrival formally launched what was to be an unforgettable few days.
Over 300 people attended Saturday night's festivities and among them were numerous special guests including Keynote Speaker and distinguished journalist Tom Brokaw, legendary fly angler Lefty Kreh, Medal of Honor recipient Kyle White, acclaimed anglers Joe Humphreys and Ed Jaworowski.  Following a lively silent auction, the MC for the evening, CPT (ret) Eivind Forseth, U.S. Army, welcomed those assembled for their service, support, and volunteerism over the past decade.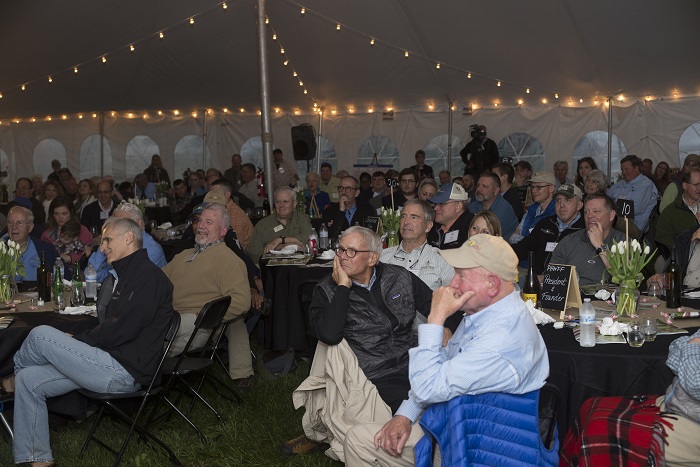 In addition to CPT (ret) Forseth, 3 veteran competitors (CPT (ret) Alvin Shell, U.S. Army, CPT (ret) Kim Smith, USMC, and SSG (ret) Robert Bartlett U.S. Army) addressed the crowd, courageously sharing their own inspiring stories of service, recovery, and strength.  Their remarks were powerful and inspiring.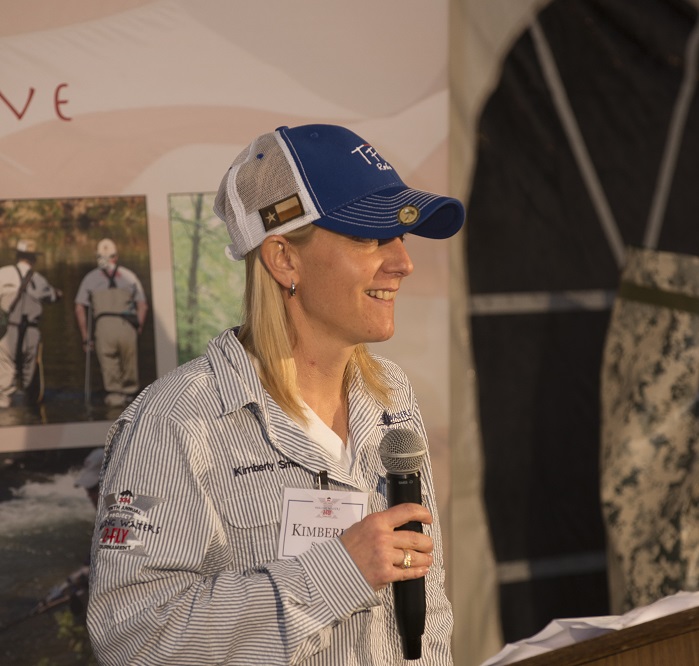 WATCH: SSG (ret) Robert Bartlett, U.S. Army address the Saturday night dinner >>
WATCH: CPT (ret) Alvin Shell, U.S. Army address the Saturday night dinner  >>
The dinner also featured two very special presentations. First, Randall Stillinger Manager of the Military and Veterans Initiatives for American Airlines took the podium alongside American Airlines pilot and PHWFF Regional Coordinator Curtis Boatman, Mr. Stillinger presented CEO Ellen Killough with a donation of 1,000,000 AAdvantage Miles, valued at $29,500, to provide the thousands of veterans we serve with the support they need on their journeys of recovery.  The air travel will be used exclusively for the transportation of our veteran participants to-and-from trips and functions we offer.
Shortly following this generous gift from American Airlines, PHWFF Founder Ed Nicholson spoke warmly and deeply appreciatively of Douglas Dear, PHWFF Chairman Emeritus.  In doing so, Mr. Nicholson bestowed our most distinguished award, The Patriot Award, upon Mr. Dear for his continuous and extraordinary service to PHWFF as an organization, and to those veterans we serve.
We were honored to have distinguished journalist Tom Brokaw serving as our keynote speaker for the evening.  His remarks left a lasting impact upon all gathered – touching upon service, volunteerism, patriotism and sacrifice.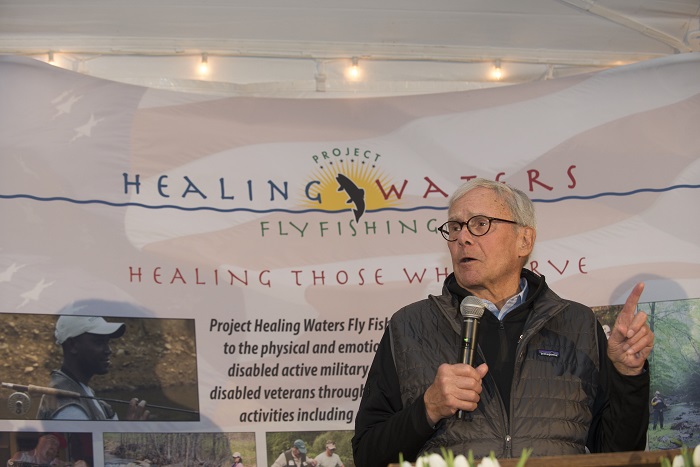 Despite the early morning rain, the 10th Annual 2-Fly Tournament began early Sunday morning with volunteer guides, veteran competitors, pro-teams, and volunteers in high spirits.  The tournament pairs PHWFF Veteran Participants from around the country with top industry professionals for a day of fun, competitive angling. The professional guides do not fish, but concentrate on assisting the veteran team members during our flagship fundraising event.  In keeping with this special celebration of our past decade of service, the 10th Annual 2-Fly Tournament veteran competitors were PHWFF 2-Fly Alumni from the past decade who have been immersed and strengthened by our healing waters.
As the old adage goes, "rain delays are for baseball" and this notion was prevalent as competitors and guides excitedly geared up to fish in-spite of the slow, cold rain sweeping across the neighboring Blue Ridge Mountains.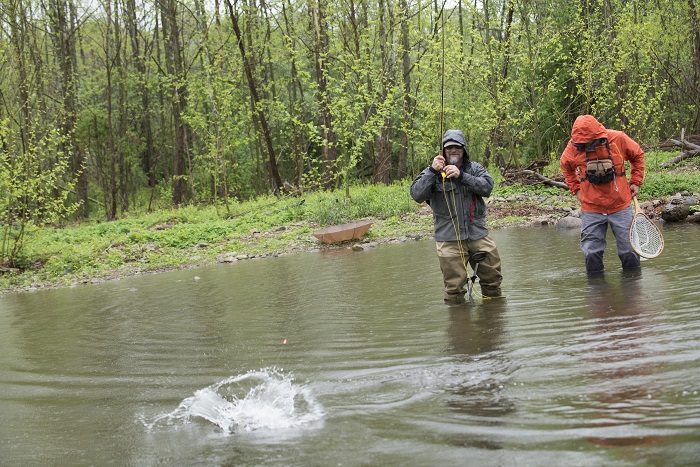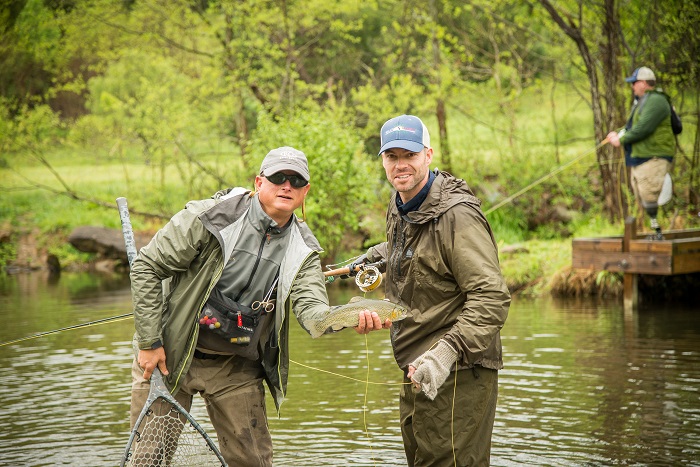 The abundant waters of the Rose River did not disappoint as celebratory 'whoops' could be heard echoing across the property throughout the day as veteran competitors tangled with the river's beautiful inhabitants.
During breaks in the competition, the veteran competitors were treated to private world-class fly fishing instruction from our great friends Lefty Kreh, Ed Jaworowski, and Joe Humphreys.  Fly fishing is a sport in which one never stops learning or improving and the opportunity to learn directly from the masters was an opportunity many will never forget.
Lunch time featured a very special musical performance by Brock Lawley.  Mr. Lawley, in cooperation with our great friend Lisa Mei Crowley, composed an original song "Rise" in honor of, and in dedication to, our cause and the veterans we serve.  Listen to "Rise" by Brock Lawley >>
As the weather cleared in the afternoon, the competitors continued their great success with countless rainbow, brook, and brown trout brought to hand.  As the afternoon drew to a close, a seemingly endless line of wader-clad smiles marched back to the gazebo while Douglas Dear, Jerry Nonnemacher (PHWFF Board member) and the talented photographer, writer, and PHWFF supporter Ed Felker tallied the scores.  Read the Tournament Rules & Regulations >>
The team of CPT Rob Burke, U.S. Army and CPT (ret) Alvin Shell, U.S. Army supported by volunteer guides Richard Farino and James Alliff led the way and secured first place in the 10th Annual PHWFF 2-Fly Tournament.  In addition to the big win, CPT Burke also took home the "Biggest Fish" Trophy for his 18.5 inch rainbow trout.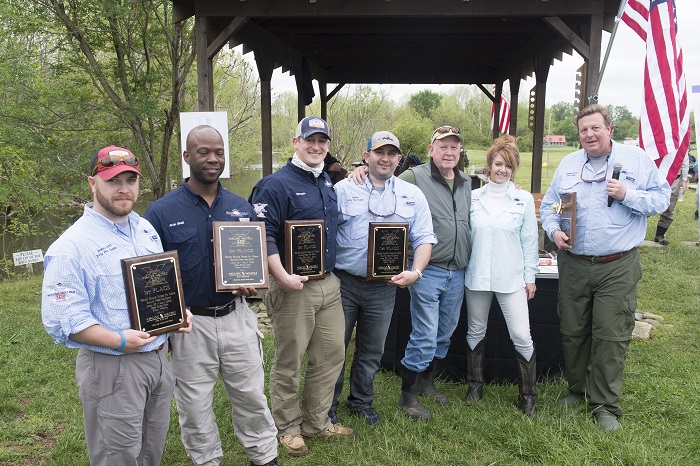 It was a weekend of memories, celebration, and patriotism, and one not soon to be forgotten.  Project Healing Waters Fly Fishing thanks all of our friends who so generously supported this annual celebration, tournament and fundraiser and the many 2-Fly Tournament and event sponsors who made it happen.   We are honored by your support of our cause and the veterans we serve.