After leaving active duty in 2011, James enrolled at the University of Tennessee at Chattanooga where he cofounded the UTC Student Veterans Organization which has since created an endowed scholarship for veterans at UTC.  In 2014 he graduated summa cum laude with highest honors in history and then moved with his family to Scotland to study at the University of Glasgow.  James graduated with a Master of Letters with distinction in War Studies and returned to Chattanooga where he teaches history and works as a historian at the Charles H. Coolidge Medal of Honor Heritage Center.  He tied his first fly at his first Project Healing Waters meeting in 2015 and caught his first fish on a fly rod later that spring.  Much more than just an escape from his normal routine, Project Healing waters has been extremely helpful in getting James active, outside, and meeting new people.  James is blessed to have the love and support of his wife Vanessa (even as the house has filled with fly tying materials), and he has a great new fishing buddy in his son Bobby, who caught his very first fish this summer and is already helping his dad tie flies.
James was one of the five finalists in the 4th Annual Project Healing Waters Fly Tying Contest and attended the International Fly Tying Symposium in Somerset, NJ on November 19 -20, 2016.  Meet the 5 Finalists >>
"About a year ago, I went to my first Project Healing Waters meeting and that same night I tied my first pheasant tail nymph.  Ross Schweinforth, our program lead here in Chattanooga, was extremely welcoming and supportive, and I was immediately hooked.  It was only a few months later that I learned about the contest and started to think about what I might like to tie.
As the deadline approached, I didn't think that my flies had the consistency or design quality needed for the contest, but with advice from Tom Rueping one of our volunteers on my tying technique and encouragement from Ross, I decided to give it a shot and submit the fly that I had designed that I called the Zoobee.  Just the practice of learning to tie consistently and to tie using new techniques made entering the contest completely worth it, regardless of whether my flies won."
While attending the two day symposium, James and his fellow finalists demonstrated their skills at the PHWFF booth and attended the many free programs and fly tying demonstrations offered during the event. In addition, an awards ceremony was held to announce the winners.  James won 1st place for his Zoobee fly.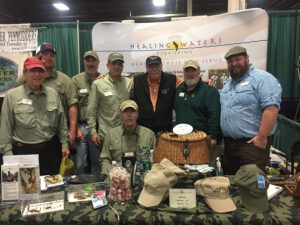 "I was absolutely shocked and very excited to learn that my fly had been selected as a finalist and excited about attending the symposium.  I had no idea what was in store at the symposium in New Jersey.  Meeting the other finalists was a fantastic experience.  Not only did we all come from across the country and from different branches and eras of service, but we had all tied very different flies, so I really enjoyed getting to know everyone, learning how they tied their submissions, and talking about the kind of fishing that they liked to do.  The symposium itself was also amazing.  Being new to fly tying, I had no idea that there were so many different styles and materials out there.  It was also wonderful to see all of the support for Project Healing Waters from so many different fly tyers in general, and many of them were extremely generous with their time in answering questions from a novice tyer.  Getting to meet Bob Clouser (the Clouser Minnow) and see the work of Pat Cohen who does simply amazing work with spun deer hair were definitely highlights of the trip for me.  The banquet was also a lot of fun, and we got to learn about fly fishing in Holland, South Africa, and Switzerland, which was something really cool that I didn't expect, and I learned an amazing amount about fly tying in the short time I was in Somerset, but getting to meet the other finalists and just talk shop about fly tying was probably my favorite part.  Particularly as someone who has only been tying for a short period of time, I can't recommend entering next year's contest enough."