Welcome to the 11th Annual
LEGENDS OF THE FLY
Brought to you by Project Healing Waters Fly Fishing, Inc.™

September 30, 2014 – The program for the evening was conducted by Master of Ceremonies Adm. Gregory Johnson, US Navy (ret), with PHWFF participants Captain Andy Roberts, US Army (ret), Captain Ferris Butler, US Army (ret), and Staff Sergeant Robert Bartlett (ret) sharing their own personal experience as participants in our program. The keynote speaker for the evening was Matthew P Eversmann, US Army (ret). Evermann's life was immortalized in the epic feature film, Black Hawk Down and he is recognized for heroism under attack during the battle in Mogadishu in 1991. Click here to read more"
Cpl (ret) Mike Oreskovic, U.S. Army​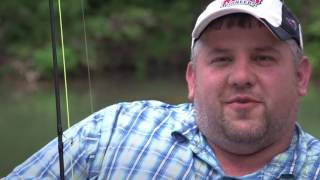 The Veterans of Project Healing Waters Kansas City, MO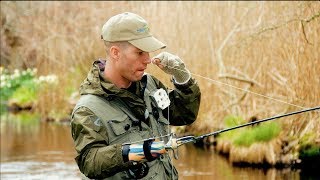 Disabled Veterans Help Each Other Heal Through Fly Fishing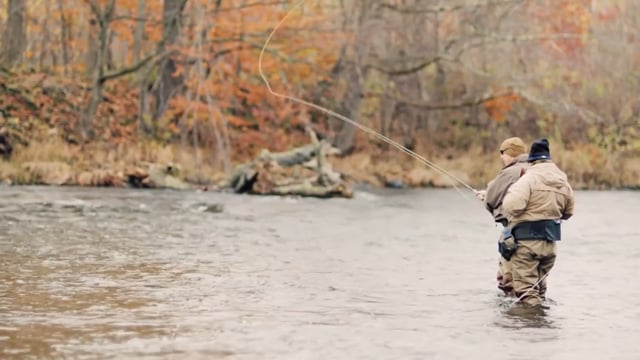 Casting a Lifeline: Everyday Heroes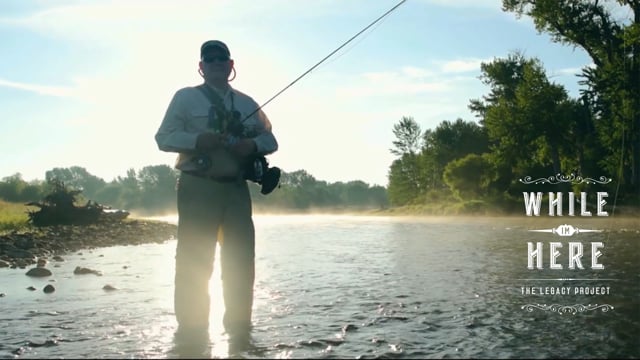 While I am Here: The Legacy Project - Healing Waters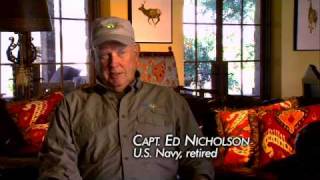 Project Healing Waters ESPN
Cpl (ret) Mike Oreskovic, U.S. Army​

"This is fun, I could do this all day.....for the rest of my life!" - Cpl (ret) Mike Oreskovic, U.S. Army PHWFF Programs use a wide-assortment of adaptive fly fishing equipment with those participants who are adjusting to their new abilities. One such item is the Franco Vivarelli reel featured in this short film. It's a semi-automatic hand-crank reel system, meaning that with one-hand an angler can control the rod and the retrieval of line using its clutch system. It builds confidence and access for those participants who may be missing a limb or who are partially paralyzed. (Video : SJ Hasty Creative Media)

The Veterans of Project Healing Waters Kansas City, MO

This beautiful short film features the Kansas City, MO Program, the veterans it serves, and serves to highlight our unique form of therapy. The film in it's entirety is scheduled to be shown on KCPT, channel 19, in Kansas City on December 12, 2016 at 8:00 pm. Our deepest thanks to Dave Simmons for producing this outstanding video!

Disabled Veterans Help Each Other Heal Through Fly Fishing

In 1968, Edward Veaudry was drafted to the US ARMY and during his service he transported over 400 deceased GI's to Saigon where they were taken home to US soil. Years after his own return, Ed joined Project Healing Waters Fly Fishing (PHWFF), an organization dedicated to the physical and emotional rehabilitation of disabled active military service personnel and veterans through fly fishing. He now works with other disabled veterans in PHWFF programs as the Northern NY Regional Coordinator. In 2005, PHWFF began by serving the wounded returning from combat in Iraq and Afghanistan at Walter Reed Army Medical Center. It has since expanded nationwide, establishing its highly successful program in Department of Defense hospitals, Warrior Transition Units, and Veterans Affairs Medical Centers. PHWFF has become recognized as an innovative leader and model in the field of therapeutic outdoor recreation for the disabled, through its successful application of the sport of fly fishing as a rehabilitation tool. Since their founding, over 10,000 disabled veterans have participated in PHWFF programs thanks to over 4,000 volunteers who have dedicated over 1.7 million hours of their time.

Casting a Lifeline: Everyday Heroes

First Sergeant Ira Strouse (Ret.) and Project Healing Waters take disabled veterans fly-fishing as a therapeutic escape from the battle scars of war. He began his experience as a participant, but found the program so transformative that once his therapy was through, he knew he had to do more. From the surfer who gives special children a reason to smile, to the Ford dealer who leaves his job to fight a fire, there are people around us who go further every day. Ford salutes all owners, dealers and employees who embody the meaning of Go Further.

While I am Here: The Legacy Project - Healing Waters

After 30 years in the Navy and 10 years in private industry, Ed Nicholson was diagnosed with cancer. He was in Walter Reed National Military Medical Center recovering when injured vets began coming back from Iraq. Nicholson realized there was something he could do to help them cope with their mental and physical issues. Armed with a fly fishing rod, Ed began to teach people to cast on the front lawn of the hospital and Project Healing Waters Fly Fishing was born. The project now takes veterans out onto the water to fly fish, but most importantly build relationships that will last for a lifetime. The Project has grown to 178 programs in 50 States.

Project Healing Waters ESPN

Project Healing Waters Fly Fishing, Inc. is dedicated to the physical and emotional rehabilitation of disabled active duty military personnel and veterans through fly fishing and fly tying education and outings.
BECOME A SPONSOR FOR THIS FUNDRAISER
$20K PRESENTING SPONSOR
---
Exclusive, only one available Sponsorship at this level allows ten veterans to experience a premier fishing destination inside the U.S. Two tables of ten guests* to dine with keynote speaker and veterans Company representative will be introduced to make opening remarks during program Two minute 'Spotlight' recorded by and aired on Executive Leaders Radio Sponsor will be featured exclusively in 30 second online video promoting event
$10K GOLD SPONSOR
---
Sponsorship at this level allows five veterans the opportunity to fish a national destination One table for ten guests * with option to dine with veterans Two minute 'Spotlight' recorded by and aired on Executive Leaders Radio Full page color ad in 2-Fly Tournament Yearbook Major listing in all promotion to include print, online, social media and event signage Logo featured on the PHWFF website Verbal acknowledgement the evening of the event