The Tournament competition kicks off at 7:00 a.m. Sunday morning, April, 30 2017, and features PHWFF participants from across the nation.  You can find complete details on the 2-Fly Tournament and special guests by clicking here.   Our deepest thanks to each guide for donating their time and talents in support of our cause and the veterans we serve.
Harold Harsh

I joined the Marine Corps before I was out of high school and served for 8 years with tours of duty to Beirut and Grenada. What these men and women have given to our country goes beyond anything I could ever possibly give back to them. When Captain Ed asked me to help him help them, what else could I say but yes! I have the greatest respect for my fellow warriors and will do anything in my power to help them. Semper Fidelis, Harold Harsh, Spring Creek Outfitters. Harold guides many Maryland Rivers– one of his favorites is the North Branch of the Potomac.

Richard Farino

Richard is a New York City native of over 3 decades who moved to Washington DC to open a fly fishing shop. As an avid angler who spent time fishing and guiding the fresh and salt waters of the northeast and anywhere he could wet a fly, he met John Colburn, former VP and a founding member of Project Healing Waters and was inspired by John's devotion to PHWFF.
Richard is the son of a purple heart recipient – a Vietnam war Navy veteran who served in the Patrol Boat River Division in the Mekong Delta.  He is the founder of District Angling, a fly fishing retail, guiding, and travel business in Arlington, VA.  He is proud to support PHWFF and looks forward to continuing to volunteer and give back to veterans
Ira Strouse

Ira Strouse has been involved with Project Healing Waters Fly Fishing since 2011 after returning from a yearlong tour in Afghanistan. He has endeavored to give back to the organization by assuming various volunteer leadership positions within the organization at both the local, regional, and national levels.  Fly fishing has become the cornerstone of Ira's endeavors and he shares his enthusiasm for the sport freely.  His love of the sport is not only is shared with other veterans and soldiers but also with his family.  His wife Tissa, an active duty Army officer, also volunteers with Project Healing Waters and both sons are cutting their teeth in the sport.

William Heresniak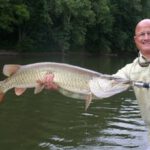 While driving along the highway by the entrance to the Rose River Farm this past January I spotted an enormous Bald Eagle. She was perched on one of the larger trees. It seemed as if even in the cold calm of winter, she was watching over that special place where the 2-Fly Tournament is held each year waiting for her sons and daughters to come fish.Each year at the 2-Fly has been special. It's a day I get to spend with the veterans, good friends and my daughter. One thing we need to remember not only during the tournament, but every day, is the soldiers that lost their lives defending our country.William Heresniak  Eastern Trophies guides most of the popular Rivers in Maryland and Virginia. They specialize in float trips for trout, smallmouth, and muskies.

Joel Thompson

This is my second year as a guide for the Project Healing Waters 2-Fly tournament and I could not be more excited to be part of this great event. I am a native Montanan and come from a long line of Military men in my family and am looking forward to giving back to those who have served. I am a Fishing Outfitter and own and operate a guide service in western Montana called Montana Troutaholic Outfitter's Teaching people how to fly fish and seeing the joys it brings to them when they are able to put it all together and catch that fish is one of the most enjoyable things in the world to me. I am truly honored to be a part of this great event!

James Aliff

I have worked in the fly fishing industry for 9 years and now manage the Orvis store in Leesburg, VA. I have always been very fond of exposing others to fly fishing and teaching them the tricks of the trade. Thanks to both Jim Erickson and Douglas Dear I was given my first opportunity to participate as a stream monitor in a previous 2 fly tournament. At that tournament I met meet Chris Frost. I had a chance to spend some time on the water with Chris which was one of the most rewarding experiences I have had in fly fishing. I look forward spending more time with and providing more support to Project Healing Waters.


Rob Snowhite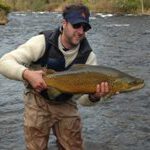 My name is Rob Snowhite. I own and operate the Fly Fishing Consultant, in Alexandria, VA, focusing on fly fishing education and instruction in and around the Nation's capital.I became involved with Project Healing Waters Fly Fishing after transitioning to fly fishing as a full-time career. Volunteering at Walter Reed and Bethesda Naval Hospital is my way of giving back to those who have given the ultimate sacrifice for their nation and our freedom. I've guided at the 2-Fly Tournament for the past years and I am deeply honored when Ed asks me to be a guide. Fly fishing is not a sport, but a way of life. It is a natural, therapeutic release from physical and mental trauma.I learned to fly fish in the foothills of the Blue Ridge Mountains around Rose River Farm and consider the area my fly fishing home. Rob Snowhite (703) 401-6429.
Keith Tanner

Keith was extremely excited when he found PHWFF for the opportunity to combine two of his passions…. helping veterans and fly-fishing.  Keith, a former marine ('82-'88), fished the waters of New England his whole life, starting fly-fishing at the age of 10.  He enjoys sharing his love of the sport and seeing the therapeutic benefits it provides.  He's been a PHWFF volunteer since 2010, where he helped establish a PHWFF presence in CT. He has his captains license and charters and guides when he's not working his full-time job, as an engineer at Pratt & Whitney, where he co-founded a corporate veterans resource group, UTC-4-Vets.  The group was formed to support employees who served, their families, and veterans initiatives and has established a close working relationship with PHWFF
Ken Zadoyko

It has been my honor and privilege to share my passion for fly fishing with the men and women who served our country. I currently work with PHWFF programs in Charlottesville, VA and Tampa, FL. I cannot think of a better way to honor my mentors and friends who helped me improve my skills. I encourage others to volunteer their time for this very important program. I have been a passionate fly fisher for the past 50 years and enjoyed working with young people during my 33 year teaching career. As a FFF MCI, I taught at the Wulff Fly Fishing School in the Catskills. Additionally I organized and taught fly casting and fly tying for adults and children for TU, the Catskill Fly Tyers Guild and NJ Division of F&G.
Mike Clarke 

Mike Clarke was born and raised in Western Montana and has been tying flies and fly fishing since he was big enough to hold a fly rod.  After graduating from the University of Montana in Missoula, he pursued his other passion of medicine.  In 2012, Mike moved back home to Southwest Montana where he works as an emergency medicine physician but continues to guide as much as he can while not at the hospital.  With the help of Healing Waters Lodge in Twin Bridges, Montana, Mike has been fortunate to be involved with Project Healing Waters Fly Fishing for the last several years.  The time spent with PHWFF has proven to be some of his most rewarding and memorable.   Mike is honored to be invited to the annual Two Fly Tournament and looks forward to many more years of involvement with PHWFF.  Mike guides in Southwest Montana on the Big Hole, Beaverhead, Jefferson, and Ruby rivers.

Phil Landry

I have volunteered with the Memphis VAMC program for the past 6 years.  This program has been a natural fit for me and has been an incredibly rewarding experience.  I have been a professional guide in Arkansas since 2004, but before that I obtained a Master's degree in Education from the University of Texas.  Project Healing Waters has provided me with a way to use my knowledge of fishing skills and educational fundamentals in an actual "classroom setting" once a week at the V.A.  By doing so, I get to do something good for people that really deserve something good in their lives.  Success is an addictive feeling.  It breeds confidence.  I love to be able to help our veterans build confidence and use the vehicle of fly fishing to cross their "bridge over troubled waters" and improve themselves in all facets of life.  I have guided many participants through the years, but this will be my first year in the 2 Fly Tournament.  I'm thrilled to be a part of it.  Phil guides float trips on the Little Red River, Norfork River and White River in Arkansas.  He grew up flyfishing for trout in Mississippi, but all he ever caught were bass and bream.   Arkansastroutbum.com

Gavin Robinson
Over the years as a fly fishing guide, I've learned that time on the water means all sorts of thing to all sorts of people, but almost everyone finds some kind of healing or restorative power in a trout stream. I'm honored to be invited to participate at the 2-Fly Tournament again. My good friends Ben and Jerry Nonnemacher got me involved a few years ago and I'll always be grateful for the oppurtunity to give back to the folks who serve our country