Fishing TV are thrilled to announce three brand new partnerships with non-profit and conservation organisations, Project Healing Waters Fly Fishing, Trout Unlimited and Bonefish & Tarpon Trust, for World Fishing Day, which will take place on 23rd June 2018. World Fishing Day is set to be the first ever global celebration of angling and will be accompanied by one of the most ambitious live broadcast projects ever undertaken – to deliver a network of free fishing events and broadcast 24-hours of live fishing content to Fishing TV's audience in summer 2018.
By creating the first ever World Fishing Day and its accompanying broadcast, Fishing TV not only want to celebrate the sport, but also highlight the numerous instances across the globe where angling organisations and charities are driving positive change in the world.  Whether it be the extraordinary rehabilitative work that Project Healing Waters Fly Fishing do with disabled active military service personnel and war veterans, the conservation work that Trout Unlimited carry out to protect and preserve delicate fishing ecosystems, or the restorative work that Bonefish & Tarpon Trust do, highlighting the threats to wild fish populations and environments, Fishing TV are looking forward to making these stories a key part of World Fishing Day's core message.
All the action across World Fishing Day will be anchored from a London-based studio hub, with a host of angling experts and celebrity guests present throughout the 24-hour event. A network of free fishing events will also take place around the world on the same day, with a view to encouraging people to get out fishing and introducing new people to the sport & the conservation issues fishing habitats face.
Fishing TV have first partnered with the US-based non-profit organisation Project Healing Waters Fly Fishing, who are dedicated to the physical and emotional rehabilitation of disabled active military service personnel and disabled veterans through fly fishing and associated activities including education and outings.
Fishing TV's Ed Burgass hopes to make PHWFF's work a significant feature of the live World Fishing Day broadcast, saying, "Project Healing Waters's incredible work with wounded and disabled service personnel is a prime example of the positive impact that taking up fishing can have on someone's life, no matter what hardships and challenges they may have to overcome – we hope to be able to share some of PHWFF's success stories and meet some of those who have benefitted from the PHWFF project."
Todd Desgrosseilliers, President and CEO of PHWFF, said: "This sounds like a fantastic opportunity to share our mission and the therapeutic benefits of fly fishing with the world while simultaneously encouraging more people to learn about the joys of fishing. We are really excited about the prospect of working with FishingTV to make WFD a huge success."
---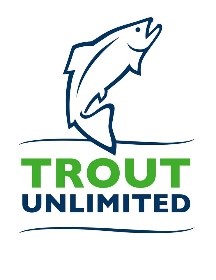 Fishing TV are also pleased to announce a recent partnership with the US-based conservation organisation Trout Unlimited, looking to highlight the conservation issues facing North America's coldwater fisheries and their watersheds during World Fishing Day's live broadcast. Trout Unlimited will also be looking to arrange events such as river clean-ups and fishing outings to coincide with the initiative.
Trout Unlimited's National Digital Director, Chris Hunt, says: "We're excited to partner with FishingTV for World Fishing Day. It's an opportunity for anglers around the globe to come together and celebrate the sport, but also focus on the conservation issues that make recreational fishing possible. If we don't give back to our fisheries, we won't leave much of a fishing legacy for coming generations."
Ed Burgass added: "We're thrilled to have Trout Unlimited on board for WFD – they're one of the most prestigious conservation organizations in the USA with over 300,000 members and supporters. They have a great track record of drawing attention to the many and varied issues facing America's fisheries and actively restoring these habitats. Not only will they provide a fantastic conduit for reaching American fly fishers, but they'll also be able to highlight some fascinating stories to tell as a part of the live broadcast."
---
Bonefish & Tarpon Trust, the global leader in bonefish, tarpon and permit conservation, has also joined forces with FishingTV to work together on World Fishing Day.
Ed Burgass, Commercial Director of FishingTV, hopes to make Bonefish & Tarpon Trust's research and conservation efforts one of the focuses of the live broadcast: "Fishing TV has long admired the fantastic scientific work that Bonefish & Tarpon Trust does to protect and enhance healthy, functioning flats fisheries and habitats and we're delighted to have them as a partner for World Fishing Day. To have the opportunity during the WFD broadcast to shine a light on the research and restoration work they carry out to ensure the sport of angling and its environments continue to thrive will be really interesting."
Jim McDuffie, President of Bonefish & Tarpon Trust, said: "We are pleased to participate in the first World Fishing Day–a global celebration of the angling passions we share. This event gives us an unprecedented opportunity to share our flats fishery with the world and to inspire anglers to join us in conserving it."
---
Fishing TV had already confirmed a stellar raft of collaborators and ambassadors for World Fishing Day, and are working to engage further global production partners, angling organisations and personalities.
Charitable organisations that had previously been confirmed as collaborators for the event include The Angling Trust, The Wild Trout Trust and the Atlantic Salmon Trust.
Leading global ICT solutions company Ericsson will be helping Fishing TV to deliver the live broadcast via their Unified Delivery Network, and further confirmed production partners include Garlands, Trickbox and G&T Productions.
Fishing TV have also confirmed some fantastic names from the world of angling and celebrity ambassadors for World Fishing Day, including professional fly fisher and TV presenter April Vokey, professional carp angler and journalist Ian "Chilly" Chillcott, professional angler Marina Gibson, English actor and angling fanatic James Murray and, perhaps Germany's most famous professional angler, TV presenter, Babs Kijewski.
---
Partner, ambassador and sponsorship applications for World Fishing Day are now being accepted via the website http://www.worldfishingday.com and further details about the content of the live broadcast event will be revealed in the coming months.
Follow @FishingTVApp on Twitter for further updates and subscribe to Fishing TV here.
For all media enquiries, please contact Katie French and Tom Baxter at KPPR on
0203 137 6499 | katiefrench@kppr.tv | tom@kppr.tv
For marketing and partnership enquiries, please contact Ed Burgass at Fishing TV on
0207 434 1971 | ed@fishingtv.com
---
NOTES TO EDITORS: 
About Fishing TV
http://fishingtv.com/ | https://www.facebook.com/fishingtv/ | https://twitter.com/FishingTVapp | https://www.instagram.com/fishingtv/