Longtime PHWFF volunteer, dedicated supporter, and world-class angler Richard Franklin eloquently recounts a memorable three-day excursion of the PHWFF New York City Program to the 'West Branch Angler and Resort' in the Catskills Region of New York State. 
During the Devonian era some 350 million years ago, what is now the Catskill region of New York State was a shallow inland sea. Subsequent geological uplift formed a plateau, composed of sedimentary deposits producing shale and blue sandstone. These layers, exposed and carved by glacial and water erosion, formed a dissected plateau, now known as the Catskill Mountains. Today, the headwaters of the Delaware River system drain the western and southern tier of this area, which is both the principle source of New York City drinking water and home to wild strains of Brown and Rainbow trout introduced to these waters in the late 1880's.
On the banks of the West Branch of the Delaware, midway between Cannonsville Dam and its confluence with the East Branch forming the main-stem of the Delaware River, is the West Branch Angler and Resort. For seven years now, the owners of this premier fly fisherman's lodge, Matt and Sam Batschelet, have hosted participants of Project Healing Waters Fly Fishing – NYC Program for three days in late April. Our mid-day arrival on Wednesday was greeted with a vast platter of sandwiches prepared by Ken Darling and his companions from Deposit, NY's American Legion Post 757. The origin of this highly anticipated outing is Ken's inspiration, a Vietnam era Naval Veteran, and he remains the driving force of generosity and coordination of this annual event.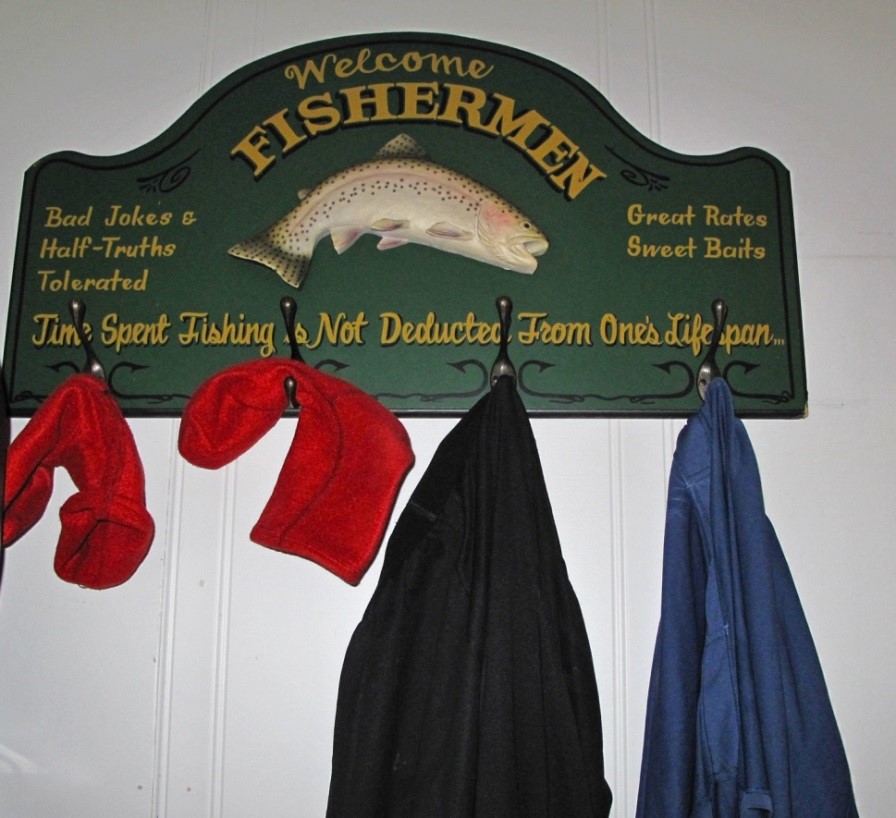 After sorting out our gear and rigging up, the seven of us in attendance including 5 Veteran participants and longtime volunteers, John Enochty and Scott Daniels, pulled on our waders. A Home Pool casting session ensued, differing from our Central Park casting; we had flies tied on as this body of water actually has trout in it. As the sun lowered, smoke wafted from the grill beneath the resort's Pavilion as frankfurters, sausages and hamburgers were tended to by Ken to accompany his famous homemade baked beans, potato salad and the multiple deserts prepared by the wives of American Legion members who joined us for this riverside repast

Returning to our lodge as dusk fell, the crisp evening air was filled with the mating screams of Spring Peepers. These little frogs inspired my imagination of what the sounds might have been like from the countless long-gone amphibians along the shores of the ancient inland sea millions of years ago.
The more recent past was remembered, too, as the dining room table discussion delved into tales from the jungles of Vietnam among our Veterans with both an Army and a Marine Recon specialist recounting harrowing stories. I truly believe the richest rewards of these two night trips are our Veterans of varied ages and backgrounds having the opportunity to engage in conversion about subjects thoroughly understood only by them, as members of our military family.
Not that fishing isn't important too, as the ever expanding skill set development that fly fishing offers is the focal point for our event. To that end, while all of us fished wading from shore for three days, we also sought the services of two expert guides at the Resort on our non-traveling middle day. We floated the upper main stem of the Delaware from the village of Hancock, NY to Buckingham, PA. During this float, Frankie caught her first ever Delaware River wild rainbow while Danielle received graduate level instruction on reach-casting and mending her drift to present a dry fly…if only more fish had been rising to them. Despite sparse trout activity in the high, cold flows, a soaring bald eagle, a hunting along the banks mink and a particularly large, tree gnawing beaver where observed. As always, the angling experience is about so much more than catching fish.

As the intrepid drift boat crews were returned to our Lodge by the guides, Ken was at the ready to pull his wife's homemade meatloaf and mashed potatoes with sour cream from the oven and a feast was had by all.
Following breakfast on our final day, there was plenty of time to fish the West Branch Angler's Home Pool before returning the borrowed waders to the Resort's amply merchandized fly shop where Ken Darling and I joined the resort owner-manager, Matt Batschelet, to establish our dates for next April, 2018, assuring a continuation of this seminal PHWFF tradition
Richard Franklin for Project Healing Waters Fly Fishing – NYC   April 26 – 28, 2017