Kenai River Drifter's Lodge Trip August 10 -11
Written by Ralph McHenry, Trip Leader
Before I begin my thoughts I'd like to say thank you to the staff at Kenai River Drifters Lodge, Cooper Landing Alaska. First to Bob, thank you for your unyielding support to our veterans and Project Healing Waters Fly Fishing. Second your support staff was as always excellent and amenities were second to none. Finally, our guides Shawn and Tige were super and supportive to our participants throughout the day.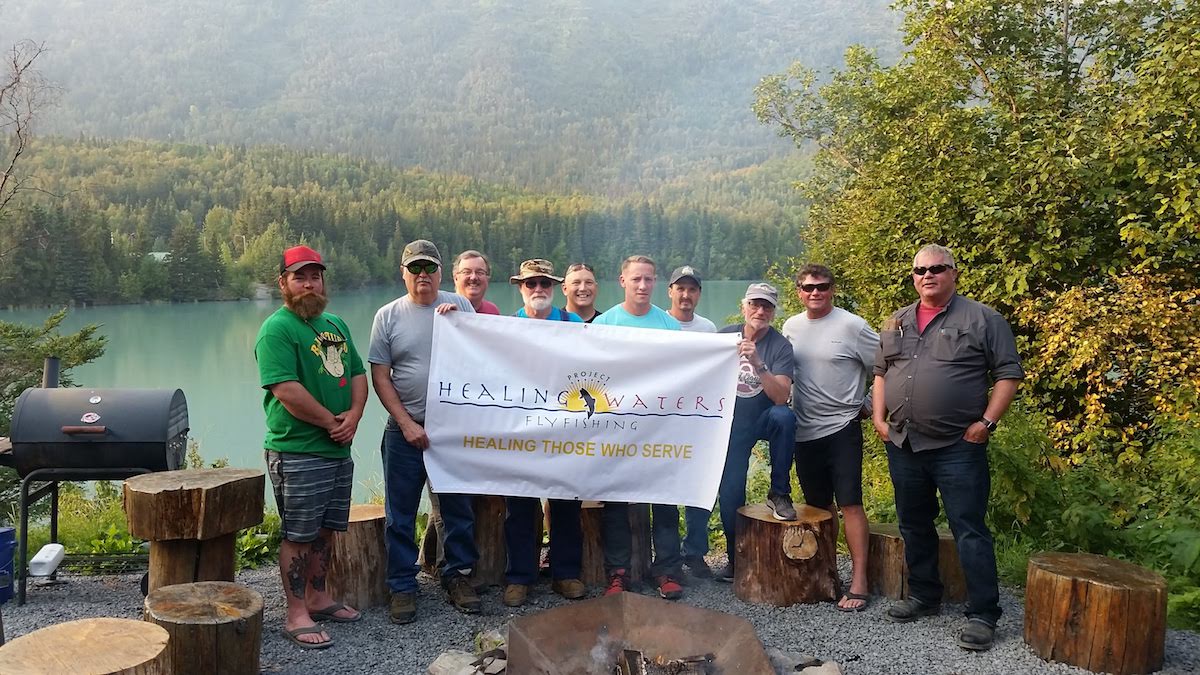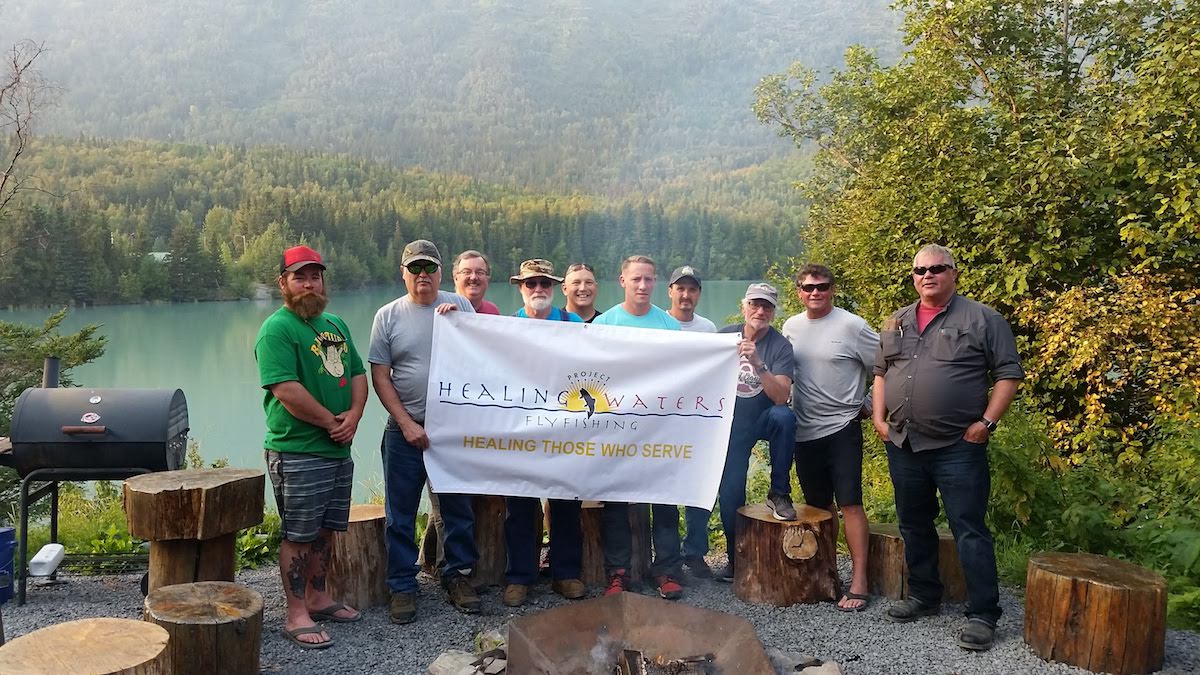 As always the Kenai River was beautiful. We started the day by loading up at about 5 am into the trucks and hauling down to the Skilak Lake launch. It was a long, but beautiful drive down to the launch point where we loaded up our boats and headed out fishing. This year had an epic, and longer than normal sockeye salmon run so that is what we targeted. Everyone caught fish and had a lot of fun flipping to the sockeye.
Probably the funniest point in the trip was when one of our participants accidentally hooked another guy's boot. As he was removing the hook his life vest which was an auto inflating one apparently got into the water activating it with a startling pop.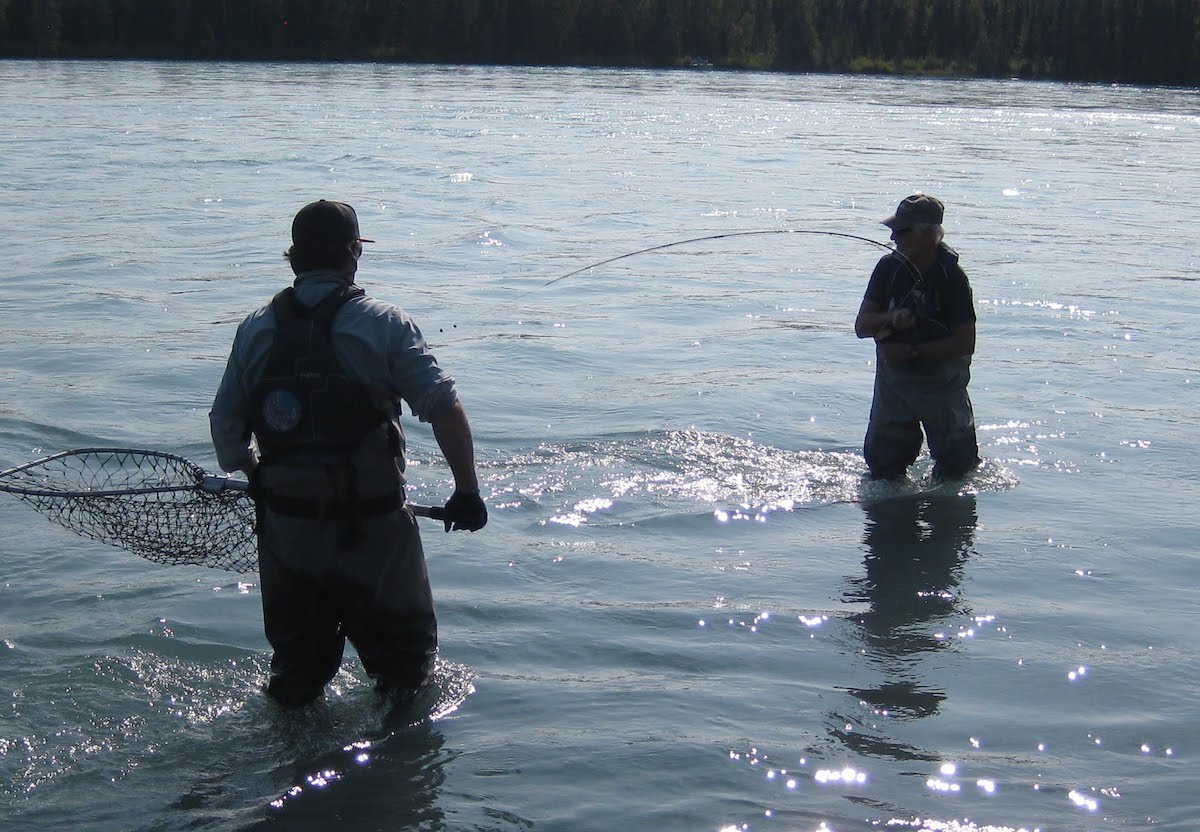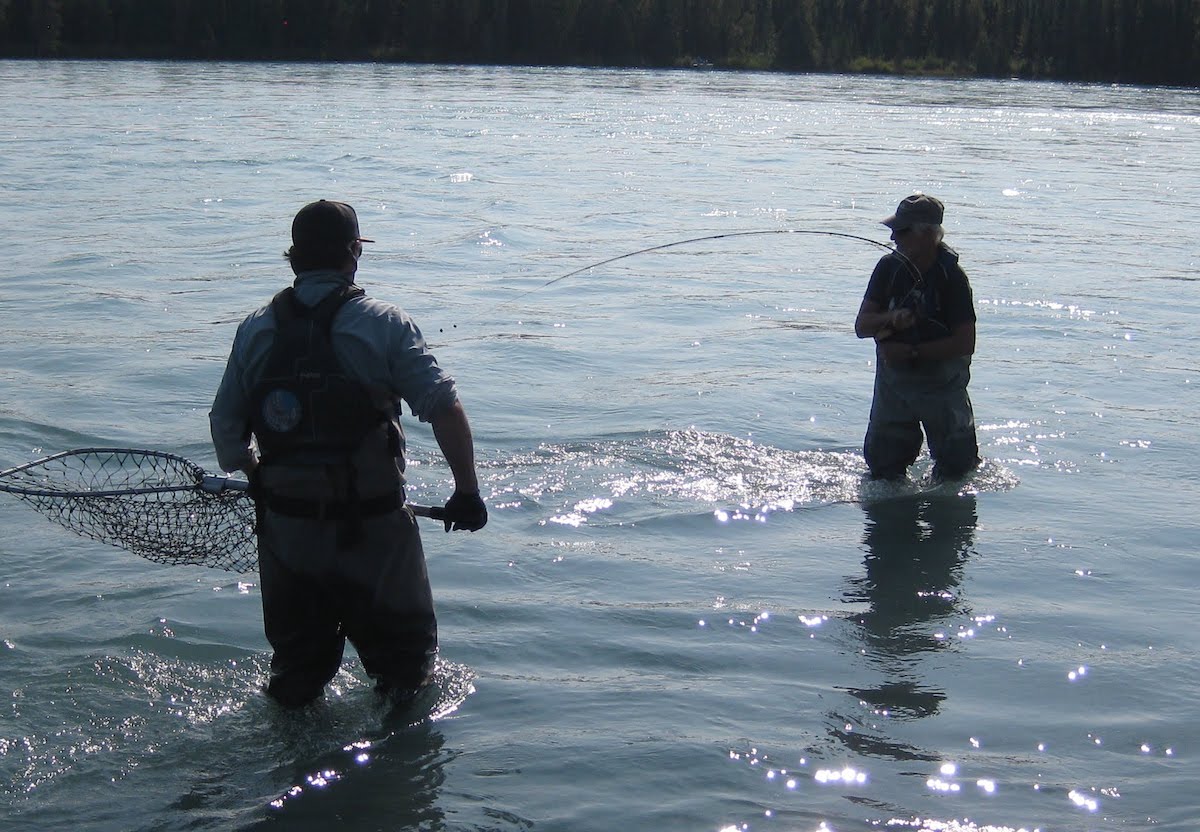 Landing a red can be tricky
We all had a good laugh and after replacing the mechanism and cartridge in the vest we launched out to fish for rainbows, dollies and coho's. We caught a few fish as the sockeyes hadn't yet started to drop eggs yet and had a nice float down to the take out point. After returning to the lodge we all loaded up and headed back to the valley. It was an uneventful drive home, I think everyone had a great time.
I'd like to title this section why I/we volunteer. I have been volunteering with PHWFF for the past 3 years. As a veteran I wanted to help my fellow vets especially those who have served in combat and experienced difficulties related to their military service. As a proud Air Force Veteran I've served in combat operations but I feel it's quite different when you are on the ground and directly involved in the fight and have the utmost of respect for those who have. I believe that being out in nature is healing as our organizations name states. During this trip I was reminded that that is in fact the case. One of our participants is Heath. He is a recent Air Force retired veteran who is losing a battle to cancer. I must say I admire Heath's attitude and positivity in battling this disease and his willingness to share his stories and talk about his fight. It makes sense that he struggles but through his positive nature and outward appearance it's not readily apparent. During the trip after catching a number of sockeyes he made the comment to me and the others that he was appreciative and really needed this day out. That right there readers was worth being there for me! Thank you Heath for reminding me that this is about you and the other participants and helping you/them have the opportunity to heal. Even when we don't see an outward expression such as Heath's I believe that we are helping our veterans.  Thank you to all my fellow volunteers throughout PHWFF, you make a difference in the lives of our veterans and I hope this snapshot helps your motivation to continue on.
Finally I'd like to ask for your thoughts and prayers for the people on the Kenai Peninsula. A wildfire kicked on June 5th 2019 and was named the Swan Lake fire. At latest reporting it has burned over 100,000 acres and is currently encroaching on Cooper Landing. Prayers for the people and businesses who call this area home and for all the wonderful firefighters and incident personnel who are battling to keep people and properties safe.