The Municipality of Anchorage (MOA) and the MOA Military & Veterans Affairs Commission paid tribute to David and Carolyn Rooker at the Memorial Day Anchorage Remembers event today.  This husband-and-wife team has offered comfort and healing to hundreds of military members, veterans and their families from across Alaska through their volunteer work with Project Healing Waters Fly Fishing (PHWFF) and Fisher House Alaska.  During the past eight years, David has donated more than 1,500 hours to PHWFF.  Carolyn also contributed to PHWFF.  She designed and printed handmade "Thank You" cards that have been sent to donors.  The cards feature a trout jumping out of the water toward a fly (hand-tied by David, of course).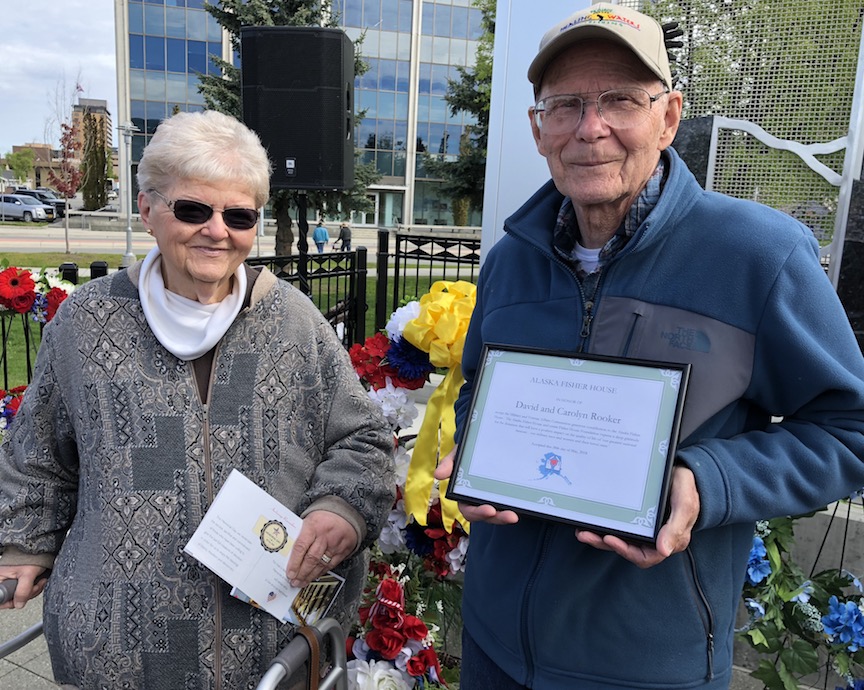 Carolyn and David Rooker
David's connection with Fisher House began in 2013 when he responded to a request to visit a terminally ill veteran who's dying wish was to fish once again.  David did eventually take this veteran fishing.  He also frequently visited the veteran at Fisher House where they tied flies together.  Other guests soon joined in.  Since then, David has been a weekly fixture at Fisher House engaging guests in the art of fly tying and fly casting.
In 2017, David recruited Carolyn to the Fisher House team.  This retired school teacher offered wonderfully creative activities for children when they spent time at the House and various medical appointments.  She has hand crafted many activity books for hundreds of children.
Together, the Rookers have made a loving difference in the lives of men and women who currently service, and who have served, our country.