UPDATE: We are pleased to share an update from Ron Weiss of The Hook & Hackle Company and welcome you to join us in congratulating the Tidewater, Virginia Program for being recognized with "Best Overall Program Rods" in the 2017 National Fly Rod Building Competition.
"Due to our error, the following rods, all from the Tidewater Virginia Program were overlooked for the original judging of this year's contest. Judges were called in separately for this judging and overall, as a group from the Tidewater Virginia program, these rods were judged as the "Best Overall Program Rods" that we have ever seen! Our hats go off to Bill Campbell, Program Lead, and Jim Vogel, Instructor for the program. The photos speak for themselves, but we must add that we were 'blown away' by the group as a whole." – Ron Weiss, The Hook & Hackle Company
The "Best Overall Program Rod" winners are: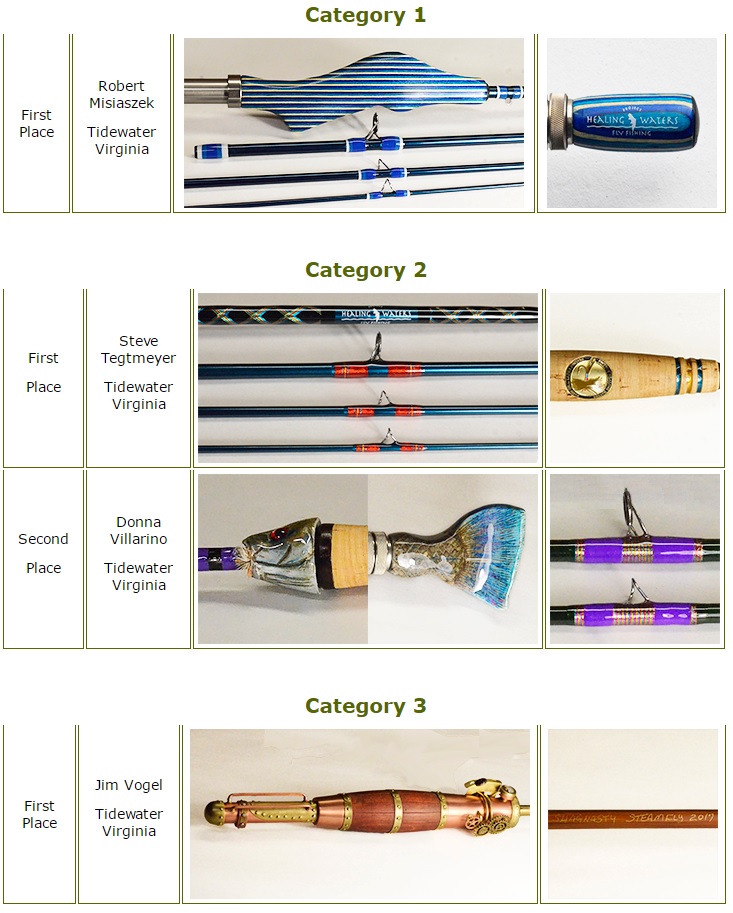 It is always remarkable to see the incredible creativity and craftsmanship of our amazing participants. Their awesome talents were truly on display with the fine fly rods submitted by those participating. Our thanks, again, goes out to Ron Weiss and the employees of Hook & Hackle for their support of this yearly endeavor! They put tremendous effort into making this annual contest possible for PHWFF.