Project Healing Waters Fly Fishing (PHWFF) takes great pleasure in presenting the Phil Johnson Exceptional Leadership Award to David Lipscomb for his dedicated and inspiring service to our organization from 2011 to 2021. During this period, his selfless efforts and extreme generosity were directly responsible for the growth and continuous improvement to the PHWFF Martinez Program while serving as its Program Lead.
In 2011, David started the PHWFF Martinez Program in partnership with the Diablo Valley Fly Fishing Club. For 10 years, his leadership, energy and innovation have achieved success for the Martinez program, other regional programs, and increased national program awareness. David is an Annapolis graduate, retired Captain in the United States Navy, Submarine Commander, and a truly exceptional leader. He provides calm guidance and clarity of mission and humbly acknowledges successes by recognizing others. David is a giver. He spent countless hours on recruiting, training, wading safety, organizing fly fishing outings, fundraising, and communicating the Program's effectiveness to others. His focus and genuine concern always remained on healing and nurturing the program's participants along their path towards post-traumatic growth. All who know him respect and appreciate him greatly. David's leadership of the Martinez Program resulted in a PHWFF Club Excellence Award that was presented to the Diablo Valley Fly Fishing Club in 2020.
Al Peterson has been a PHWFF Martinez volunteer for 9 years and currently also serves as Diablo Valley Fly Fishing Club President. Per Al — "Everyone involved in the Martinez PHWFF program knows the key reason for its growth and success – David Lipscomb. That's why the club awarded David a Club Service Award in 2019. David started, nurtured, and innovatively grew the Martinez program. He has a commitment to helping disabled veterans that is inspiring and contagious. Our veterans love him. Our volunteers and donors respect and like working with David".
David contributed significant leadership and effort towards fundraising as well. The Martinez program generates fishing trip funding through fundraising programs as well as in-kind lodging space and guide time donations. Martinez began holding online auctions, as an early user of Bidding for Good software, in 2015. In addition, David raised over $40,000 through various fundraising activities. As a result, the program's participants enjoyed regular fly fishing outings throughout Northern California as well as special outings to Nevada, Oregon, and Wyoming.
David's influential leadership extends beyond the PHWFF Martinez Program. In addition to serving as a Deputy Regional Coordinator for the PHWFF Southwest Region, he also helped start the PHWFF San Francisco and Chico programs. He also joined another program volunteer to partner with a nationally known outdoor photographer, Val Atkinson. Together, they piloted a PHWFF feature article in Catch Magazine on an outing to California's Fall River. The 2018 article was entitled "Healing on the Fall". A second Catch Magazine article featured a combined Martinez and Bend Oregon program outing. David also served as an advisor on a third article featuring the PHWFF San Francisco program.
Project Healing Waters Fly Fishing, Inc. is proud to bestow upon David Lipscomb the Phil Johnson Exceptional Leadership Award for his tireless and extraordinary service to our organization and to those wounded, ill, and injured Servicemen and Servicewomen and disabled Veterans whom this organization serves.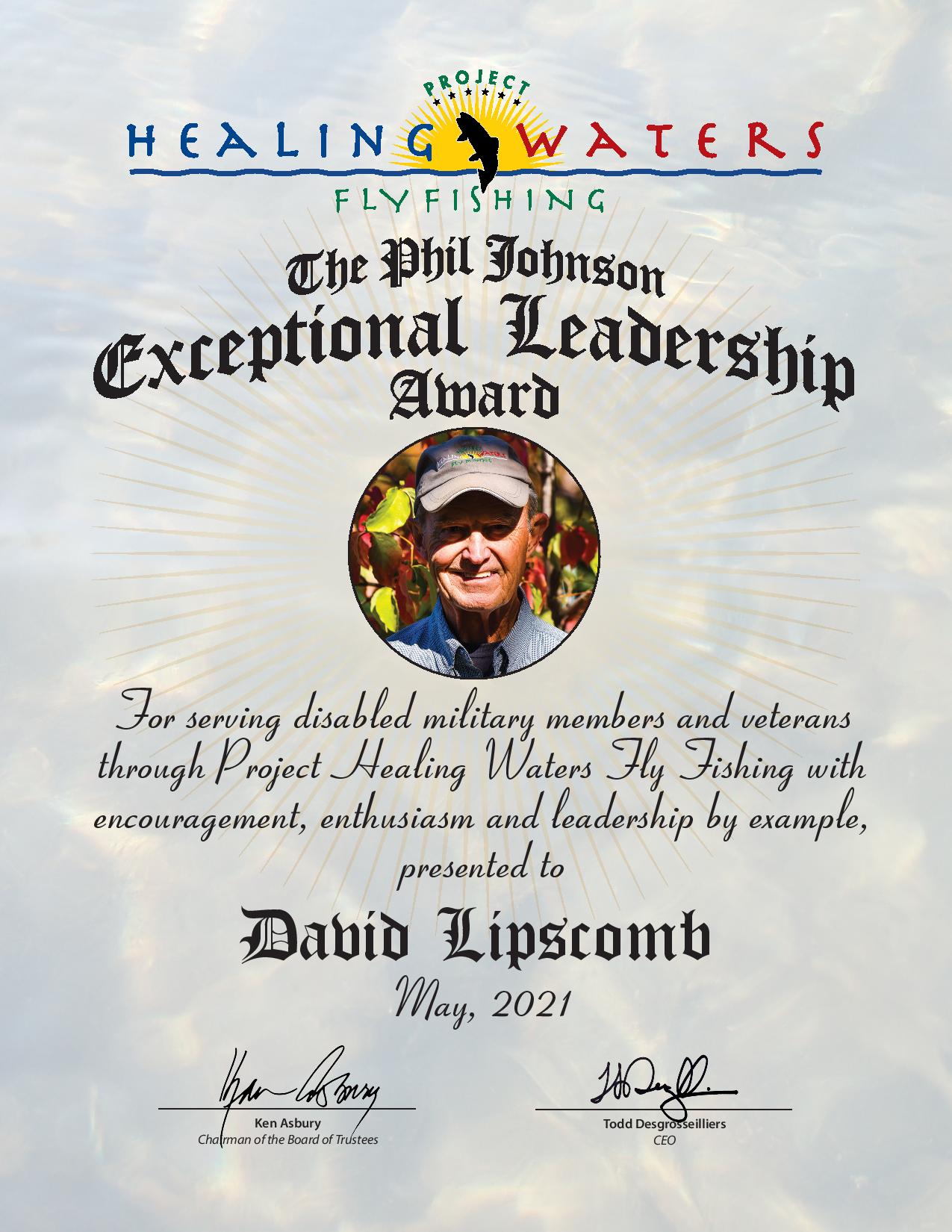 Latest News