PROJECT HEALING WATERS FLY FISHING, INC (PHWFF) takes great pleasure in presenting the Phil Johnson Exceptional Leadership Award to Dr. Robert "Bobby" Davis for his dedicated and inspiring service to our organization from 2016 to 2021. During this period, his selfless efforts and extreme generosity as a volunteer leader with the PHWFF Columbus (Ohio) Program, the PHWFF Washington, D.C. Program, and the PHWFF Auburn (Alabama) Program significantly contributed to each Program's overall success.
Since 2016, Bobby's generous contribution of our most precious resource – time – personified the PHWFF mission, vision, and core values. His genuine concern for others also engendered the camaraderie and friendship that enables post-traumatic growth and healing in our programs. When Bobby arrived in Alabama in
October 2018, he immediately stepped up and started to teach fly tying. Soon afterwards, he began running all fly tying activities and planning for the Auburn, Alabama Program's weekly program meetings.
Additionally, Bobby served as a friend and mentor to the program's participants by taking them under his wing and teaching them to fly fish in small local streams. He also planned and led many activities to include the program's frequent fly fishing outings to the University of Auburn research ponds. His extensive knowledge as a fisheries biologist was also extremely useful in teaching the program's participants about conservation and all aquatic life. Bobby also led classroom instruction on numerous fly fishing topics thereby improving the overall knowledge and skill levels across the program. Bobby's volunteer service to our Cause in the PHWFF Columbus, Ohio Program from January 2016 to December 2016, and the PHWFF Washington, D.C. Program from August 2017 to
August 2018 also produced similar results.
Bobby's skill as an accomplished fly angler, strong connection to the Alabama fly fishing community, and his commitment towards excellence all served to inspire others to develop a love for the sport while enabling their individual journeys towards post-traumatic growth. All who know Bobby will attest to the positive impact that he made on their lives and the role model of selfless leadership, mentoring, and devotion he provided to them. His tireless efforts helped create a community where our participants can heal.
Project Healing Waters Fly Fishing, Inc. is proud to bestow upon Robert P. "Bobby" Davis the Phil Johnson Exceptional Leadership Award for his tireless and extraordinary service to our organization and to those wounded, ill, and injured Servicemen, Servicewomen, and disabled Veterans whom this organization serves.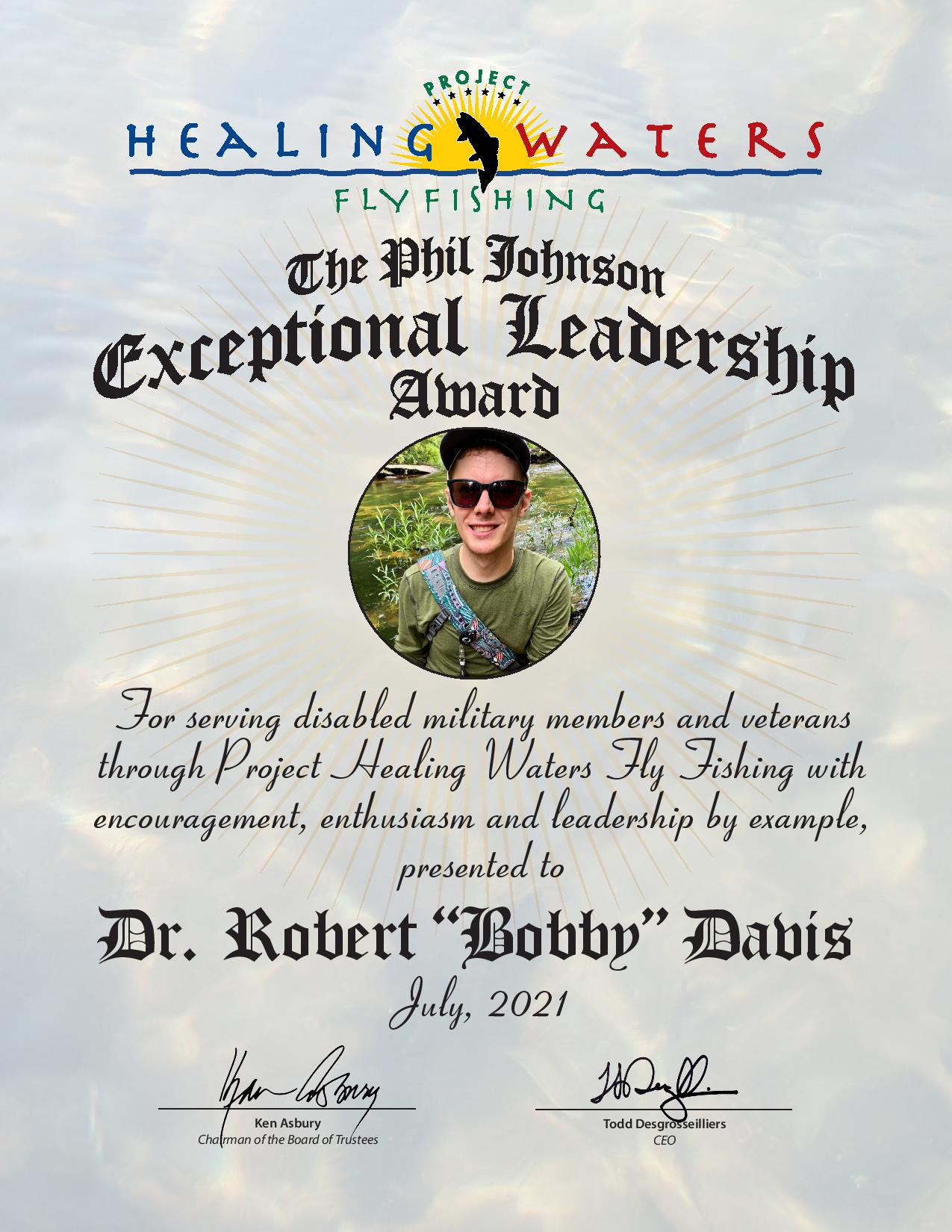 Latest News