Gabriel Lloyd has had a long, and challenging year leading up to his 18th birthday.
Lloyd joined the Cub Scouts in 1st grade, became a Boy Scout when he was around 11-years-old, and had to rush against time, and a global pandemic, to finish his Eagle Scout project before his birthday on June 24.
" Everything just stopped," Lloyd said. " If you don't have your Eagle Scout project done by your 18th birthday, then you are out."
Although he applied for an extension, it got denied and he had to pull everything together within a couple of weeks.
The first project he had in mind had fallen through, and that's when his Scout Master, Bill Smith, had seen Project Healing Waters Fly Fishing, Inc. on an episode of "Barnwood Builders".
"I knew I wanted to do something involving veterans, and I wanted to tie it in with my hobbies, like fly-fishing and fly-tying."
At the 2019 PHWFF Christmas party, Lloyd at first wanted to teach fly-tying for his project. However, the program already had a weekly fly-tying event established and he had to think outside of the box.
"Knowledge can be temporary, and I wanted something that would last for a long time," Lloyd remarked.
That's when he saw what the program was using for an excuse of a cabinet.
"Oh, it was bad," Program Lead and Regional Coordinator Dave Riggio laughed.
The cabinet was small, with bowing plastic shelves and no locking mechanism, so some items had been stolen throughout the years. It was a chore just to get the vices in and out with how small the drawers were.
"I got lucky and my Eagle Scout mentor actually built cabinets for a living," Lloyd said.
"Todd (Desgrosseilliers) was a tremendous help," Riggio said. "He wrote a letter to our local Lowe's, and (Lloyd) received a donation from them of all of the items he needed to build it."
After that, Lloyd went right to work.
"From the moment we got the materials, to the finished project, I think it was about two weeks. I think about 200 man hours went into this cabinet."
Lloyd and some of his friends spent two, twelve hour days, back-to-back, just building it.
Finally, on June 12, Gabriel Lloyd and Troop 493 brought the cabinet to its new home, the West Bradford, PA PHWFF program.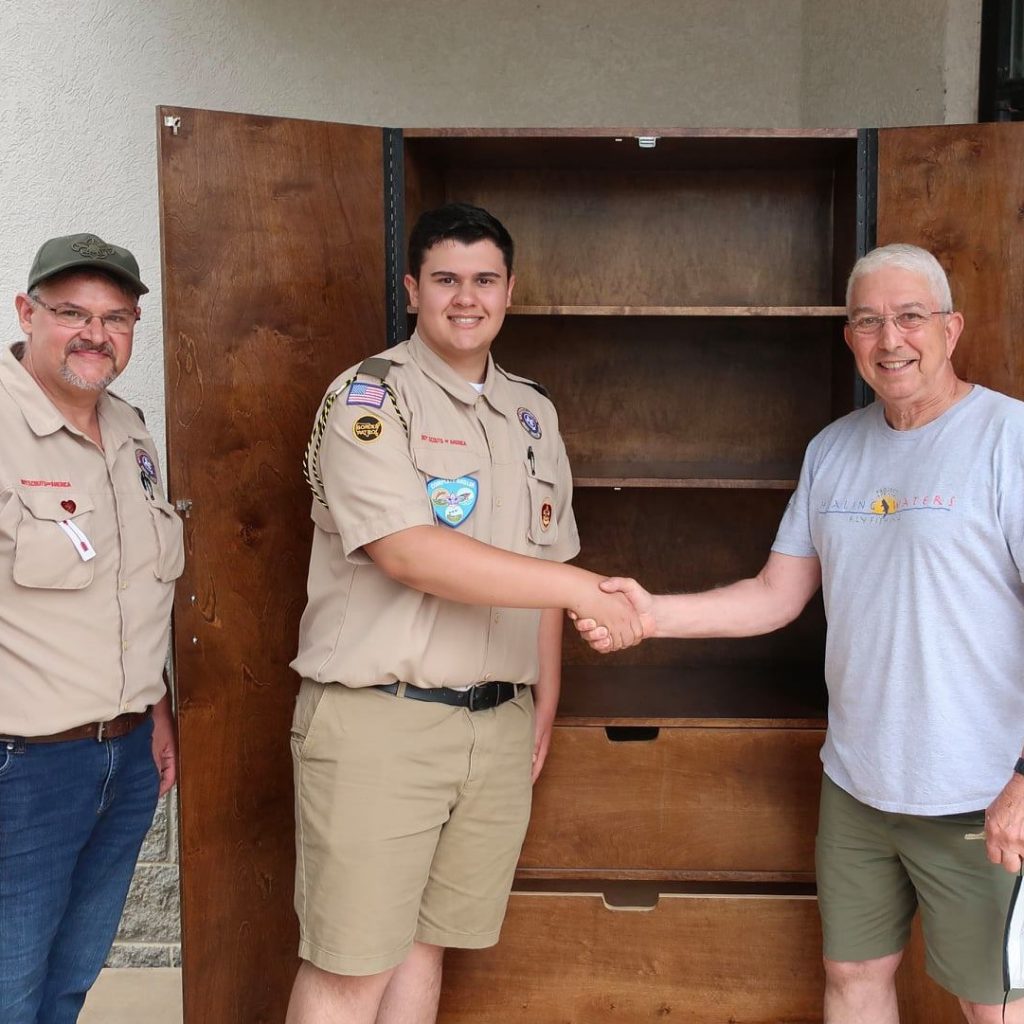 Lloyd added wheels for easy transport, deep cabinets for vices, and a locking mechanism so things would be protected from theft.
With the project completed, Lloyd now has to wait to submit his papers for review before he becomes an official Eagle Scout.
"Only about four percent of Boy Scouts ever become Eagle Scouts, so this is really exciting," Smith said.
When choosing their Eagle Scout project, scouts will pick programs that mean the most to them.
After the summer is over, Lloyd plans to go to a local community college for two years and navigate through figuring out what he wants to study for the long-run.
Project Healing Waters Fly Fishing, Inc. would like to thank future Eagle Scout Gabriel Lloyd for his hard work, perseverance, and generosity in building this cabinet for his local PHWFF program.
Latest News