By Bruce Tyson, PL, JBLM Program
On 9 December 2020, during a general membership meeting Rick Davidson was named Volunteer of the Year and Mark Emiley the Participant of the Year.
With an active Program like Joint Base Lewis-McChord (JBLM), it's hard to select just two people to receive these awards. However, when we weighed contribution and attendance in our decision-making process, two clear winners rose to the top. So, on behalf of all the participants & volunteers of the JBLM Program, we salute Rick and Mark for upholding the mission, vision, & core values of Project Healing Waters Fly Fishing!
Rick Davidson, SFC(R), USA: Rick joined the JBLM Program at the beginning of the 2019 year. His skills as a fly tier were immediately noticed. He was an avid fly tier for many years before, but strayed away after he got a boat and started chasing our world-famous Pacific Salmon out in open water. His wit and humor were infectious and was always fun to be around. Rick is a disabled vet and originally joined as such. However, when the JBLM Program brainstormed a better way to initiate new personnel into the world of tying flies, he volunteered to develop the instructional phase of our Level I & II flies. So, he was moved to a dual status and was designated as the Program's Volunteer Tying Leader. The scope of this position was setting up a new participant fly tier with a vise, tools, material kits, and instructions to tie each of the 12 flies. This not only gives a new tier a box of flies that he/she can use in our area, but also each fly teaches a new fly-tying skill required to move on to the Level III workshops. Then, COVID-19 hit and all meetings, outings, any other sort of get-together's were canceled. Of his own accord, Rick not only continued on with the original tasking, but also figured out how to do it virtually. He assembled a set of short videos of must know foundation skills, submitted a materials order list, broke them down into kits, produced step-by-step online handouts, and reinforced it all with videos of him tying and explaining each fly. As if that wasn't enough to qualify him, he researched audio/visual gear, submitted a list to order, and once all cameras, microphones, lighting, and software were on hand, he put together a studio to host first-class virtual fly tying and fly-fishing educational events. Rick likes to fish too a lot, and is always available to provide information on little known access sites and fishing reports. Extremely good to know stuff for anyone who has swung flies or nymphed for Steelhead! For his dedication to the disabled vets of the JBLM Program, allowing us to continue to provide emotional and physical healing during a national pandemic, it's an honor to name Rick Davidson as our 2020 Volunteer of the Year.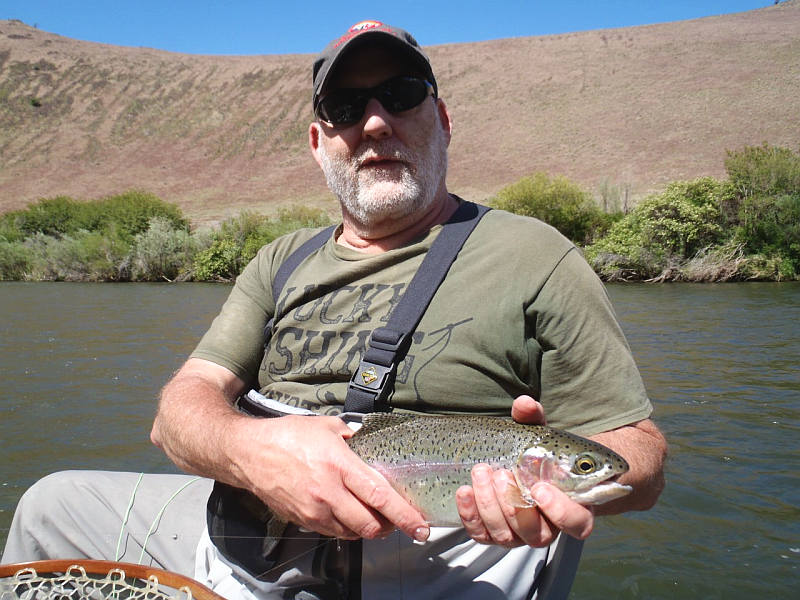 Mark Emiley, Former CAPT, USAF: Mark joined the JBLM Program in early 2020. He was absolutely new to fly tying and knew nothing about fly fishing. However, he was extremely interested in what we were doing and participated in all of our activities. With one of our vises and tool kits, he attended a couple of our tying events at the Puget Sound Fly Company. Then the South Puget Sound went into isolation along with the rest of state. Luckily, we were already getting ready to institute our New Fly Tier Program. With PHWFF partnering with PostFly and the availability + ease of obtaining fly tying kits we started with those. Plus, he was the perfect candidate, eager to participate and hungry for fly-tying and fishing knowledge. Once we received our ordered bulk tying material for the Level I & II kits, the Program's Volunteer Tying Leader started building kits and mailing them out. Along with our weekly virtually tying events and practice, Mark became a pretty competent fly tier, so much so, he even entered the 2020 PHWFF Fly Tying Contest. His casting and fly fishing has really come along too. Especially his saltwater skills. Fly fishing the salt comes with its own set of challenges, short heavy leaders, special lines, long casts, and often heavy wind. Much different than casting an #18 dry fly to a spooky trout. Plus, the fly you tied and are using better have an appearance and action that attracts a lot of attention in a very huge body of water. Below is a picture of Mark with a nice Puget Sound Sea Run Cutthroat Trout. Mark is also willing to help out whenever needed, and most recently, when our Program's Outreach Coordinator position came open, it was offered, and he quickly accepted. He has become an important participant member of our Program in a very short amount of time and in a year where we can't even meet face to face. For his dedication to working with the PHWFF JBLM program, willingness to always help, being an inspiration, and really enjoying fly tying and fishing (look at that smile) we are proud to have Mark as our 2020 Participant of the Year.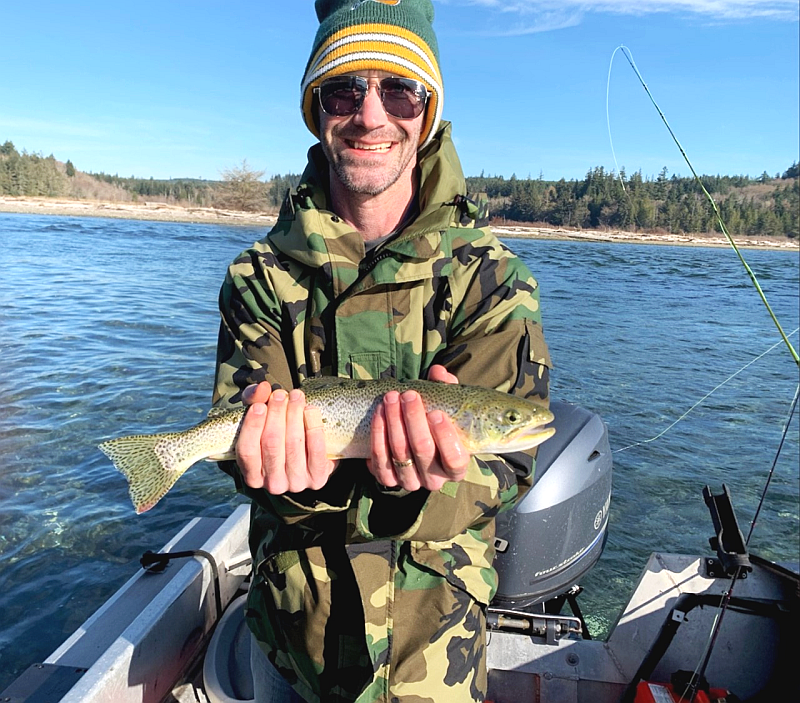 Both Rick & Mark have received certificates and Orvis fishing shirts with the PHWFF logo.
---