The Harrisburg, Pennsylvania Program of PHWFF is excited to announce their third annual Fly Jam event on Friday, February 25 at veteran owned Tattered Flag Brewing in Middletown, Penn.
However, this year they are adding another exciting element in the form of a fly-tying competition.
The evening will kick-off at 5 P.M. with a dinner and gathering for the Harrisburg veteran participants and volunteers. Afterward, at 6 P.M., the public is invited to join the event.
For all those who wish to participate in the fly-tying competition, the program asks you bring a dozen flies to donate to the Harrisburg program to help fill their fly boxes for 2022 outings with their veteran participants.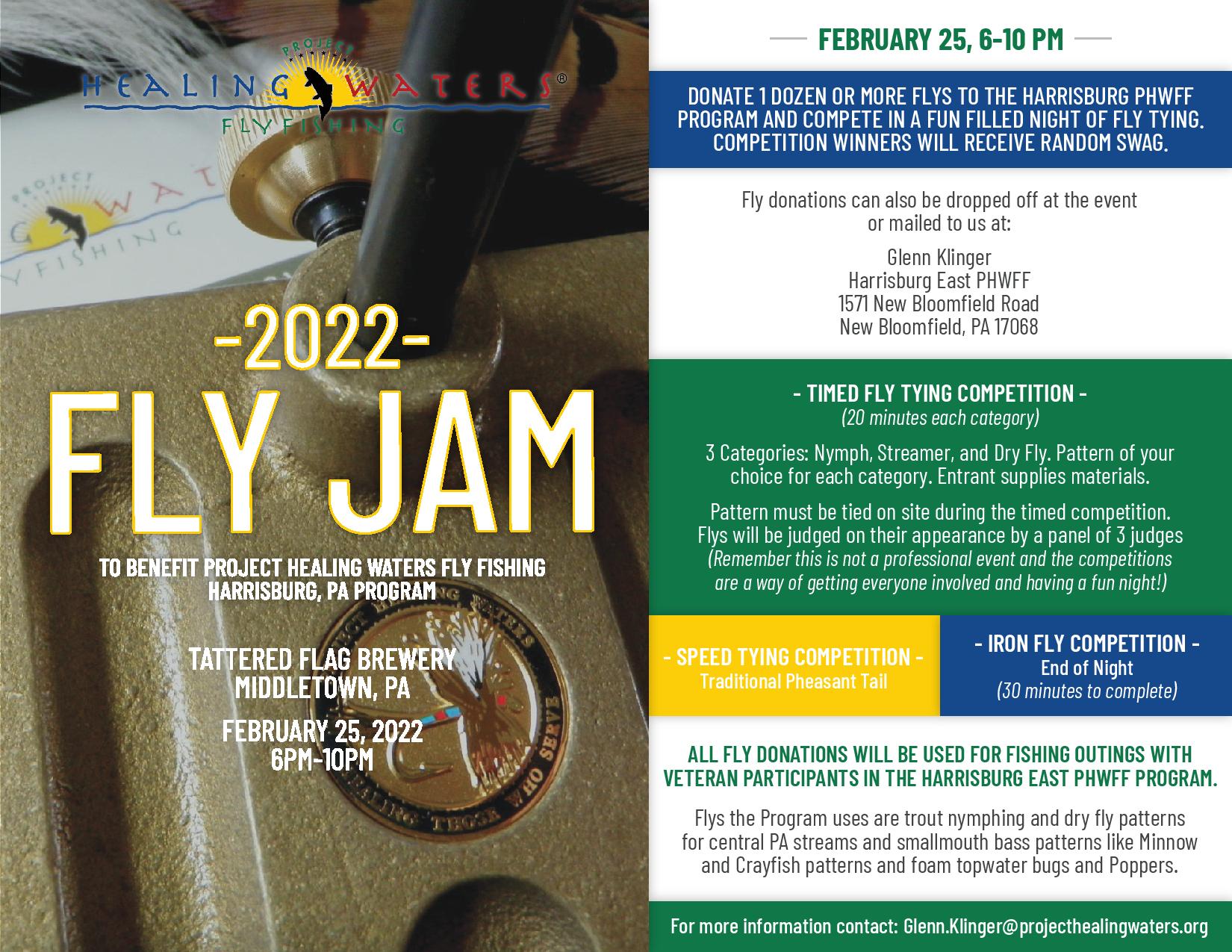 Program Lead Glenn Klinger will introduce the evening with a quick message about PHWFF and the Harrisburg program. Klinger will then present the 2020 and 2021 Participant and Volunteer of the Year Awards.
Following those awards, Klinger will present awards to the winners of Harrisburg's 2021 "Carp on the Fly" tournament. This event was held virtually and participants and volunteers submitted pictures and measurements of Carp they caught at their own leisure from June 20 until September 30, 2021. The tournament was divided between two categories of participants and volunteers.
"This way our way of encouraging our participants to get outside and fish during the pandemic," Klinger said. "It also created great discussion topics and banter during our virtual meetings."
After the awards, the fly-tying competition will begin. There will be three starting categories in the competition consisting of dry flies, nymphs, and streamers. Participants in the competition must provide their own materials for these categories.
Competitors will have twenty minutes in each category to tie a fly of their choice. At the end, the judges, comprised of volunteer Assistant Program Leads, will determine winners from overall look and the complexity of the fly.
After the three categories are complete, there will be two bonus categories of speed tying, and an "Iron fly" category.
For the speed tying, participants will be given materials to tie a standard Pheasant Tail Nymph. The first tier to complete the fly as per the fly materials wins the event!
Finally, the "Iron Fly" competition.
A bag of random fly-tying materials and hooks will be distributed as well as two mystery materials, which will be announced at the start of the competition. The mystery goods will not be typical fly-tying materials, but both must be integrated into the fly. The winning fly will be chosen based on how well the mystery materials are incorporated into the fly.
At the end of the event, all of the winners of the categories will be given award certificates and donated swag.
Be sure to mark your calendar for this fun-filled night benefiting PHWFF Harrisburg!
Check out these photos from past Fly Jam events!
Latest News