Kathy Mueller, Program Lead for the PHWFF Roanoke/New River Valley Program recounts a special weekend outing hosted by Knapp's Creek Trout Lodge in Marlinton, WV below:
---
This event took place at Knapp's Creek Trout Lodge, Marlinton, WV the weekend of June 1 – 3, 2018.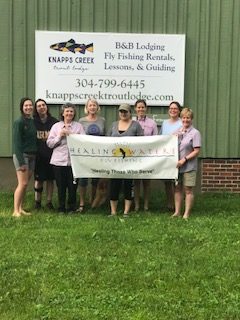 This was the first Virginia Region ladies PHWFF fly fishing event which included seven ladies from the Roanoke/New River Valleys Program and the Tidewater Program.  We enjoyed a weekend of fantastic fly fishing, great food, and wonderful fellowship in a beautiful part of our country.  Everyone caught fish and was able to learn something new from our hosts, Anne, Mark, and Ray.  We came away from the weekend with great tips on casting, mending, reading the waters, fly selection and entomology.
This trip was very special to us because it was a ladies weekend. We found it very easy to just sit and talk and tell each other about some of our experiences, including some of our difficult times.  The atmosphere was very comfortable and so relaxing.  At the end of the weekend, we said our "good-byes" with plans to all meet again at Knapp's Creek Trout Lodge next year.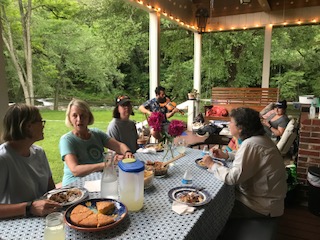 Seyward McKinney, one of our disabled lady veterans from the Roanoke/New River Valleys Program was presented with an Orvis rod and reel that was graciously donated to our program. We also gave Seyward a folding camp chair, that can sit firmly in a river or stream, with a rod holder mounted on the left arm of the chair.   Seyward is not able to use her right arm and the rod holder is allowing her to cast on her own, set the hook, strip in the line, and land and release a fish with some help from her guide.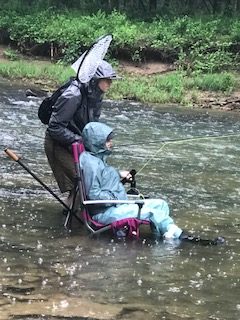 We would like to thank Anne, Mark and Ray, our hosts from the Knapp's Creek Trout Lodge.  They were very accommodating and in tune with the special needs of our group.  They helped make our weekend fun and relaxing.