Tuesday morning traffic to LAX, ugh!  Once we gathered at the airport, Jeff, Mike, Deryl, Lawrence, Cal, Cruz and Mark from our Long Beach program were assisted and escorted by a TSA agent. We zipped through security, boarded our jet took off to Denver for our first stop layover and lunch.  After arriving in Billings, we were greeted by TSA agents who helped us gather our luggage, flagged down our shuttle van, and loaded our luggage.
Our shuttle driver took us to Fort Smith, a two-hour drive, which was rolling hills covered with green vegetation, farmland with cattle and horses grazing. Oh I forgot to mention, speed limit 80 mph, and gasoline prices $1.00 less than in CA!
We arrived in Fort Smith at the Leaning Tree Lodge and were greeted by our host Rachel Stroda. After the formalities and settling in, it was dinnertime. Home cooking at its best!   We were all informed before the trip that we definitely won't go hungry while there and that was an understatement. Rachel prepared entire gourmet dinners, breakfasts and lunches while we were there. At dinnertime she had an assistant, Dallas, who helped her with serving and cleaning. On Friday, Dallas's family (Mom, Dad, twin sisters and Grandmother) were invited to join all of us for dinner. Dallas's father is the new pastor of the church in Fort Smith.
With perfect weather, blue sky, clean air we all paired up and went off with our selected guides. The guides, Chad, Jeremy, Matt, Shaun, and Mark (Rachel's husband and owner of Leaning Tree Lodge) were fantastic. Setting up our equipment with leaders and flies (San Juan Worm variations, Ray Charles and Bighorn Wonder Flies), teaching all of us techniques that applied to fishing the Bighorn River.
The guides were a wealth of information, telling us the history of the area, pointing out specific areas of the river, such as the Bozeman Trail crossing, the Drive In, the Pipeline, to name a few. Due to the amount of water coming out of the Yellowtail Dam, 14,500 cfs, we were not able to get out of the drift boats to wade fish but the guides knew exactly where to set the drift and we were always on fish. Our day's trip would take us through approximately 20 miles of the river – that's a lot of rowing.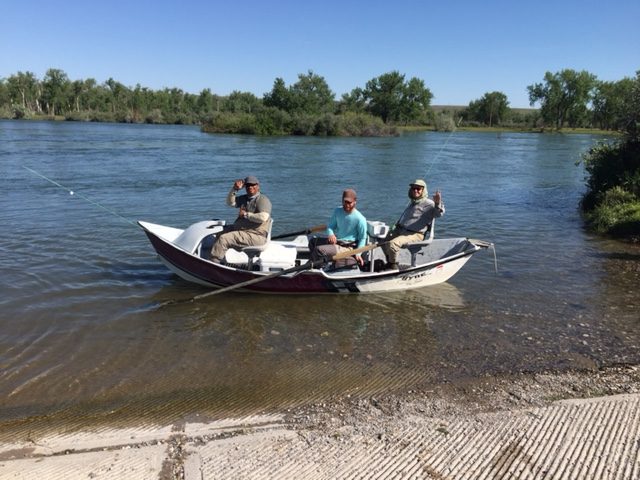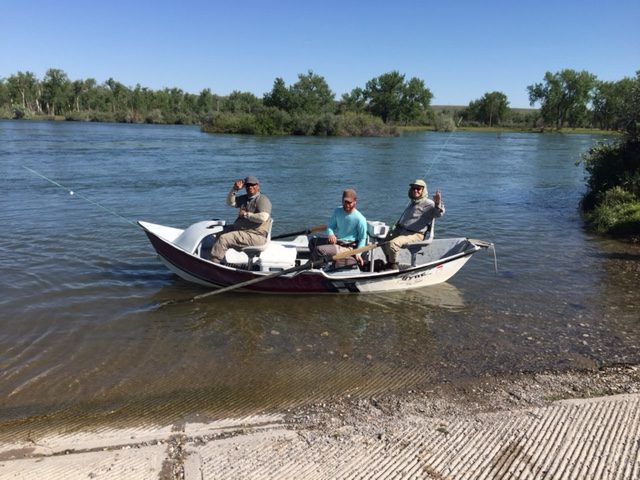 Guide Jeremy's most common instructions to me were, "make sure your fly is clean (the Bighorn slap), mend upstream, set, clean your fly, mend downstream, set, set, right side, set, left side, set and so on. Fishing was great! The quality of fishing was as everyone who has been there said it would be.
Saturday morning, after our final home-cooked breakfast at the lodge, we all packed up and got ready for the trip home. While loading the van, we all gave Rachel a hug and expressed our thanks for all she and  Mark do for our PHWFF program. As our van drove off, Rachel stood at attention at the front gate sending us off with a soldier's salute.
Again at the Billings Airport, TSA agents, along with a United Airlines representative, assisted us with our boarding passes and escorted us through the security check. This was really first class hospitality and much appreciated.
I am so honored to have been the trip leader for this Bighorn River trip. The memories will always be a highlight in my many adventures with these Veterans who sacrificed so much.
Mark A. Tsunawaki, PHWFF-Long Beach Volunteer