"As COVID-19 started to grip the nation the Northwest Region was one of the first to start holding virtual tying events and has been online every week since March 2020"
As directives from Project Healing Waters Fly Fishing President and CEO, Todd Desgrosseilliers, were issued our Regional Coordinator, Alan "Fitz" Fitzpatrick grabbed the bull by the horns and set-up shop.
To ensure the continued emotional and physical healing of the disabled veterans he serves, Fitz began hosting tying events on our PHWFF – NW Region Facebook Page. It was an immediate success not only because of content, but how professionally Fitz conducted the events. When you watched the events it was hard to believe he was sitting in a room, by himself, looking into a camera lens, and speaking only to a microphone. He was and is that good!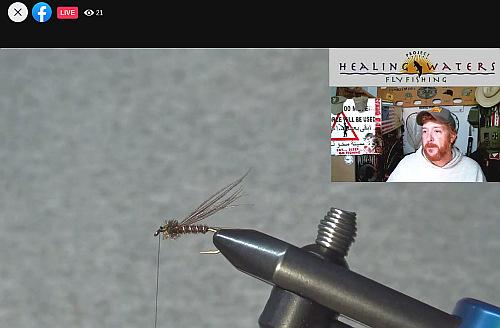 Besides the Northwest, there were people from all over the U.S. attending on a regular basis. Fitz has even packed up shop and took it on the road doing a whole show with experts on Euro Nymphing. His knowledge and lessons learned over many shows has been invaluable to NW Programs as they shopped for audio-visual gear, software, and started their own virtual tying events.
As we head into 2021, Fitz has decided to back off his Facebook Live events not to compete and allowing Program Leads to provided content that best fits their members and areas. We would like to thank Fitz for leading by example, setting the standard, and providing much needed relief through the year.