The Bay Pines, Florida Program of Project Healing Waters Fly Fishing, Inc. held their first ever overnight outing for their program from February 7-10.
The group traveled from St. Petersburg, Florida to the South Holston River Lodge in Bristol, Tennessee.
This trip was made possible from the wonderful donations from the South Holston River Lodge for lodging, coordination and use of their fly fishing guides. The Bay Pines program also held an online auction at the beginning of the year to help with funds such as gas and meals.
Unfortunately, due to unforeseen circumstances, Bay Pines had to fill three slots at the last minute but luckily Johnson City, Tennessee Program Lead Jera Anderson had three of his participants on standby and ready to go. The collective work between the two programs helped to make this trip a huge success. Anderson also arranged for volunteer Charley Pennington to operate a 'chase boat' for both days on the water. Anderson shot and edited video while Pennington shot stills of the drift boat trips for the groups to enjoy.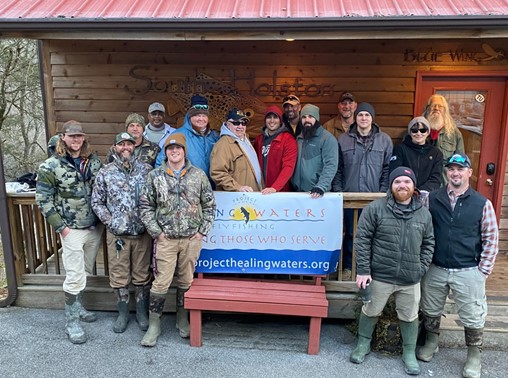 Participants celebrated comradery, made new friends, and are already planning to get together for some fishing on their own. Two days of fishing the Watauga River was cold and windy, but that didn't stop the fish from biting or the participants from smiling. The participants all have some great fish stories to tell, some about the ones they caught, and others about the ones that got away. After a long day of fishing there was great conversations, great meals, lots of laughing and smiles, and memories that will last a lifetime.
"The Florida boys weren't too accustomed to the cold," Fortin laughed.
Participant Warren Shane, retired United States Air Force, has been with Project Healing Waters for five years now.
"I joined (PHWFF) to enjoy the hobby of fly rod creation, tying flies that chase certain species and developing fly fishing skills," Shane said.
Another PHWFF Participant, Michael December joined the program for the comradery and the ability to help others learn and enjoy a sport he is passionate about.
"Project Healing Waters has exceeded my expectations," December said. "It is great to be a part of a group with common interests. Everyone brings something different to the table and I find myself learning something with every meeting."
December said the Tennessee trip was a great experience, and he cannot thank PHWFF and the South Holston River Lodge and their guides enough.
Johnson City Program Lead Jera Anderson said he had an amazing time meeting and assisting all of the Bay Pines participants and volunteers. Anderson hopes he is able to host others from the Bay Pines program, as well as other programs who may want to come to eastern Tennessee to fish the beautiful waters.
"The miles of river, the beautiful scenery, and the most important and memorable moment of this trip, was the miles of smiles from everyone involved," Anderson exclaimed.
A special thanks goes out to Jon Hooper, the host at the South Holston River Lodge, and his guides who donated their time and expertise: Braydon Wilhoit, Preston Vance, Brandon Barbour, Sam Presutti and Andrew Bright. Beccy Fortin and the Bay Pines Program would also like to thank Larry Kendzior and "Fish With a Hero" for their assistance in coordinating the Lodge.
Fortin would also like to thank Jera Anderson and volunteer Charley Pennington as well as their wonderful Johnson City participants.
"Finally, our sponsors that helped us to make this trip possible: Bass Pro Shops, Tampa Bay Rays, Tampa Bay Buccaneers, Tampa Bay Lightning, Tampa Florida Aquarium and Captain Dan Condron!"
"With the help of our supporters, we were able to give these participants the trip of a lifetime," Fortin exclaimed.
Miles of river, beautiful scenery, wildlife and, most important AND most memorable, miles of smiles from everyone involved!
Anderson would also like to thank Jon Hooper and all of the guides.
"Both he and his crew of drift boat guides created an incredibly memorable event for all of our welcomed guests!"
Latest News