Demand for our program services has increased during the COVID-19 pandemic. You can help ensure our programs provide vulnerable veterans with the support and community they need during these uncertain times through virtual meetings and peer-support from Project Healing Waters Fly Fishing programs across the country.
---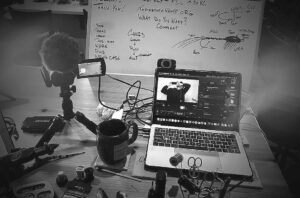 Way back in March (seems like forever ago with the stay-at-home order) we initiated our weekly virtual tying program. Considering the constraints, we're all under it has gone fairly well as we figured out the world of streaming online. 
We were also a testbed for PHWFF HQ's Postfly ordering program. All the members of the Northwest Region who signed up have their orders now. Here's an unboxing video of what we got from Postfly.
This coming Tuesday, 21 Apr, on our Facebook page, 1900 hrs PST, we'll stream tying the Hot Head Pheasant Tail Nymph, which is one of the four flies we selected.
All recreational fishing and/or access to water has been cancelled or restricted in our Region, so fly tying is all we can do right now. Look for a weekly update on the next fly, date, & time. See you online and at the vise.
---
PROJECT HEALING WATERS VIRTUAL RESOURCES
With in-person program activities temporarily suspended due to the COVID-19 pandemic, our programs are hosting virtual meetings on Program Facebook Pages, YouTube, and Messenger Video Chats to stay connected. Our new resource page highlights virtual opportunities, a calendar of events, sign-up forms, and resources to empower programs with the information they need.

PROJECT HEALING WATERS VIRTUAL EVENTS CALENDAR
[events-calendar-templates template="carousel-view" style="style-2″ category="all" date_format="MD,Y" start_date=""end_date="" limit="20″ order="ASC" hide venue="no" time="future" featured-only="false" columns="2″ autoplay="2″ autoplay="true" tages="virtual" venues="" organizers="" socialshare="no"]