The PHWFF Space Coast Program met for a fly tying session on October 28, and the group was honored to have Mr. Bob Clouser present his "Blind Clouser Minnow", a topwater fly pattern.
Clouser is the legendary innovator of many fine fly patterns, all of which have gained worldwide popularity. His flies include The Clouser Minnow, The Half and Half, Clouser Crayfish, Swimming Nymph, Crippled Minnow, Mad Tom, The Darter, Hellgrammite, E-Z Ppopper, Floating Minnow and many others. Bob's Clouser Minnow is claimed to be the most effective underwater fly ever developed, rated as #1 by Field and Stream Magazine. He has designed a fly line (The Clouser Taper) manufactured by Cortland that makes casting heavy wind-resistant fly patterns a dream to cast. He is on the advisory staff for Temple Fork Outfitters and has designed a line of rods (Clouser Series Fly Rods) with Temple Fork Outfitters. He is also on the staff of Rainy's Flies Inc. and Renzetti Inc. (via Temple Fork Outfitters website).
Present at the PHWFF Space Coast meeting were participants Millie Irizarry, Ray Glacken, Amir Pishdad and Jack Gershkowitz. Volunteers on hand were Justice Rivera, Don Foor, John Boyer and Alf Fischer.
"Bob is a very funny person," Rivera said. "He keeps you laughing throughout the presentation! Bob tells you about his fishing adventures, how he came up with the idea for specific flies, and he also gives you a history lesson!"
Clouser also enjoys speaking on fishing conservation, and showing examples on how to fish the fly, and proper casting techniques.
"I've had the pleasure to sit down with Bob from time-to-time and he is one of the most interesting men I've ever known," Rivera said. "He is truly a legend and is one of the nicest and kindest people I have ever met. He is a true gentlemen's gentleman."
The Space Coast Program and Project Healing Waters Fly Fishing would like to give a huge thanks to Bob Clouser for coming out and leading a class as well as his continuous support for our program and the disabled veterans we serve.
"We are all very grateful and offer Bob our sincerest 'thank you.'"
Clouser has been presented numerous awards for his strong conservation work, especially work done to enhance smallmouth bass fishing in Pennsylvania. Most notable among his awards are his induction into the national Fresh Water Fishing Hall of Fame as Legendary Angler induction into the Catskill Fly Fishing Hall of Fame in 2009, the Warm Water Committee Achievement Award, a national award presented by The Federation of Fly Fishers, the Dr. Henshall Award presented by The Federation of Fly Fishers, and National Angler of the Year 2000 by Fly Rod and Reel Magazine. He is a strong supporter of recreational fishing as well as conservation. He was awarded the 1995 Conservation Award of the Year, presented by the Susquehanna Smallmouth Alliance, and in 1997 the Charles K. Fox Rising Trout Conservation Award, presented by the Cumberland Valley Chapter of Trout Unlimited.
Clouser is also a strong supporter of Project Healing Waters Fly Fishing, Inc. who has generously shared his time and talents with our participants for over a decade.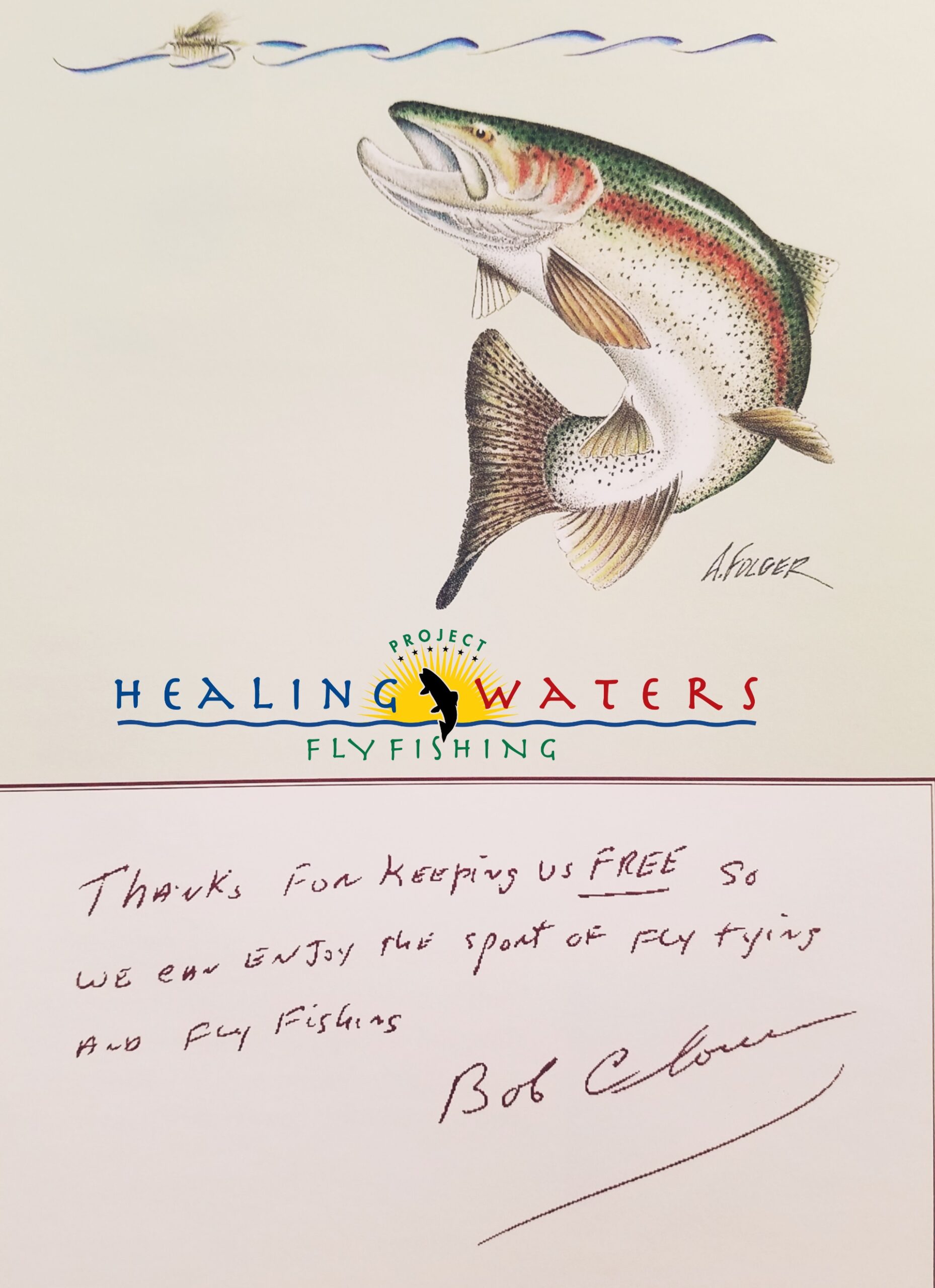 Latest News