The PHWFF West Virginia region held its first annual Thornwood event since 2019, and the first one post-pandemic. It felt just like home being back at Thornwood 4-H Camp in Pocahontas County, and to celebrate, we had our biggest event ever!
We welcomed 150 participants and volunteers from programs in the WV region, and from other programs in other regions, including Tennessee Valley, Virginia, National Capital, Southeast, and the Midwest regions. The weather was absolutely beautiful; not a drop of rain all weekend, which may be the first Thornwood we have had without rain. A lot of fish were caught, friendships formed, and memories made.
Participants and volunteers began arriving on Friday afternoon, checked in, and were treated with welcome bags. The welcome bags included fly tying materials donated from The Tannery, Inc./Rocky Mountain Dubbing in Lander, Wyoming, coozies from Custard Stand Hot Dog Chili, Thornwood 2022 t-shirts donated by King Kutter II and made by Rio Grande University, and other goodies. Once they checked in, they got settled into the cabins and began reconnecting with old friends and meeting new ones. We had a kick-off speech by Bubba Holt, PHWFF WV Regional Coordinator, and then enjoyed a wonderful dinner, provided by Blue Roof Caterers. Blue Roof Caterers has provided the food for Thornwood the last few years, and they always do an amazing job. After dinner, attendees enjoyed some presentations and educational activities to get geared up for the next day of fishing.
Saturday morning, after breakfast, participants were teamed up with volunteer guides, and given assignments on where to go fishing. Some participants caught their first trout on the fly during this weekend. First-time attendee and Parkersburg participant Joshua S. said "It was an amazing experience. Everyone was welcoming and friendly. Any question I asked was answered without hesitation or judgments. The volunteers had an abundance of knowledge and helped me catch my first fish with a fly rod after only starting the day before. Couldn't have had a better time and can't wait until next year." Fortunately, the weather was beautiful, and some participants stayed out all day fishing the beautiful trout waters surrounding Thornwood 4-H Camp.
During the afternoon on Saturday, we held our PHWFF WV Regional Casting Championship, where the winner would earn a trip to Bozeman, Montana, to compete in the PHWFF National Casting Championship. It was a great competition, and Parkersburg participant Chris E. came out on top. Chris said of the experience, "It was a surreal moment, as they were calling the names in finishing order. My heart felt like it was beating out of my chest! When they called second place, I felt relief. It hadn't hit me what it meant (Bozeman trip), I was focused on the day's event. I've never won anything like this in my life, I just felt grateful."
Saturday evening, when everyone came back from their fishing excursions, we had a wonderful dinner and then had some more presentations. The night finished out with some good old storytelling around the campfire.
Sunday morning came, we had breakfast, and everyone was on the road back to their respective towns, although some were definitely fishing on their way home. Everyone left the weekend with fond memories, and an excitement to come back for Thornwood 2023! This weekend would not have been possible without our amazing sponsors: Capstone Restaurant Group (Hardee's), Coronado Coal, and the WV State Council of Trout Unlimited. "This was our first year back after laying off during COVID," said Bubba Holt, PHWFF WV Regional Coordinator. "Not only that, it was our largest event yet. I think in the end, everybody had a good time. We got some amazing stories. And people enjoyed the fellowship that had been sorely missed the last couple of years. So thankful for everybody that helped out with this, our corporate sponsors, individual sponsors, and all the wonderful volunteers that gave their time to heal those who have served us. The Bartow Boys and I are going to have a few tricks up our sleeves for next year, so get ready!"
Matthew B., a participant from the Chattanooga program, had this to share about his experience at Thornwood: "My trip to Thornwood was by far the best experience I've ever had. Upon arrival, I was first blown away by the scenery and the lack of cell signal, which is exactly what I needed to unplug from society and just be at peace with nature. The first evening meeting while waiting in line to get a seat, I met 2 guys I served with in the Marines that I had not seen in 15 years, it was awesome. We literally started talking and reminiscing of our time in the Marines like time had not passed us by at all. The next day, we went with some of the Knoxville crew to fish. I had a rough start, I didn't catch anything until I met Dakota on the trail. We hit it off quickly; he was so patient and informative. He really made me feel more confident in my ability to fly fish. That night, I tied flies with Dakota, and he also showed me how to build fly rods, and really has become a lifelong friend. I continue to speak with him regularly. Thornwood was hands down the most educational and fun I have ever had fly fishing. Bubba and his volunteers were top notch, and provided a new fly fisherman with more knowledge than I would ever get on my own. I can wait to come back."
Thornwood 2023 will take place at Thornwood 4-H Camp in Pocahontas County, WV, June 2-4, 2023.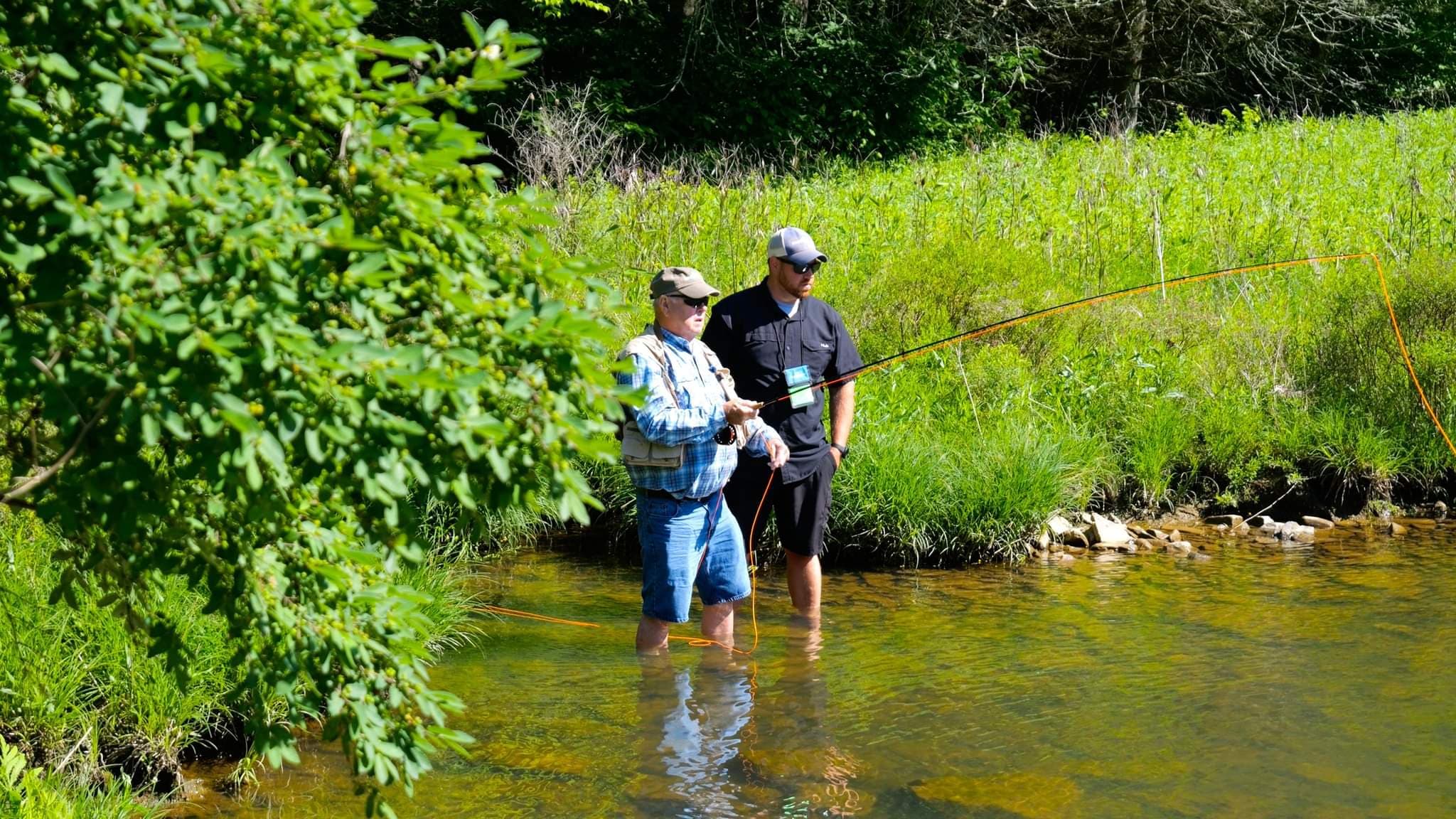 Latest News