By Bob Bechtold Jr., Deputy Regional Coordinator Alaska
Kenai River Trip September 17-18, 2022
Often, while aboard the USS Saratoga in the late 1970s, I saw phenomenal sunrises and sunsets, but upon return to land and shore duty, I was never sure if the photos were sunrises or sunsets. And I often heard the old adage: "Red sky at night, sailors delight; red sky in morning, sailors take warning."
This adage originated centuries ago, and refers to the addition of moisture in the sky, which provides a bit of warning for possible rainy weather on the way.  Well, the red sky may give warning for sailors in this old adage, but it provides little assistance for airmen and army soldiers.  The Wasilla PHW program saw this obvious warning; however, the day turned out to be quite awesome weather wise and fishing wise.  So, warning us only made us more anxious to get on to the task of catching large Kenai River Silver Salmon and catching and releasing Rainbow Trout and Dolly Varden.
The Wasilla Program organized and executed a weekend trip that enhanced healing and camaraderie while enabling nine participants to enjoy the thrill of catching fish in the Kenai River. A wonderful dinner of Hawaiian Beef Stew with Hawaiian rolls and salad was provided by Dale Aki. Cookies and brownies followed, along with good conversation around the room and the outdoors firepit.
Following dinner, Bob Rima, owner of the Kenai River Drifter's Lodge, extended a warm welcome to us. Bob expressed his heart-felt thanks to all veterans for their dedicated service. We also want to recognize him for his in-kind donation that helped us afford this amazing trip. The view from the lodge's deck is breath taking.
Our group gathered around the fire pit for an evening photo.
After the group photo Eric Johnson, a new participant, was eager to test the waters from the dock and was rewarded by catching a small Lake Trout that had drifted down river from Kenai Lake.
Sunday morning started early with breakfast burritos, muffins and coffee compliments of Bob Bechtold and a drive to Bings Landing to meet up with our 3 boats and guides at sunrise; a photo of the sunrise appears at the top of this article. The weather cooperated and so did some silvers in the morning, with each boat finding fish. Walt, Todd, Shaffer and Eric show off some nice-size silver salmon below. This boat full was a perfect group as they enjoyed bantering with each other throughout their entire trip.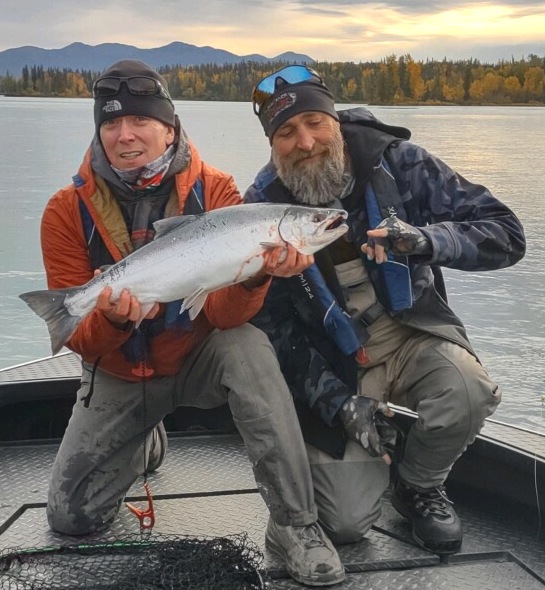 As the day progressed, we shifted to fishing beads for rainbows and dollies, seeing plenty of action and even more photos and stories.
As our fishing day ended, Bob Bechtold had arranged for one of Kenai's finest treats, Jersey Subs Hot Philly Cheesesteaks for everyone. All congregated at the parking lot for these wonderful cheesesteaks and final stories, before returning back to our homes in the Matsu Valley. Our special thanks go to Jersey Subs in Soldotna for an in-kind donation that helped to cover some of the cost of these delicious sandwiches.
So, the early morning warning, was no warning at all.  We all had an awesome trip, caught lots of fish and are looking forward to our next PHW trip.
Latest News