San Gabriel River Outing
PHWFF-Sepulveda participants and volunteers met at the Sepulveda Vet Center on a recent Friday morning.  After some ride share shuffling, the group headed off for a day of fishing, spearheaded by Program Lead David Hoffberg.  Destination: the West Fork of the San Gabriel River northeast of Los Angeles.
After assembling at the San Gabriel Mountains Environmental Center, Fisheries Resource Volunteer Corps volunteer Chuck Moore led our mini-caravan through the locked gate for access to the four ADA compliant fishing platforms. Access to the platforms is via gently sloped concrete walkways which are perfect for those of us not as nimble as we once were.
We spread out into groups of vets and volunteers and started fishing the gentle waters of this tailwater fishery.   Volunteers helped tie on tippet and flies, unhooked snagged tree branches, and de-tangled "wind knots."
The fishing was delightful, as is almost always the case, but the catching was a near bust. Veteran Mike Bertell (2018 National Rod Building Category 3 Winner) did catch four of the small but beautiful resident Rainbow trout.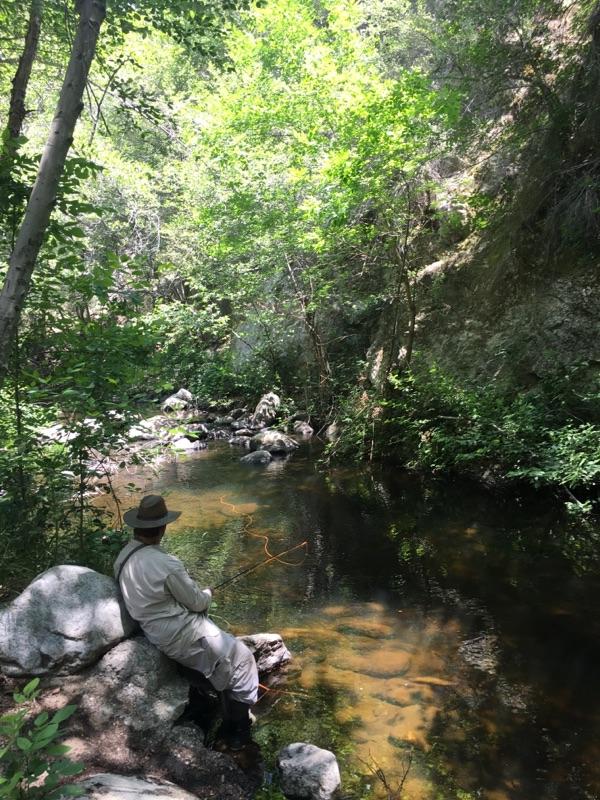 Lunch was served at Glenn Camp Campground alongside the river. Halfway through, another veteran showed up.  He had decided at the last moment to join in the outing but was unclear about the meeting spot.  Fortunately, he brought along his bicycle and was able to join the group lunch. He looked like "Don Quixote," riding his steed taking on windmills with his (fly rod) lance.
After a nice lunch, gear was packed up, vehicles were loaded, and we headed back to the locked gate access, then carpooled back to The Vet Center. Discounting the traffic on the drive home (Los Angeles on a Friday!), this is a wonderful place to "get away from it all," and enjoy one of our favorite pastimes – fly fishing.