By Joseph Smith
I had one of the most incredible experiences of my fly fishing journey a couple of weeks ago as I hosted eight veteran participants at Bamboo Bend in Lovells, MI.
Bamboo Bend is a NFP whose mission is Mending the Spirit, an immersive 8-day hands on bamboo rod building for registered participants in PHWFF. This was a from beginning to final product activity where the participants walk away with a fully completed bamboo fly rod they have built from "scratch", a seasoned bamboo culm, to casting it. Our host lodge was the North Branch Outing Club, recently under new ownership. Our host could not have been more gracious. This place has a long and storied history on the Au Sable River.
Eight participants from OH, MN, VA and Indiana were nominated by their Program leads. Each participant was paired with a seasoned volunteer instructor some who had traveled to Michigan for this event, now in its the 12th year. While the pandemic interrupted the past two years, the volunteer instructors picked up the course seamlessly.
The first day began with an overview of what was going to happen, a casting on the lawn "hands on" to determine which of three classic bamboo tapers each participant might want to select as their own.
Then the work began. Splitting the culm, and splitting the culm and splitting the culm until the pieces were small enough to begin the tapering. Tapering is an arduous process, as the individual six pieces have to be measured and planed and measured again to precise dimensions. The pieces are then laid out, aligned, glued and bound and dried. The binding is then removed and further sanding and refining and the blanks are cut to size, each rod a 7'-6" two-piece. Guides are selected, as are cork grip, reel seat and insert, with each classic component hand selected to the builders' personal preferences. Many of the rod builders paid homage to the carefully researched traditional thread wrap colors.
Grip and reel seat and guides are wrapped, guides varnished and the rods are dipped in finishing varnishes, dried and polished. The Bamboo Bend hosts were incredibly diligent as they contributed historical anecdotes throughout the process. On the final evening each finished rod including sock and tube are presented to the participant graduates. The rods are then cast on that final evening for the first time. But surely not the last.
Joseph Smith
joseph.smith@projecthealingwaters.org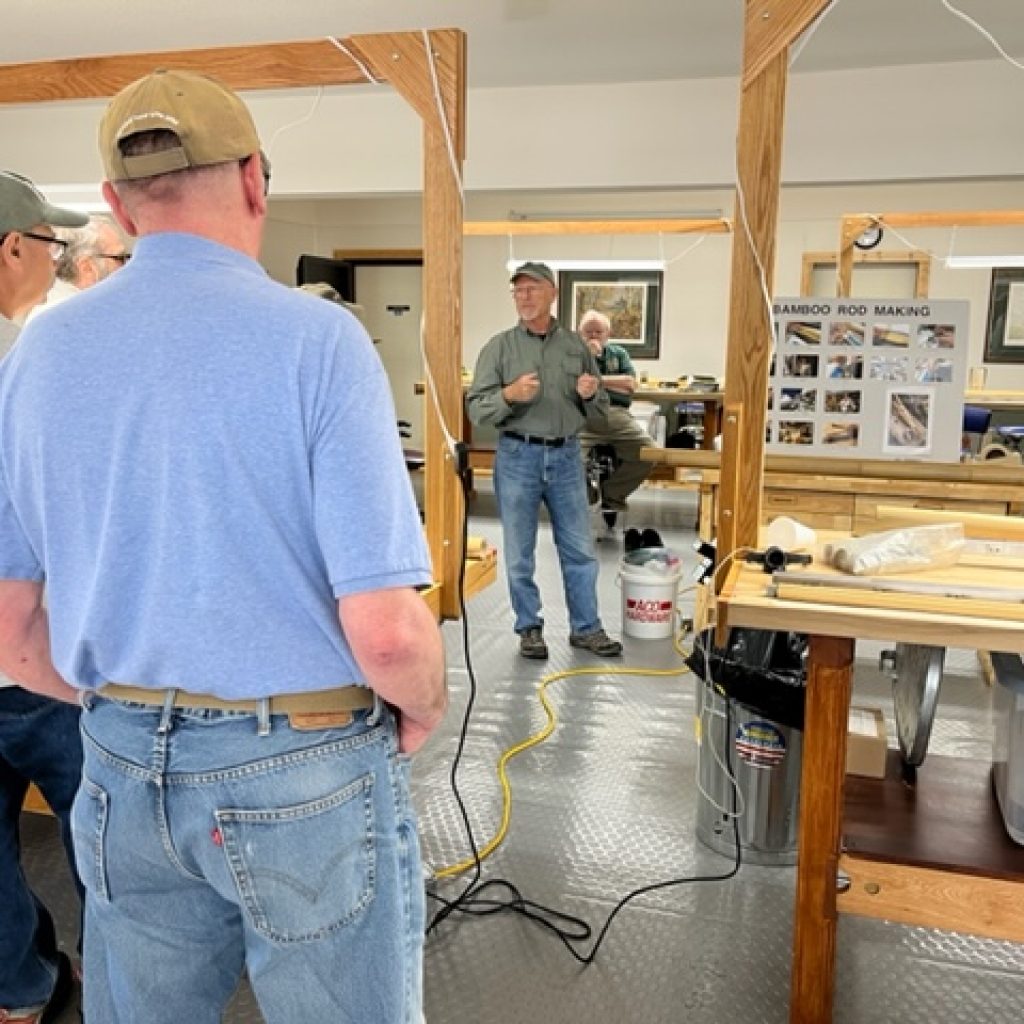 Latest News