Battle Creek, Michigan Program volunteer Rob Beam shares an update on all the exciting happenings with this great program in our Midwest Region
The Battle Creek Program has been busy. We like busy! Now that weather is beginning to cooperate and fishing is right around the corner, fly shows all popping up throughout Michigan. We thought we would take advantage of that to promote the PHWFF program. Although we hoped to participate in four, we managed to get into two West Michigan Fly Show in Grand Rapids, MI and the Midwest Fly Expo in Warren, MI. Both were great. I think we were all dry mouthed and hoarse after each event from sharing our story (a good thing!).
Our twice monthly meetings are still a hit with the veterans! As we expand our program we will be including topics like macroinvertebrates, stream makeup and conservation, fly rod building, etc. KVCTU's Greg 'Bug Man' Potter brought some Rice Creek bugs for the participants to identify. It is always a hit to see the bug you might be tying.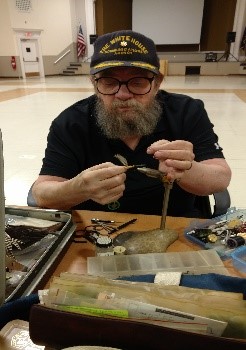 As a total surprise was the annual KVCTU Emerger Award being presented to Battle Creek PHWFF volunteer, Rob Beam. Rob thanked the Chapter for their support to the PHWFF program and that the relationship we enjoy together is amazing. Much of what we do has been dependent on the KVCTU who has always come through.
Our annual visit with tour and some fishing for the veterans at Wolf Creek Fish Hatchery on April 17th. The fishing wasn't as good this time but the vets still had a great time.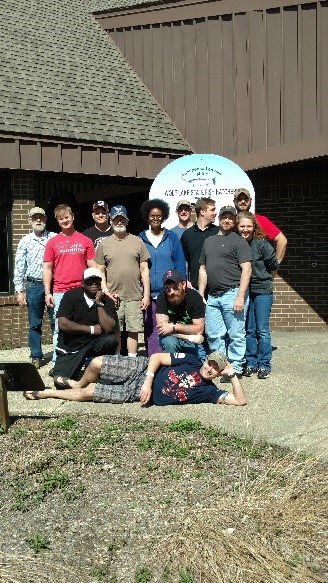 Yet to come this Spring is the big fishing trip on the Muskegon on May 15th.
PHWFF Battle Creek is about to announce their biggest undertaking. They are putting together a PHWFF National Destination fishing trip for five veterans on the famous Au Sable River 'Holy Waters'. The event will take place on August 26th hosted by Gates Lodge in Grayling. This event will provide, free of charge, an all-expense paid fishing trip weekend for five disabled active duty military personnel or disabled veterans. The PHWFF CEO, Todd Desgrosseillers will attend. Ticket information will be coming soon!