---
Holy Waters seeks to bring a continuum of care to our Nation's disabled veterans through the Project Healing Waters Fly Fishing program. Join us for a series of powerful online events, interactive story-telling opportunities and restorative healing gatherings in the Midwest and online. LEARN MORE
---
Story and Logo by Brian Beam
Having been a full-time potter since 2000, most of my creations are made on the potter's wheel. Pieces thrown on the wheel are traditionally formed in a round shape. A completed circle is not only visually pleasing it is also a metaphorical depiction of something being complete.
What I wanted within the logo was a simplistic yet defined representation of the Holy Waters in Michigan. Reflecting on my time spent on the Au Sable River, the beauty of the trees and water were at the forefront of my mind. As a fly fisherman, it is the journey, not necessarily the fish I'm after. Why? This serene place, known as the Holy Waters, is where a cleansing of the soul takes place.
Catching of fish is a bonus. As such, it seemed fitting to incorporate the trees and river as the foundation.
However, it was equally important to entwine the contribution that Project Healing Waters provides to our disabled vets through fly fishing events. I also did not want the design to be limited to simply a forest or river. A fly rod and reel is the quintessential item for any fly fisherman.
I chose to curve a fly rod that encapsulated the main image of the logo. My roots as potter told me that just like a vase is incomplete without handles, this design was not complete without a fly rod and reel. As a final tribute to these Holy Waters I felt it necessary to incorporate the Hexagenia Limbata (Hex) that these waters are known for.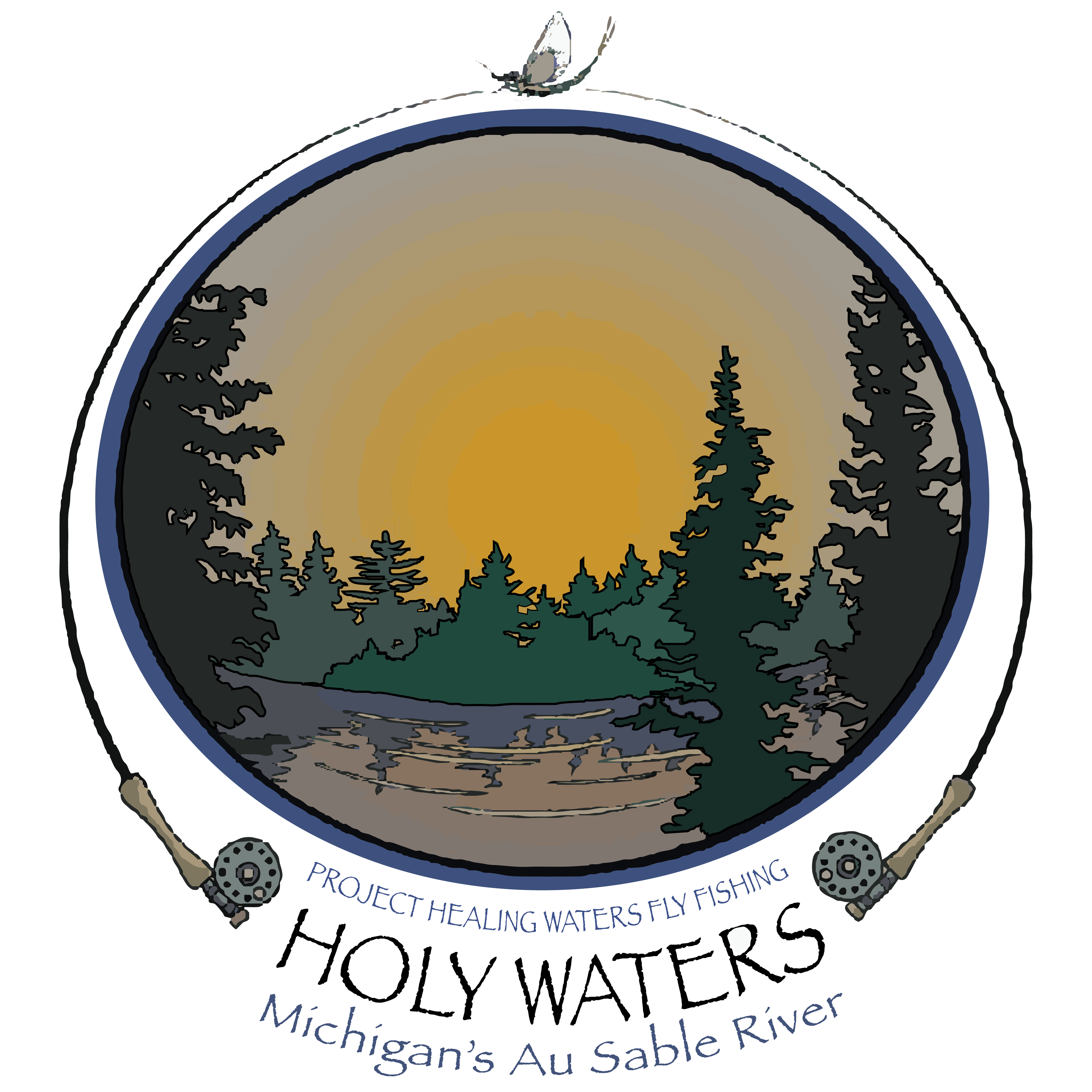 Story and Logo by Brian Beam
To learn more about Holy Waters, ways you can help, and information on the online auction, CLICK HERE