Project Healing Waters Fly Fishing – Martinez
Williamson River OR Outing, September 26-29, 2022
by Lorina Walker
There are times when I most sincerely appreciate trout. This is truly a clever animal. Consider the places they live their fishy lives, and all of the dangers they must encounter on their journey to becoming a fly fisher's tale upon the water. They must be fully aware of the slices of heaven that surround them. Lonesome Duck Ranch is situated among just such a little hint of heaven.
It was here that Project Healing Waters Fly Fishing programs of both San Francisco and Martinez would meet for two days of fishing on the Williamson River. And three nights of good ole fashioned veteran camaraderie commonly experienced on the PHWFF outings.
Martinez veteran participants were Ken Burns, Bruce Christie, Brian Pastor, and Lorina Walker who were joined by San Francisco's Steve DeVaughn, Joe Hiney, Levie Isaacks, and Bill Kuimelis. Volunteers John Kreiter (Mtz) and Tom Arthur (SF) led the outing.
Our first morning comes early with copious amounts of coffee consumed, with Jimmy Deans alongside various muffins and apples for breakfast. With guides arriving exactly on time, we send four boats to the Williamson and one to the nearby Wood River. Another guide beats our first boat to the river and secures the prime fishing location. Fishing is tough with a few fish caught and some skunked fishers. As the day progressed, the veterans and guides drift past each other wanting to know the usual of each other … "How many have y'all caught so far? … How big? … What have you caught it on?"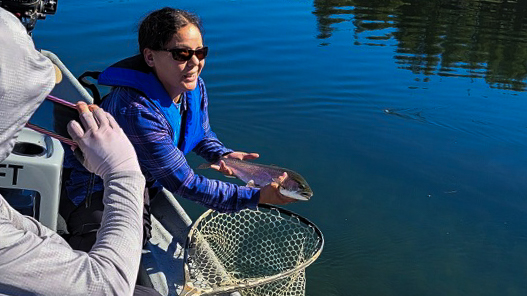 Dinner was a hearty helping of homemade spaghetti, salad, and garlic bread followed by many tales and experiences shared.
Day two came earliest for two of the vets with the guide arriving at 5:00a. Lorina and Bill volunteered for a bit of 'special ops' fishing. The objective was to reach that prime hole that missed the day before. As they say 'the early bird gets the worm' so too does the early vet who secures the hole and catches big fish. Bill landing his first on the third cast. This day like the previous was spent passing each other on the Williamson with reports of the days catch.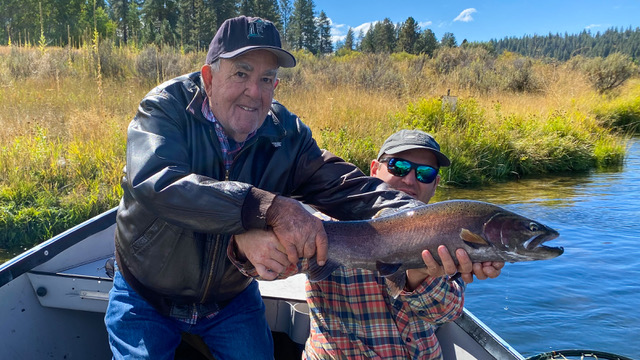 Our last dinner was a real treat, with thick and juicy steaks grilled up over a charcoal BBQ alongside salad and homemade wine. The highlight of the evening was when a few vets suddenly broke out singing songs like Roger Miller's 'King of the Road.' As with each night, stories are heard with each vet offering up a bit of themselves to the evening. In true military fashion, a detail was formed for each of the night's chores followed by sharing the details of their catch while passing phones around the room.
The final morning's coffee is brewed but there isn't a rush. Gear is collected and counted, hands are shaken, and goodbyes are made as each vet leaves, heading back to their respective lives.
Veteran excerpts from the PHWFF Mountain Book:
"What a fun trip! Great people, great place, and great fish … I caught my biggest fish ever! I didn't know trout could get so large!"
"I have had a great time sharing stories with the vets from Martinez. The fishing was great and I caught my personal best today. I would love to go again!"
"What a privilege this was to be a guest at the Lonesome Duck! Trout, horses, llamas … I got to experience it all! Another great time with my fellow vets."
"The Lonesome Duck is a beautiful log cabin.  There isn't a TV, but there is plenty of reception if you can peel your eyes off the view.  The Williamson was a fruitful river.  I caught 3 sizeable fish, one small, and one LDR.  And I got to meet several new excellent fellows.  I can't wait to fish with everyone again."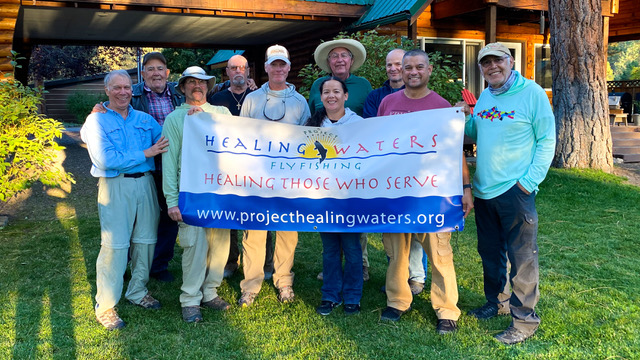 Latest News