By Wayne White
Winchester Healing Waters program participant Christine Erin successfully demonstrated total confidence and finesse catching her first trout on a fly rod during the Virginia Region's recent fishing outing on Back Creek, 24-26 May.
The Coast Guard veteran along with 10 other fly-fishing novices from Virginia Healing Waters programs experienced the thrill of landing their first fish during the two-day fly fishing event in the Bath County countryside.
Although the annual Back Creek outing is promoted for beginners, the neophyte fly fishers gained some added appreciation for this art of angling beyond the exhilaration of hooking and landing some uncooperative trout while negotiating some precarious waters.
Volunteers from the Shenandoah Valley Healing Waters program and Dominion Energy stocked the stream and cordoned the mile-long water into 12 "beats," varying in size from 100 to 250 meters. Participants drew beats at breakfast and again at lunch each day to give everyone the opportunity to fish the various creek offerings.
Back Creek is a tail water off the Dominion Energy dam in Bath County. The stream with its rock ledges and man-made erosion control boulders offer excellent habitat for trout and challenge even experienced fisherpersons in wading and finding fish.
As Christine's guide, I was amazed at how quickly she mastered the casting and angling tactics, necessary to negotiate the riffles and deep holes of this gin clear creek with its limited casting area.
There were many times I was hesitant to follow Christine as she climbed down the bank to prospect for a feisty fish in a difficult to reach layer. Beside the treacherous descent, there was little or no room for a back cast. Instead, a controlled delicate roll cast was the only way to get the fly on the water. As a quick study, Christine soon learned how to locate fish and mastered the casting technique and line management to make effective presentations of black and green Wooly Buggers.
Over the day and half of fishing, Christine was successful hooking six rainbows and landing three – a good outing for a seasoned fly angler let alone for someone on their first trip.
A grant from Dominion Energy to Project Healing Waters covered all costs for the outing. This included lodging for the participants and volunteers at the Inn at Warm Springs, meals for the group over the three days, boots, waders, rain jackets and fly rod and reels, all which the participants kept for their own equipment. The company grant also covered the cost for the stocked fish, and Dominion volunteers even helped with their release into their private tail water.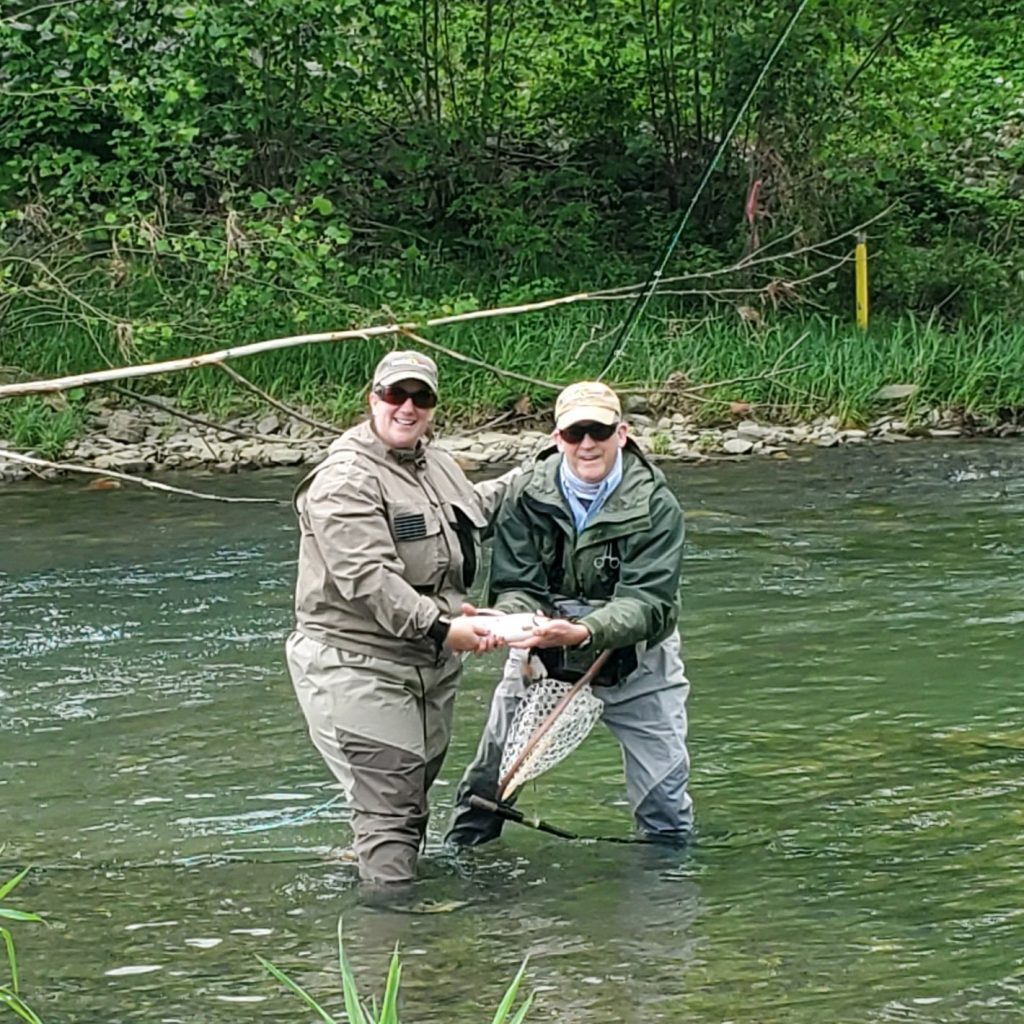 Latest News