Words by Andy Kaufmann
Photos by Sabrina Beganny
For three nights and two full days of fishing, 8 veterans from across Maine, Connecticut, New York and Massachusetts visited the North Maine Woods to fish the historic waters of Grand Lake Stream. Grand Lake stream is located approximately 70 miles North of Bangor. The area offers premiere waters for for spring landlocked salmon as they begin to chase smelt into West Grand Lake as well as world class smallmouth bass fishing.
The veterans were treated to cool temperatures, crystal clear waters on the stream and lake and great fellowship amongst themselves and the professional guides who worked with each veteran no matter the skill level.
Several veterans have never been up this way to fish these waters, let alone, fly fish for salmon. The first day of fishing started with fog and a bit of a chill in the air, but as the veterans started catching fish and the fog cleared away, smiles were seen across the ranks.
The smell of pine, the sound of running water, the clean air and wonderful company of the guides as well as locals made the scene even better. Veterans used local flies such as the Golden Retriever, Mikey Finn and Grey Ghosts to attempt to catch these beautiful fish under the close or distant eye of our great guides.
Lunch prepared by the guides was delicious. The veterans ate fish, burgers, potatoes and onions all fried up in the cast iron skillets over an open flame fire. Don't forget the guide coffee…if you've never had it – do yourself a favor and fish with a Maine guide and they will hook you up.
The following day after breakfast, some veterans chose to go out on Big Lake and either troll for Salmon or fish for bass. Out in the Grand Laker canoes, thought to have originated in the 1920's and made mostly of Cedar and Mahogany, there was laughter, smiles, and a lot of fish being caught by all.
The final evening following dinner, all the veterans were invited to visit the Grand Lake Stream Historical Society Museum which has a fantastic collection of local and regional items, photographs as well as an original Grand Laker canoe and local flies now used around the world. Out behind the museum is the "Hall of Guides" which is dedicated to the lives of many past guides throughout the years.
The best outcome of this wonderful trip were the new friends made, healing through the comradery and fishing, and the chance to take a break from the repetition of daily work and activities at home.
We look forward to the next fishing adventures in Northern Maine at Wheaton's Lodge in Forest City, Maine this fall.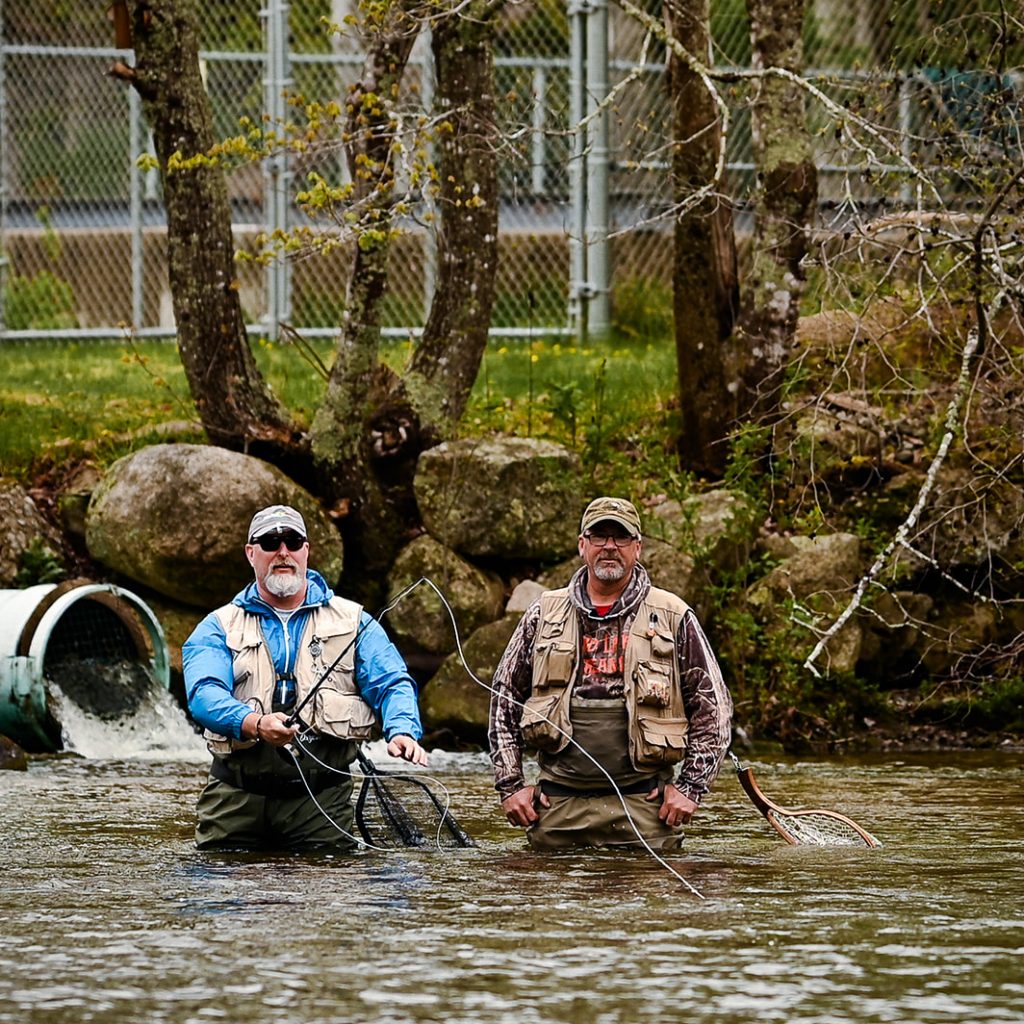 Latest News