Project Healing Waters Fly Fishing – Martinez
Eastern Sierra Outing, May 23-27, 2022
By Brian Miller
The Eastern Sierra south of Mammoth CA in the Crowley Lake area is simply a beautiful place to trout fish. With a number of high mountain streams and lakes, this was a perfect destination for six veteran participants from the PHWFF Martinez CA program. Along with two PHWFF volunteers, they made the long 5-6 hour trek from the San Francisco Bay Area for a memorable trip of fly fishing, fun, and healing.
The participating PHWFF Martinez veterans were Nick Beyer, Cynthia Pouncey, Sheronda Myers, Brian Pastor, Mike Allen, and Wade Camarillo. They were hosted by PHWFF volunteers Wayne Hofer and Tom Morehouse from the Diablo Valley Fly Fishing Club.
The group's fly fishing knowledge and expertise ranged from experienced to beginner. Eastern Sierra guides Pat Jaeger, Beryl Rae, Eric Hein, and Brennan Turner teamed up so that each of the group had opportunity to fish with a guide on Crowley Lake, Hot Creek, Upper Owens River, and Rock Creek. All caught fish in good numbers and learned a lot from the guides who worked hard on these beautiful waters.
Of particular note was Wade, a first-time fly fisherman. He caught several nice cutthroat trout on the Upper Owens using the Euro-Style fly fishing technique, landing some big ones on Crowley and several smaller brookies on Rock Creek. Needless to say, he was "hooked" on fly fishing. Cynthia out-fished everyone on Crowley Lake with a 24" rainbow trout, her largest fish ever on a fly rod. Brian caught quite a few cutthroats and a perch on Crowley and a few trout on a windy day at Hot Creek. Nick caught the largest number of trout mainly on the Upper Owens and Rock Creek, along with some nice cutthroats on Crowley. Sheronda caught 3 nice fish on Crowley and quite a few on Hot Creek fishing with a Tenkara rod. Mike caught a number of tiny browns fishing with a Tenkara rod on a small meadow stream and landed a number of cutthroats on Crowley. And oh yes, Mike also hooked and landed a waterfowl on Crowley. It was quite an adventure for Mike and Sheronda to unhook and release a screaming, fighting bird!
Lodging was at Tom's Place, a well-established 105-year-old resort on CA Highway 395 where they enjoyed wonderful meals at the Tom's Place resort. The trip concluded with a delicious prime rib dinner at their rustic restaurant, packed with colorful locals.
Sharing their stories, building camaraderie, and fly fishing in one of the most beautiful settings on earth added up to wonderful time together. These epic waters of the Eastern Sierra brought a little more healing to all of the PHWFF Martinez veteran participants and volunteers.
"This by far was my greatest trip ever!  I caught fish, I fought fish and I loved every freaking moment!  So much information gained and so much healing and centering done, I cannot explain the joy."
"It's not about the destination, it's about the journey!  The fishing was great and what a great experience along the way."
"I love these trips.  Gives me just the break I need from the stresses of everyday life."
"Nothing better than setting the hook and pulling a fish out of the water by 30 feet !"
"I am thankful for being able to fish these beautiful places and get my feet wet with fly fishing."
"I am sooooo grateful for Project Healing Waters!  I have loved every trip I have been on thus far, but as I continue to learn and improve, I love them even more.  The Eastern Sierra was amazing!  I caught my very first fish on the Upper Owens, and I killed it on Crowley Lake with so many varied trout (caught the trifecta) that I lost count.  I even landed a 24 inch rainbow … wow!  Talk about a confidence booster!  A great time with great people.  Thank you!"
(PHWFF Martinez Veterans)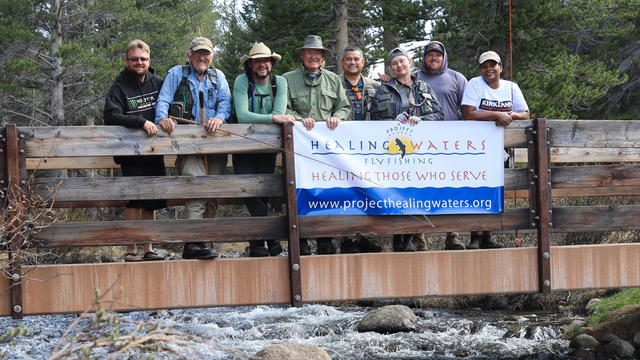 Latest News