The hosts at Knapp's Creek Trout Lodge were like family, offering incredible hospitality and warmth to the participants during their stay.   The lodge offered great comfort and dining throughout the duration.  This hospitality and graciousness extended to the trout stream as well, as each fly fishing guide shared their abundance of knowledge and experience during the days on the water.
The highlight of the trip was that all participants caught and landed several huge trout! Everyone returned to Roanoke with lots of stories and smiles.  This was the first trip to Knapp's Creek Lodge for our Roanoke/New River Valleys Program and it was such a huge success that we would like to plan a couple of trips here for 2017
Mark and Janet Mitchell, and their daughter, Anne and her fiancé Mark, were fantastic hosts and guides.  They made this trip a memorable experience for our participants – they will be talking about this one for a long time!  Thank you for their great hospitality and support of our cause and the veterans we serve!
[vc_row][vc_column width="1/3″]
[/vc_column][vc_column width="1/3″]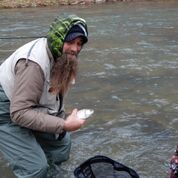 [/vc_column][vc_column width="1/3″]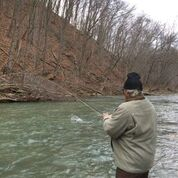 [/vc_column][/vc_row]