The Tournament competition kicks off at 7:00 a.m. Sunday morning, May 1, 2016, and features PHWFF participants from across the nation.  For complete details on the 2-Fly Tournament and special guests click here   Our deepest thanks to each guide for donating their time and talents in support of our cause and the veterans we serve.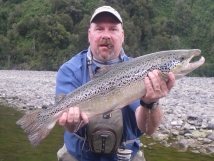 Harold Harsh
I joined the Marine Corps before I was out of high school and served for 8 years with tours of duty to Beirut and Grenada. What these men and women have given to our country goes beyond anything I could ever possibly give back to them. When Captain Ed asked me to help him help them, what else could I say but yes! I have the greatest respect for my fellow warriors and will do anything in my power to help them.Semper Fidelis,Harold Harsh, Spring Creek Outfitters. Harold guides many Maryland Rivers– one of his favorites is the North Branch of the Potomac.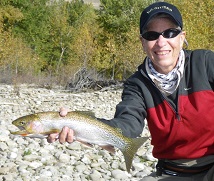 Kiki Galvin
I have considered it an honor and a privilege to be involved with the Project Healing Waters Program the past years.  To be able to share our passion with the brave men and women who have served this country to protect our freedom has changed my life!  The Program allows these men and women to experience something so simple and true that it gives them the ability to function with the new normal they live with everyday.  The casting motion is rhythmic and continuous, the flow of the water is hydrotherapeutic and can heal, give you hope, and make you just plain happy!!! Bringing one of the most beautiful creatures to the hand and then releasing it is the most satisfying thing to me and I know the vets would agree.  I look forward to the 9th Annual 2-Fly Contest and look forward to helping these true heroes shine once again on the banks of the Rose River! www.msguidedflyfishing.net. Kiki Galvin was recognized as the 2012 National Capital Region Volunteer of the Year and served on the PHWFF Board of Trustees.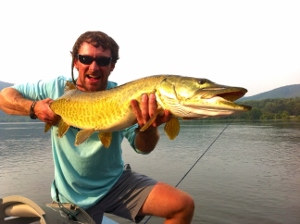 Wes Hodges
In 2002, I enlisted in the US Army and volunteered for the 82nd Airborne Division. For eight years, three of which were served overseas, I served with the finest military personnel imaginable. In the spring of 2010, I was medically discharged from the military due to injuries sustained while on active duty. Shortly thereafter, I found myself fishing the chalk streams of PA with Project Healing Waters. It was through PHWFF that I began to focus on my future rather than my past. This led me VA Tech where I studied smallmouth bass and muskie. In the fall of 2013, I graduated with a degree in International Relations and Spanish. Due to my passion for fly-fishing I started my own company, Bearded Lady Fly Fishing, immediately upon my departure from my studies. I could not have accomplished this new endeavor without the mentoring and support from PHWFF. This organization, its founder, and the volunteers will always be the example that I will strive to follow when providing my services to the community.
Richard Farino
The son of an enlisted Navy gunner's mate, grew up and lived in The Bronx for 33 years before moving to Washington DC. An avid fly angler who spent time fishing and guiding the fresh and salt waters of the NYC metro area, Catskills, and Pocono Mountains. Worked for Urban Angler for 15 years and moved to Arlington, VA to run the second retail store, previously Angler's Lie and meeting and working with John Colburn, the former VP and a founding member of Project Healing Waters. Richard was inspired by John's devotion to PHWFF, so dedicated in fact that John would take public transportation from Walter Reed all the way to Arlington for fly tying supplies. Richard is the founder of District Angling, the only fly fishing retail business and guiding service in Washington DC. Richard is proud to support PHWFF and looks forward to continuing to volunteer and give back to veterans.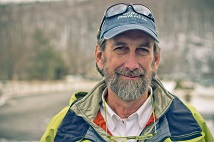 Dusty Wissmath
Dusty Wissmath grew up in Missouri, started fly fishing at age eight, and spent his formative years highly distracted by the sport. He began guiding and teaching fly-fishing in the early seventies while working on a degree in Wildlife Biology at the University of Wyoming. Living in Jackson, WY after graduate school he tied commercially for High Country Flies and guided on the Snake, Green and New Fork Rivers and in Yellowstone National Park. After working as a Biologist in Wyoming and East Africa, Dusty started his fly-fishing school and guide service in 1995. He also served as the lead instructor at the L.L. Bean Fly Fishing School in Virginia and still teaches at the Wulff School of Fly Fishing in New York. He is a Federation of Fly Fishers Certified Casting Instructor and is a member of the Board of Governors of the F.F.F. Guides Association. When he's not teaching or guiding, Dusty gives casting demonstrations and workshops at sports shows from Montana to Virginia. His articles and photographs can be found in several outdoor magazines.Dusty is on the Pro Staff of the Scott Fly Rod Co., Hatch Reels, and Hyde Drift Boats.  Staff, Volunteers, and Participants Attend Dusty Wissmath Fly Fishing School
Mike Hatfield
Over the years, I have been very fortunate with the opportunities that have come my way relating to fly fishing. These opportunities have led to priceless memories and new lifelong friendships. By far, the most rewarding opportunity has been my association with PHWFF. You have given me the opportunity to give something back to a group of men and women that deserve so much more than we can ever give them. Hopefully, as we all learn, laugh, and fish together, many new memories and friendships are made by these veterans and wounded warriors making their future a brighter and happier place.** Mike is a member of several industry Pro Staffs, a casting and fly fishing instructor, competition angler and a freelance outdoor writer with a passion for small streams and wild brook trout. He lives in Richmond, Virginia and has been instrumental in a major fundraising program for PHWFF at Military Commissaries through his company S&K Sales. You can reach Mike by e-mail at threehats@comcast.net. Mike Hatfield Honored with PHWFF Patriot Award.
John Gay
Project Healing Waters means that our soldiers have a way to heal that is unique, therapeutic, and a learning experience that can be built on. I am proud to volunteer for many reasons. We owe a great deal to the men and women who serve our country, and helping them transition and recover through fly-fishing is a way to give back. Seeing friends and making new ones, the buoyant spirit of everyone, the fish caught, the fish missed, and the bonding among the participants make PHWFF a truly special organization. Trout&About. John guides many Maryland streams such as the Gunpowder. He also takes clients to the famed Spruce Creek in Pennsylvania.
Michael Simon
"For the past fifty-five years, Michael Simon has pursued trout, photographed and painted trout and written about his love of trout.  Simon has cast his home-tied flies to rising trout from New Jersey to Montana and even Afghanistan.  As a Navy veteran of the Viet Nam era, Simon used his several leaves to fish for trout in Japan, Sri Lanka, Bosnia and Slovenia.
Michael is looking forward to his first tour as a Project Healing Waters guide and will do all he can to share his passion and experience with a few brave Wounded Warriors."
www.michaelsimonanglingart.com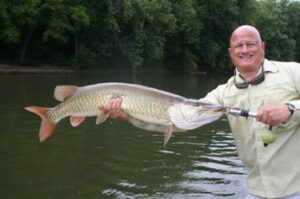 William Heresniak
While driving along the highway by the entrance to the Rose River Farm this past January I spotted an enormous Bald Eagle. She was perched on one of the larger trees. It seemed as if even in the cold calm of winter, she was watching over that special place where the 2-Fly Tournament is held each year waiting for her sons and daughters to come fish.Each year at the 2-Fly has been special. It's a day I get to spend with the veterans, good friends and my daughter. One thing we need to remember not only during the tournament, but every day, is the soldiers that lost their lives defending our country.William Heresniak  Eastern Trophies guides most of the popular Rivers in Maryland and Virginia. They specialize in float trips for trout, smallmouth, and muskies.
Joel Thompson
This is my second year as a guide for the Project Healing Waters 2-Fly tournament and I could not be more excited to be part of this great event. I am a native Montanan and come from a long line of Military men in my family and am looking forward to giving back to those who have served. I am a Fishing Outfitter and own and operate a guide service in western Montana called Montana Troutaholic Outfitter's Teaching people how to fly fish and seeing the joys it brings to them when they are able to put it all together and catch that fish is one of the most enjoyable things in the world to me. I am truly honored to be a part of this great event!
James Aliff
I have worked in the fly fishing industry for 9 years and now manage the new Orvis store in Leesburg, VA. I have always been very fond of exposing others to fly fishing and teaching them the tricks of the trade. Thanks to both Jim Erickson and Douglas Dear I was given my first opportunity to participate as a stream monitor in a previous 2 fly tournament. At that tournament I met meet Chris Frost. I had a chance to spend some time on the water with Chris which was one of the most rewarding experiences I have had in fly fishing. I look forward spending more time with and providing more support to Project Healing Waters.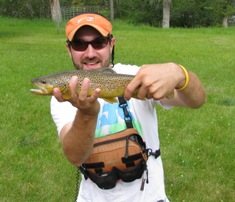 Bryan Wilson
I have loved fishing for as long as I can remember, but my experiences with PHWFF have been among my fondest memories of time on the water. My respect for the courageous veterans and the efforts of PHWFF make it an honor to support this organization. When Ed called and asked me to help serve as a guide for the 2-fly tournament I jumped at the opportunity to share my love and passion with the bravest men and women I have ever had the privilege of meeting. I am looking forward to an amazing day of fishing filled with old friends and new faces on the water that I call home.Bryan Wilson. Bryan guides at the Rose River Farm and offers brook trout and smallmouth guided trips on the waters of Madison County, Virginia. He also runs the fly fishing program for the University of Virginia's Outdoor Recreation Program.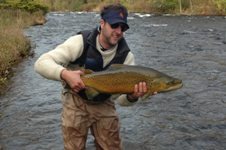 Rob Snowhite
My name is Rob Snowhite. I own and operate the Fly Fishing Consultant, in Alexandria, VA, focusing on fly fishing education and instruction in and around the Nation's capital.I became involved with Project Healing Waters Fly Fishing after transitioning to fly fishing as a full-time career. Volunteering at Walter Reed and Bethesda Naval Hospital is my way of giving back to those who have given the ultimate sacrifice for their nation and our freedom. I've guided at the 2-Fly Tournament for the past years and I am deeply honored when Ed asks me to be a guide. Fly fishing is not a sport, but a way of life. It is a natural, therapeutic release from physical and mental trauma.I learned to fly fish in the foothills of the Blue Ridge Mountains around Rose River Farm and consider the area my fly fishing home. Rob Snowhite (703) 401-6429.
Phil Gay
I was a Naval Officer for 30 years and commanded USS John F Kennedy (CV-67) during the first gulf war. I founded Trout & About in 1994 and have been guiding and taking people on trips since that time. Since I was a Naval Officer myself I feel a natural affinity toward the wounded and especially to PHWFF. Phil Gay.
The pre-tournament dinner starts at 5pm on Saturday night April 30th under the stars in picturesque Madison County, Virginia at Rose River Farm.  Tom Brokaw will serve as the keynote speaker for the dinner and current participants in the Project Healing Waters Fly Fishing Program, and alumni, will also be on hand throughout the weekend to discuss the challenges facing today's service members, both physical and emotional, and the impact PHWFF has had on their recovery and transition. The 10th Annual 2-Fly Tournament >>