We had 74 people attending the event at Harman's Cabins including 54 veterans, 10 of whom started out as participants and have become volunteers. Between veterans and volunteers, seven PHWFF programs were represented; Fort Belvoir, Quantico, Shenandoah Valley, Charleston (South Carolina), Shepherd Spinal Center (Atlanta, GA), Crystal Coast (North Carolina) and Martinsburg (West Virginia).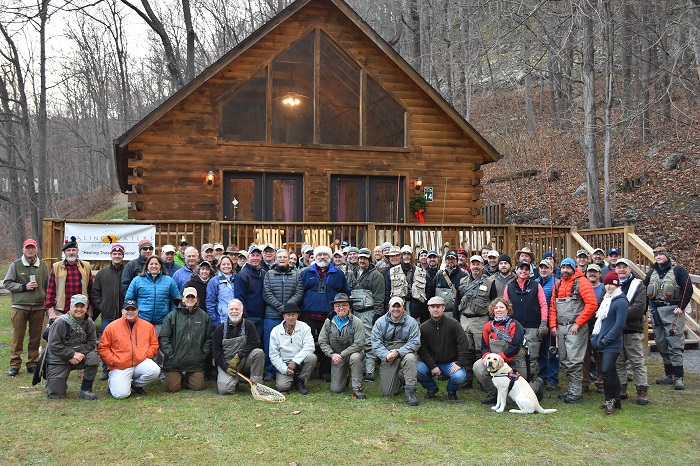 Also attending Fly Fest were the new PHWFF CEO, Todd Desgrosseilliers, who is a participant in both the Fort Belvoir and Quantico Programs and noted fly fishing author and caster, Ed Jaworowski.
After checking in at noon on Friday, the vets hit the water and started catching fish. The weather cooperated for the second straight year. It was cold and windy, but no rain or snow and the North Fork of the South Branch of the Potomac River was in great shape. Fishing was excellent throughout the weekend with many vets catching their first trout and others catching the largest trout of their lives. Rainbow trout up to 24" were taken during the weekend with larger ones lost.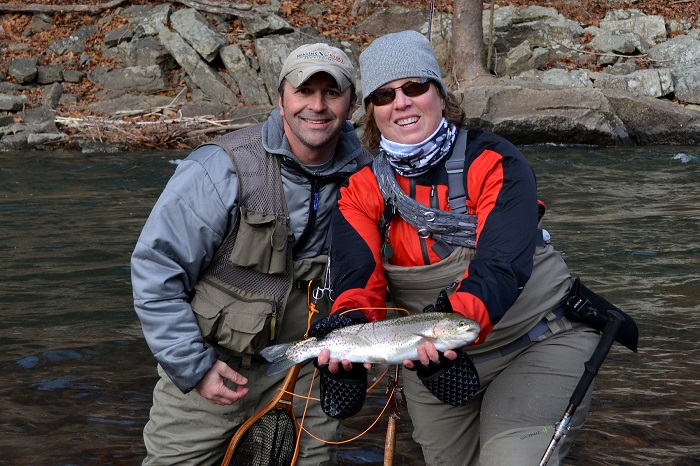 As the group has grown so large from our inaugural Fly Fest in 2011 (17 participants and volunteers), we rented the nearby Ruritan Community Hall to use for dining and presentations. The hall is located across the street from the entrance to Harman's. With full kitchen facilities in the hall, Calvin Riggleman of Bigg Riggs Farm and his crew provided six meals, starting with dinner on Friday night. Calvin is a Marine veteran who served in Iraq. After dinner Friday, we hosted our equipment giveaway for the vets. All the donated equipment we receive through the year is given to the vets. Every vet gets a substantial gift ranging from Simms Wader Bags to fly tying desks, vises, and fly rods.
After dinner, Duber Winters, Orvis Store Manager (Clarendon, Virginia), gave a Fly Fishing 101 class in one cabin while fly tying sessions were going on in two other cabins on the Harman's property.
Saturday was spent fishing all day on the river. Each vet was paired with a volunteer guide who was there to help as needed. A lunch of chili and grilled hot dogs was served along the river by the fire pit so the vets could take a lunch break and get back to fishing.
For the 3rd consecutive year, we held "Fly Fest Gives Back". We collected much needed supplies and food for the local Petersburg Interfaith Food Pantry. We ask everyone attending to spend $5-10 for a donation to this worthy cause. Several food pantry staff/volunteers joined us for lunch on Saturday and loaded an estimated 2,000 lbs. of donated supplies and food into two pickup trucks. The first year we contributed 800 lbs. and last year was 1,800 lbs. Our goal is to exceed the prior year's numbers.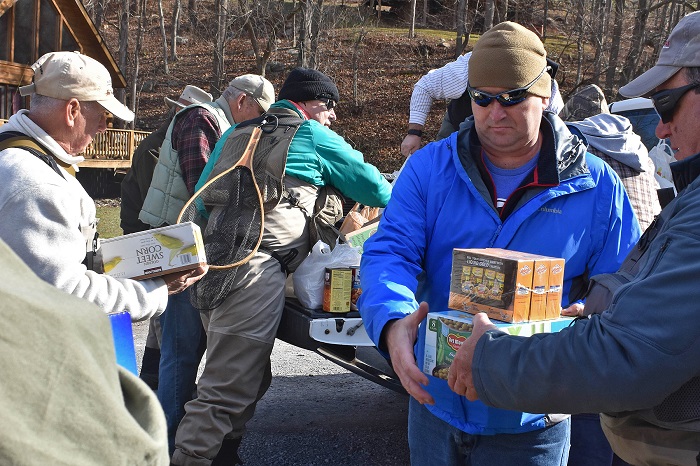 On Saturday and Sunday, Julie Keene, massage therapist, provided her skills to participants and had a full schedule as vets signed up for massages throughout each day. Julie is a Quantico Volunteer, National Capital Region Deputy Regional Coordinator and works as the Industry Coordinator at PHWFF Headquarters.
Prior to dinner Saturday evening, we had our annual Volunteer Appreciation Night, where we recognize the volunteers who make the Fort Belvoir and Quantico Programs successful. We are fortunate to have outstanding volunteers and believe in taking time to recognize them for their dedication to our participants and programs.
Ed Jaworowski had everyone laughing with a short slide presentation on starting out in fly fishing and over the years acquiring every piece of equipment for the sport.
After dinner on Saturday evening, attendees engaged in fly tying sessions in two cabins, watching college football games, and recovering in the hot tubs from a day of catching fish.
On Sunday, people fished and took their time heading home throughout the day.
The weekend was memorable, fun, and healing.  We were previlged to hear from veterans afterwards:
"…the volunteers did an amazing job. The trip was awesome, the weather cooperated and I had a blast. Everyone was super helpful and supportive and it was great to see so many of us having a great time."
"I don't think I've ever laughed so much on the water before!"
"Not only is it healing for me personally, but beyond rewarding to be a part of something so much bigger than me."
"The camaraderie, expressed even from those I don't even know, or haven't had a chance to get to know yet, was awesome and heartwarming…"
"You have no idea who much it means to be treated as a normal person and not as a disabled person, and you guys did that all weekend. Thank you."
The volunteers seemed to get just as much out of the experience as the participants:
"I often feel I get much more out of being around the warriors and vets than I give to them–it is truly one of the best things that I have chosen to do in my life"
Thank you's go to…
Todd Harman, owner of Harman's Cabins, and his general manager, Ed Wooten, who ferried fly fishers over the mountain to upstream water with an ATV throughout the weekend and always make our participants feel welcome and appreciated.
Calvin Riggleman and his Biggs Riggs crew prepared and cooked six meals for us during the weekend. Calvin has been providing meals for participants at Fly Fest since 2012 and each year participants look forward to the impressive meals that this team serves. We couldn't do this trip without Calvin and his crew.
Marty Laksbergs, Quantico Program Lead, arranges everything with Todd Harman and Calvin Riggleman and starts working on this trip in June. We have a unique arrangement in that the Fort Belvoir and Quantico PHWFF programs share trips, volunteers, and resources. Part of the arrangement is that Marty does all the work and I take all the credit. It has worked for six years and we don't see any reason to change it.
Overall consensus from the vets…"It was an awesome trip."
Bob Gartner
Program Lead – Fort Belvoir