The program, sponsored by the Kalamazoo Valley Chapter of TU, is dedicated to the physical and emotional rehabilitation of disabled active duty service personnel and disabled veterans through fly fishing and its related activities. The class offers alternative leisure/recovery skills to our veterans by teaching them how to tie flies and fly rod casting. Those skills are then taken to the water for the veterans to practice their techniques. In 2012, Tim May approached the Medical Center to establish this partnership and it has grown each year since.
His volunteer work enabled him to teach hundreds of veterans the art of fly fishing as well as organizing many fishing trips across the state. Since his unexpected passing in November 2014, other volunteers who worked with Tim have taken on the program. This is one of several adaptive program partnerships that offer veterans at the Battle Creek Veterans Affairs Medical Center a variety and choice in the tools that will best aid in their own recovery journey.
Since 2012, two hundred and two volunteers have dedicated 1,094 hours assisting veterans. They have traveled to Lake Michigan and northern streams to test their skills, with donations totaling over $11,290 for charter boats and veterans meals. This project is adapted to the needs of each veteran who participated and allows them to work on their personalized recovery goals in a variety of environments, while establishing healthy and healing relationships.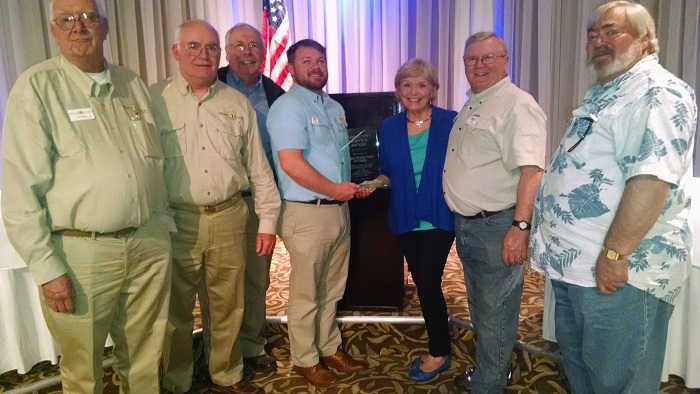 Group photo from left: Don Squires (Kalamazoo Valley Chapter TU), Joe McAllister, Don Katchman, Adam Beam (PL), Randi May (wife of late Tim May), Rob Beam, and Mike Knight
The program goes year-round which includes numerous fishing trip opportunities.  They meet the first and third Monday of the month, some holidays excluded, from 6-8 pm, in Building 6 on the VAMC campus.
Stay up to date with the Battle Creek MI Program on Facebook : Project Healing Waters Fly Fishing Battle Creek MI Program